I spent the better half of last week in Nashville, attending Blissdom, a blogging conference.  My goals?  Stretch my wings, get inspired, meet new people, and learn as much as possible.  I knew Blissdom would be quite an experience – after all, it was my first blog conference – but nothing could have prepared me for the adventure that last Wednesday turned into.
Wednesday, Jan. 26:  My Journey to Blissdom
My journey began with a simple metro ride to the airport.  Silly me for worrying I would miss my flight – it was delayed when I got there. Ok, no biggie.  I needed some time to finish my first Rental Decorating 101 post, after all. But then it was delayed more and more.  Heavy, wet snow was beginning to fall outside, and by the time we were bussed out to board our plane on the tarmac, a good inch of ice and snow lay on top of it.
Sitting there restlessly on the plane, I did what any smart, hip, and bored girl would do – update my Facebook status, of course.
Oh Lordy, I'm flying to Nashville in the midst of a snowstorm in the tiniest plane EVER.
Really, it was tiny.  So tiny, in fact, that carry-on suitcases couldn't fit into the overhead compartments. So I sat waiting on that tiny little plane, trying not to worry about how it would handle the storm, and staring at the snow that was piling up on the wings, the ground, and everything in-between.
The captain periodically came over the loudspeaker to give us updates on the wait.  When, after an hour, he informed us that the planes were not being de-iced successfully, I started to worry about bigger problems than a tiny plane.
What if, after I spent my hard-earned money on this conference, I couldn't fly out until Thursday or Friday?  I'd miss most of the speakers,  and almost all the networking events. I was seriously freaking out.

My heart sank when the captain's voice came over the speaker again.  We wouldn't be flying, and we had to be de-planed.  (What does that mean, anyway?  Were we "planed" prior to that?)  Suddenly a guy behind me said "I've rented a car and I'm driving to Nashville tonight."
Without a moment of hesitation, the woman next to me swiveled around to face the man behind her, saying "Do you want company?  I'll split the cost with you!"
Then another woman spoke up "I'll go too!"
I looked first at these women, both of whom seemed smart and sensible, and then at the guy.  He looked like a normal, decent guy too.  But seriously, we all know that it's not safe to judge on appearance alone.  I would never get into a car with three strangers, right?  Especially not to drive 12 hours out of state, in the middle of the night.
But I looked at the women again, and back at the man, and it was like some other, more daring woman took over my mind. "If you ladies are going with him, I'll go too."
And just like that, four strangers were becoming friends, and piling into an SUV to drive to Nashville overnight. Assuming no one was an axe murderer, we'd get there much faster by driving. The airport was a disaster, and the following days' flights were already overbooked.  And the way the storm was going, there was no guarantee the following days' flights would even take off.
As we carefully navigated south out of the city on I-395, I was shocked by the disaster that lay all around us.  Downed trees, cars stopped in the middle of the highway, the works.  The first few exits off the highway were completely blocked by rows of wrecked or stuck cars, buses, trucks.  Even some of the city's snowplow/salt trucks had veered off the exit ramps and wrecked.  My heart went out to the hundreds of people who were stuck on the exit ramps.  And it's a good thing we were headed south, because there was no way we could have exited the highway for the first 10-20 miles.
Once we had gotten an hour south, into less snowy territory, we stopped at Wawa for some food and a bathroom break.  Being the good blogger that I am, I got everyone to pause for a photo because I already knew I'd be documenting this adventure on the blog.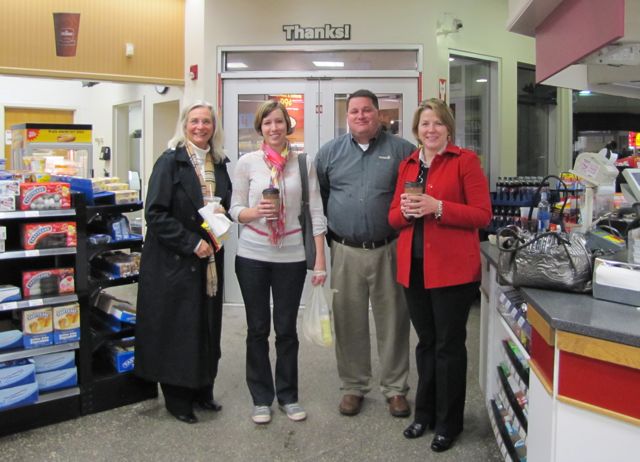 Sidenote: I think it's a bit tough for non-bloggers to understand just why we bloggers tend to photograph and log everything.  But this group was so easygoing about it!  (I did, however, promise not to name any names for the sake of their privacy.)
As the night wore on, we traveled south to Richmond, then veered west towards Charlottesville, VA.  There was more snow around the C-Ville area, and I wished there was light so I could see the gorgeous mountains around my fave VA town.  (Hey C-Ville bloggers, I thought of you all as I passed through!)  West of the Blue Ridge mountains we headed south on I-81 to Tennessee.  As we rolled into the mountains through the cover of night, the conversations got deeper, sharing items such as the "craziest thing we've ever done."   I continued to be amazed at how interesting and positive everyone was.
Somewhere around Blacksburg, VA (Go Hokies!) we stopped for gas, and ended up going to Wal-Mart for beverages/snacks and a bathroom break.  At that point I couldn't help but laugh at how our excursion was similar to a college road-trip; the kind where you drive all night to do something like watch the sun rise over the ocean, even though you know you've got class the next morning. There's always a late-night Wal-Mart visit involved in trips like that!
The roads became treacherous somewhere along the mountains of I-81 in Virginia.  We even passed a few bad wrecks, but our driver did a fantastic job and kept us safe! He was definitely a good driver for that bad weather.  As the ladies in the back seats tried to get some sleep, I did my best to stay awake and keep him company – but it was a bit awkward because I didn't want to talk his ear off!  At one point I did drift off for a bit; I just couldn't help myself.
We finally crossed into Tennessee somewhere around 4 am.  We stopped for gas and for a change of command around Bristol, TN.  The ladies started driving and talking and the guy and I both tried to sleep in the horridly uncomfortable backseats of the Ford SUV.  (Note to self!)
Finally, about 21 hours after I had initially set out for the airport on Wednesday afternoon, I arrived in Nashville.  I had already made some new friends, learned a bit of Southern jargon, and the conference hadn't even begun! I checked into my hotel, get a quick shower, and race off to Blissdom.   I was only about 30 minutes late for the opening keynote address, and I had a great adventure under my belt in case I ran out of things to say to all the new people I was about to meet.
And that, my friends, is the story of my journey to Blissdom 2011.  Looking back on it almost a week later, it seems almost surreal – but I can guarantee you it's 100% real.  I'm so touched that a group of strangers were willing to trust each other, taking a risk, and working together to get home in the midst of the storm. And not only were we all trustworthy, I think I can speak for the group when I say that the icing on the cake was how well we all got along.
I just won't ever tell my kids I did such a crazy thing.  Not until they're my age, at least.
PS:  I'd just like to say one last THANK YOU to my traveling buddies, for coming together like that!  I wouldn't have gotten to Blissdom until Friday if it weren't for you three!