Are you ready to party?
Do you want to win a prize?

I wish you all were nearby so we could clink our glasses in a toast to the messes in our redneck yards, but since we can't, this blog party will have to do.  I think that sharing the worst of it helps motivate you to fix it up, while seeing that you are not alone – there's other bloggers out there with less-than-perfect spaces!
Without further ado, allow me to give you a tour of the mess that is the Borrowed Abode's yard.
As I said last week, I became totally lazy once winter hit, and thus my gardens are not looking good.  Take the front garden, for example – it's covered in some seriously healthy dandelions, as well as the old pots that held summer succulents.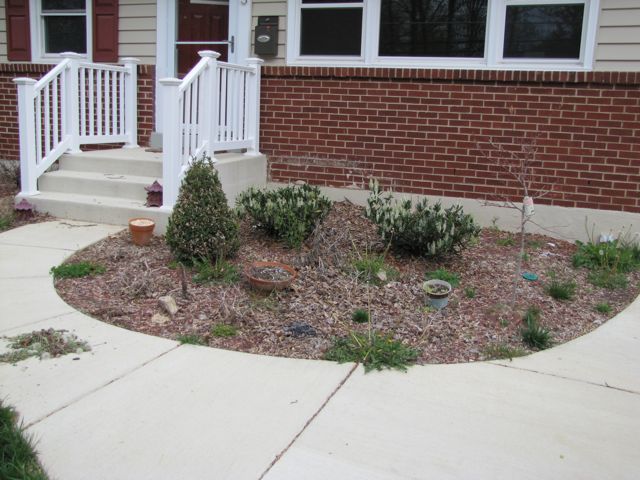 Look closer and you'll see that the remains of our Halloween decor didn't all get removed – the pot of stones that held branches and one sad little ghost: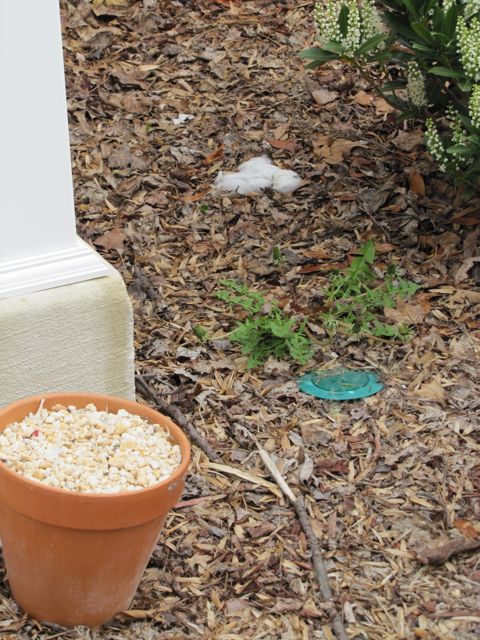 The grass in our front yard isn't helping, either.  For some reason the grass seed planted by the builders post-construction last spring turned brown quickly.  We've re-seeded (both in the fall and early spring) but it doesn't seem to be taking over as we'd hoped.  So the brown yard may be out of our control.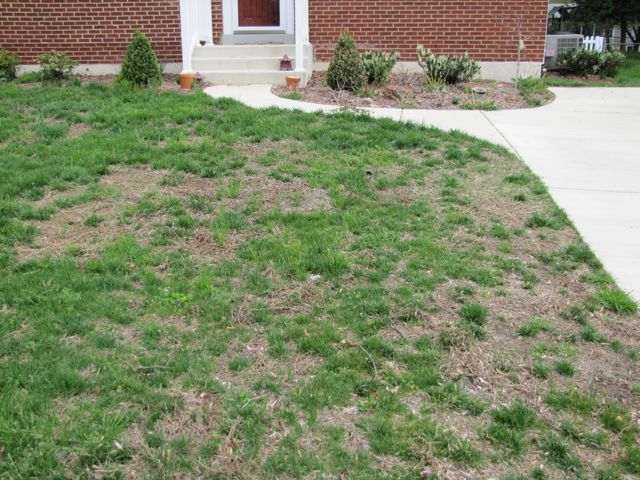 Walk around to the back yard, and you'll find a much more redneck situation:  our back porch.  I told you, I got lazy – and things just piled up back there.  There's truly no excuse for this sort of mess.  Of course, the vintage stereo cabinet needs to come inside.  You may also notice that there is no bottom step for the porch, so we have pieces of broken tile in its place.  I'll have to ask my landlord if they're going to do that this year.
The area right below the porch isn't looking so hot, either.  We seeded it last fall (and this spring) and some of the grass is growing like crazy.  But it's not entirely filled in yet.  If you remember, this is where we initially planned to build a patio.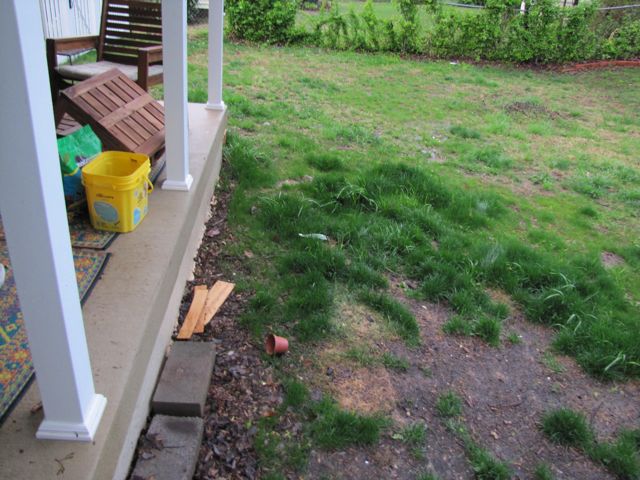 Looking out over the back yard, it's not too bad, but for the millions of branches everywhere.  Between some seriously rough thunderstorms last fall, and the heavy snow in January, our beautiful tall trees lost a ton of branches.  So we've got a lot to burn in our fire pit.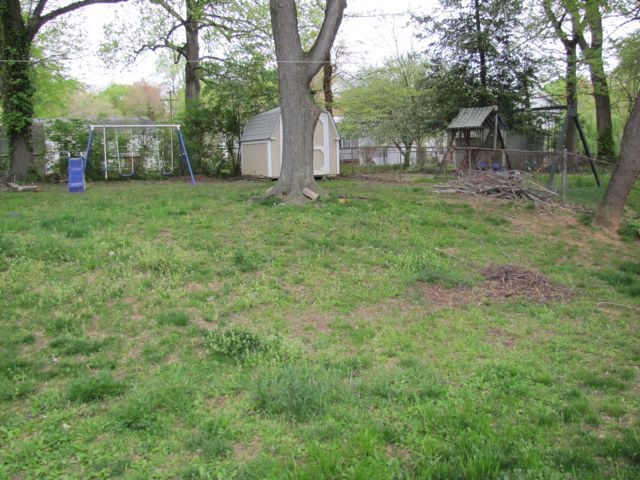 In fact, while I was driving overnight to Nashville, Ryan was at home looking at a fallen limb so big it actually covered 1/3 of the yard.  The branch was the size of a medium tree – and it landed straight on end, so the tips of the branches speared the yard and the thickest, heaviest part of the branch (at least a foot in diameter) stuck straight up in the air – about 1 1/2 stories high.  Imagine a teepee.  That's what it was like.  A huge teepee of branches. (Why didn't I get a photo!)  Anyway, the remains of that branch/tree are piled here in the back, along with some metal shelving that I pulled from a neighbor's trash pile.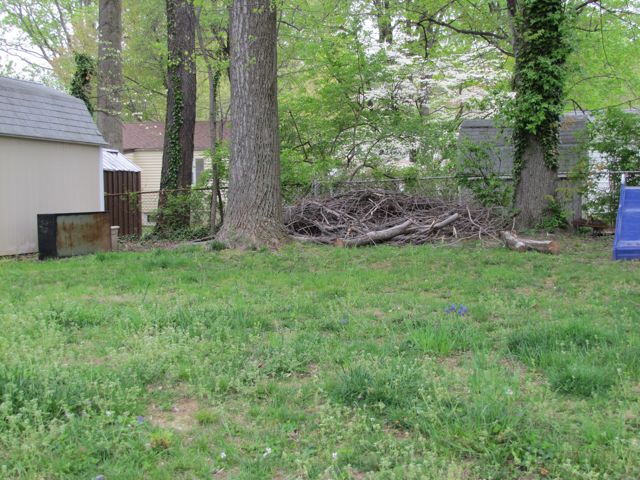 I guess that's a wrap.   My hopes for the summer:  clean up the yard, re-mulch and plant flowers in the front, turn the back porch into more of a decorated "room", freecycle the swingset, and add a hammock and some lounge-y seating in the back of the yard.
Now, are you ready to party?  It's your turn to share your space.
2011 Redneck Yard of the Year Contest
Here's how to enter:
Blog about your yard – leave no mess un-shared!  What if you don't have a yard?  Then share your patio or porch!
Once you've blogged, come back here and share the link to that specific blog post in the linky tool below.
Hop back to your blog (please) and let everyone know that you're participating in the contest here.  I'd really appreciate if you link back to this blog post. 🙂
If you link up something totally unrelated, I reserve the right to remove that link.
Other details:
You can share your link anytime between now and next Wednesday.
Ryan, my parents, and I will all vote on who has the most "redneck yard."
The winner will be announced next Friday.
What's the prize?  The one lucky winner will be awarded a $25 gift card to Home Depot, to assist in the de-redneckifying of their outdoor space.
Note:  I have not been compensated for this prize; in fact I'm providing it by redeeming some credit card rewards points.  However, I'm in discussion with Home Depot and they may actually provide a gift card, in which case I'll update this post to give a big thanks to them.
PSS:  Christina at the Scrappy Housewife is also having a party:  The "Reality Check" party. I'm totally sharing my mess over there!