One of my biggest challenges as a full-time corporate employee and part-time handmade business owner is finding balance.
It's my dream to someday earn my living as an indie biz owner, so that I can work from home on my own terms while I raise our children. But a lot of work is required in order to achieve that dream.
Aside from the day-to-day difficulties of balancing the regular tasks, there also arise bigger dilemmas about what external events or tasks I should commit to.  When I consider a weekend trip out of town, it's not just "can I take that weekend off" – but how will I prepare ahead of time for the time that the shop will "lose"?
Janery was accepted as a vendor for the Handmade Marketplace at Blissdom, the annual blogger conference in Nashville, TN.  That should have been awesome, except it happened to butt up against a conference I have to attend in Las Vegas (for my day job).
Before I found out about this conflict, the plan was to pack my car full of Janery awesomeness, and drive to Nashville – becuase shipping my products and display items would not be cost effective.  When I realized I'd have to drive home overnight Saturday (12 hours) so that Sunday morning I could catch my flight from DC, I started to seriously worry about spreading myself too thin.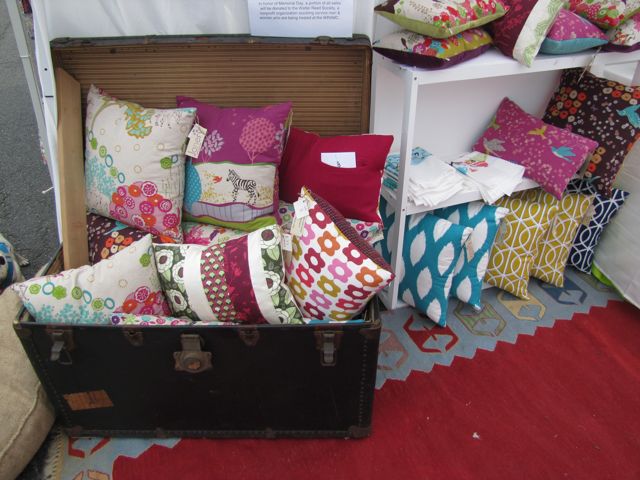 On the other hand, there were potentially some great benefits from just biting the bullet and making this work.   My booth and my products would be seen (and likely photographed) by hundreds of bloggers.  While sales might not be big, since everyone would have to fly their purchases home,  it would probably offer great exposure for Janery.
At the end of the day, however, I was really worried that I was biting off more than I could chew.  I'd need to have a ton of product made ahead of time for my display, and I worried that trying to build inventory for that would detract from running my online shop smoothly in the next few months. That, coupled with having to leave early and drive all my stuff home, just started to feel overwhelming. Finally, I really want to focus on my pet beds this spring, and those are not the ideal product to sell to conference attendees.
I struggled with this, and then I had a realization:  I can't do it all this year.  It's a great opportunity, but the timing is nearly impossible, and the customer base doesn't really line up with my product goals.  Blissdom will be there next year, and maybe this will be my full-time job by then.
So with that decision, I emailed the organizers and let them know I could not attend. I felt bad, and worried that it could affect my chances of getting accepted if they do the marketplace again next year, but that's a risk I'll have to take.  There are always other conferences and other markets, after all.
If you're interested in Blissdom, you can find my posts about last year's conference here:
My Unusual Journey to Blissdom (Don't try this at home!)
Social Media Tips from UnMarketing