With our dining room table relocated to a flat spot in our backyard, we had a lovely, empty, covered back porch to play with.  Wahoo!  Time to make an outdoor living room, and just in time for fall.
We may not have installed the back patio we'd dreamed up, but a cozy outdoor living space was even more exciting, because we love nothing more than curling up outside to enjoy both good rainstorms and clear, cool weather.
But first, here's what it looked like before the furniture-moving adventures: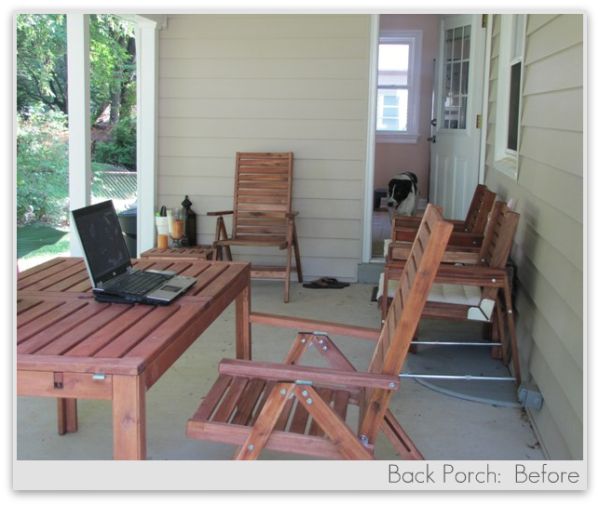 And here it is now: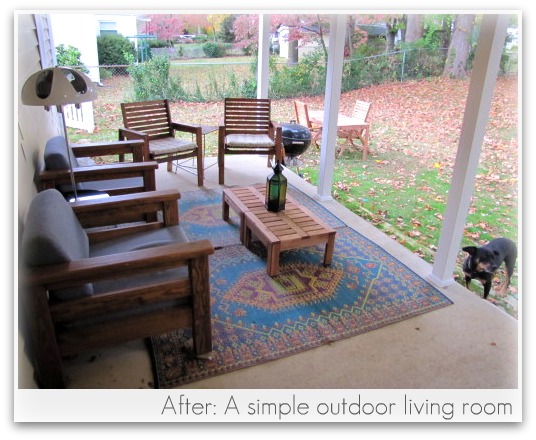 Those two recycled plastic rugs that didn't work so well as a mudcover ended up being the perfect size for our porch.  We topped it with a pair of old This End Up chairs that we found on Craigslist for a whopping $5 total.  Yeah, you read that right!  I've always hated the old wood-crate style furniture like these chairs, but when brainstorming cheap outdoor furniture ideas they suddenly seemed like the perfect option.  Here's why:
Their simple wooden construction and loose pillows (even the sofas and loveseats) make them easy to weatherproof:  simply apply an outdoor-grade polyurethane coating to the wooden bits and recover the chair cushions in outdoor fabric.  (That's our plan.)
They're actually darn comfy.
Most importantly, they're so unwanted that people are practically giving them away on Craigslist.  Either that, or asking wayyyy too much for them, in which case you just wait, and try again in a few weeks when they've realized their "beautiful classic This End Up living room set" is no longer worth $700.
We'd like to eventually find a matching loveseat or sofa, but for now the chairs suffice.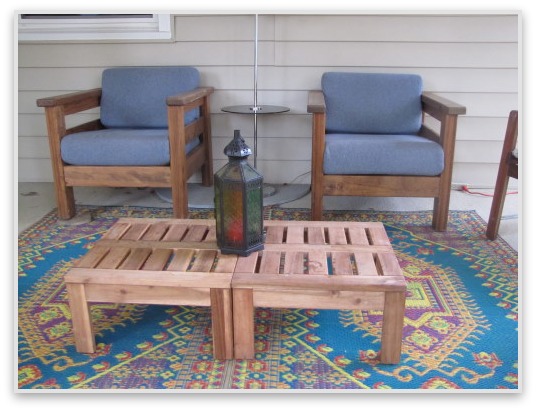 Though the $5 chair pair is not part of our Ikea outdoor furniture set, it matches pretty well – thanks to its natural wood construction.  We pushed together two ottomans (that I bought thinking they were end tables) to create a long, low coffee table that has already served us well at many a small gathering.  And between the two chairs we've placed Ryan's vintage chrome and Lucite lamp.  It's funny, the lamp became part of the patio by accident.  We certainly didn't intend to put it out there, but one night I grabbed it to use when we simply  couldn't see our guests after the sun set.  It didn't really have a place in the new house, what with all the recessed lighting – so it just sort of made itself at home and stayed out on the porch.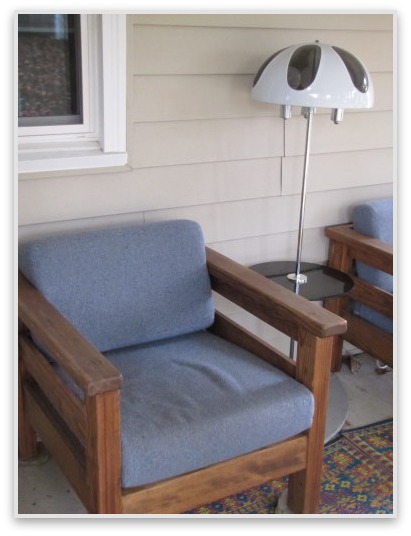 So there you have it, our simple outdoor living space.  It won't win any design awards anytime soon, but it was affordable, and it's cozy as heck.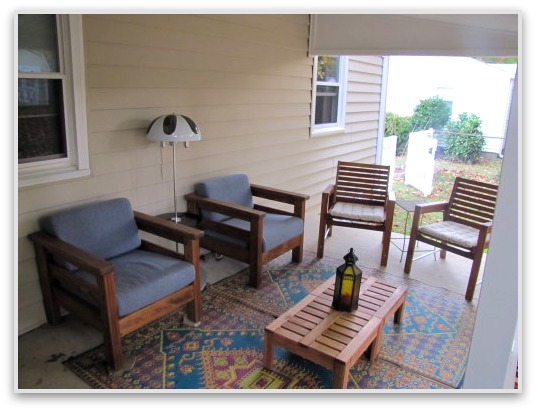 This spring I'd love to add some hanging lighting, as well as long drapes to glam up the space (tied back to each of the posts, of course), and make coordinating weatherproof cushions for all the chairs.  But in the meantime, well – we're happy just the way it is.
There's one more part to our outdoor makeover.  Stay tuned!