When I shared the basement guest room and guest bath, I didn't share the rest of the downstairs space. That's because there's a lot more to our basement than just a guest room and bathroom.
Having an 80%  finished basement like this is really the icing on the cake for us, as it almost doubled the home's usable space.
When you walk downstairs into the basement (which doesn't feel very basement-like thanks to all the natural light) you find yourself in our TV room.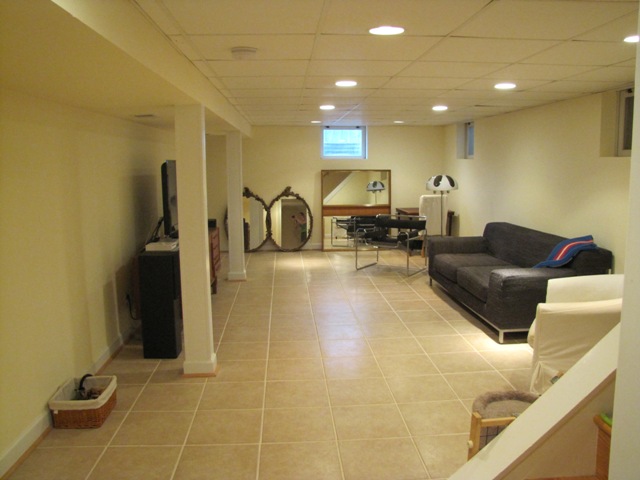 If you walk past the sofa and TV to the other side you'll find the french doors that lead to our guest room.  The sofa, TV, Wassily chair, and vintage lamp all were Ryan's.  (He's got great taste!)   And because our living room and dining rooms offer limited space, we determined that my mid-century modern buffet cabinet was better utilized down here.  Now, in addition to holding our new TV, it houses our remotes, DVDs, CDs, video game controllers, and  more.  My two huge mirrors are resting against the wall because we're not sure where we'll use them yet.  To be honest, we've grown to like having them right where they are – they make the space feel even bigger.  But of course they can't stay there.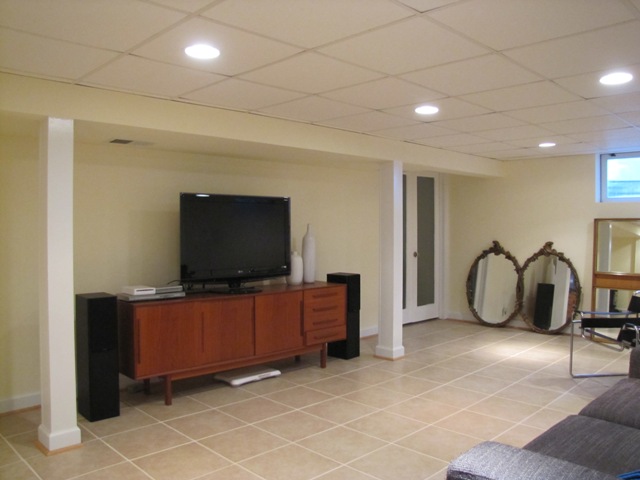 Looking back at the stairs from the location of the sofa, you'll see a doorway.  Where does it lead?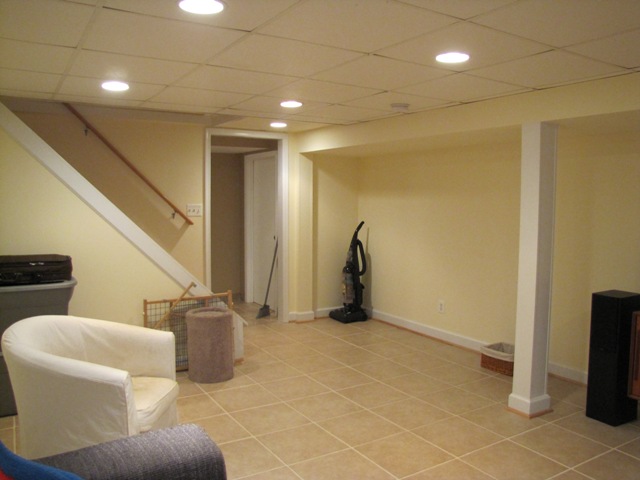 The doorway leads to our pet feeding area, guest bathroom, and laundry.  To keep things cleaner and simpler in the kitchen upstairs, we decided to do all pet feeding and litter boxing and dog corralling in the basement.  The tile floor is easy to clean, and the basement provides them with a safe place to be kept out of trouble when we're not at home.  (We use a baby gate at the bottom of the stairs so that the cats can come and go as they please.)
This is one space that is really bugging me.  I need to get it organized and prettied up.  The fact that it's a utilitarian storage place is no excuse for it to be messy.
*Update:  This space is all spiffy now.  Click here for the details.*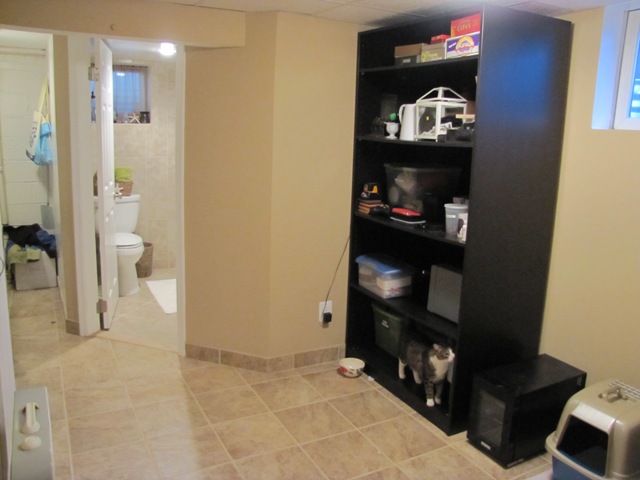 Looking out from the laundry area you'll see that we also have two more doors.  The little one on the right opens to a closet under the stairs which – though we may never use it – is just fun to have. The big door leads to a workshop where we will be building some furniture!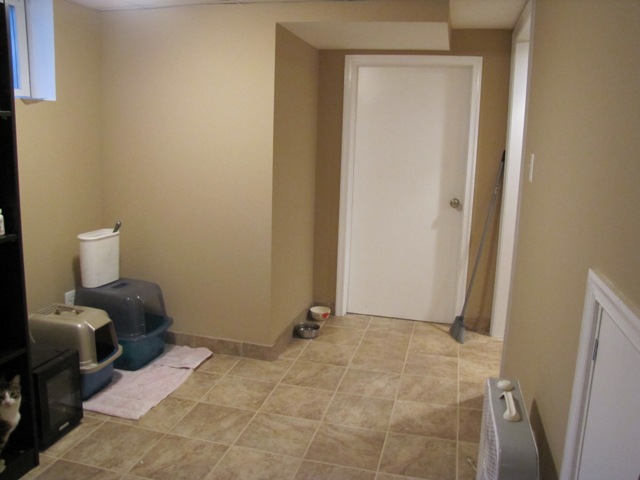 As I write this to share with you all, I am again flabergasted at the amount of space we have at our disposal.  It amazes me that so many people would consider our 1500 sq ft (I think) modest ranch house to be small – yet to us it is enormous and bursting with potential, and we feel spoiled by it.
Maybe next week I'll have permission to share Ryan's office, which is the only upstairs room I haven't showed you.  If not we'll move on to the back porch and backyard next week!
Click here to see Part 9:  Back Yard & Porch