Q:  What do two pet-lovers do when they have guests with severe pet allergies?
A:  They stick them in the basement!
Just kidding!  Not really.  Yep, we've stuck our guest room in the basement.  No, it's not as horrifying as it sounds.  Read on:
It's not a huge room, but I've got major plans for this space.  When I'm done with it, it'll be bright, colorful, comfortable, and just a little bit wacky.  In other words, just like me!
Of course today I'm sharing the space in its "just-moved-in" state.   It was tough deciding on its location.  We were torn between using the 2nd bedroom upstairs or the basement bedroom.  After much deliberation, Ryan and I decided to use the private room in the basement for the guest room.  Before you freak and say "basement, ick!" let me explain.  The space is newly renovated, and located off the TV room.  It's got stone tile floors, new white molding, and a small, high window which actually lets in a good amount of light.  For a basement.  The space is small, but it's adjacent to a large room, and is steps away from a full bath – which guests have all to themselves.
Here's a view of the room as you enter through the french doors: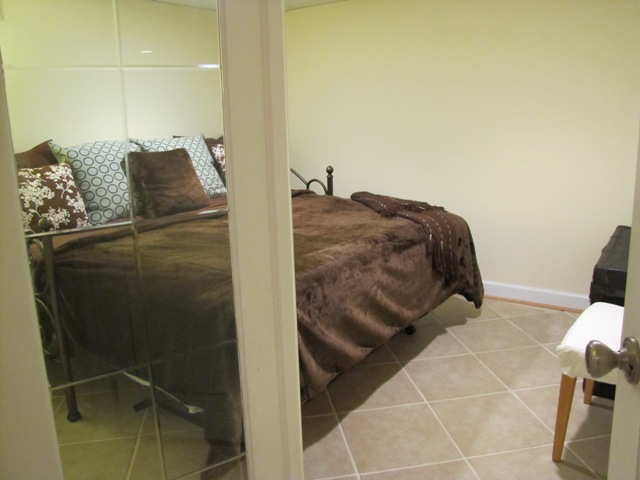 In the corner under the window I've placed a chair and a vintage steamer trunk.  I like to make sure guests have a seat as well as a surface to lay out their stuff upon.  Ideally it would be a low dresser with empty drawers, but hey – I'm working with what I have for now.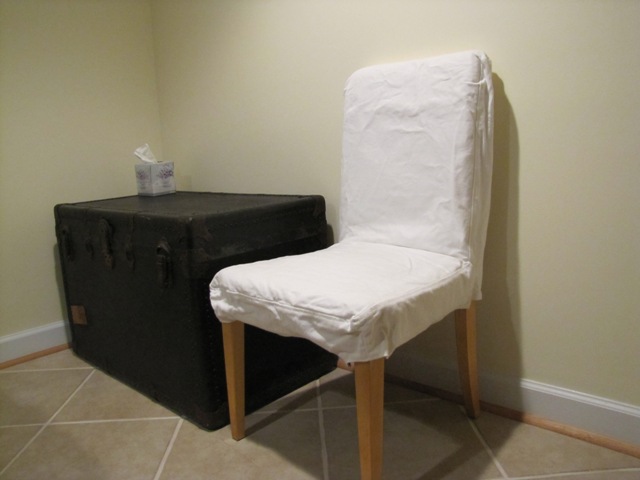 Next to one side of the bed a reading lamp and some fresh flowers sit on a small bedside table with drawers.   Fresh flowers add an extra dose of cheer to let guests know they're really welcome.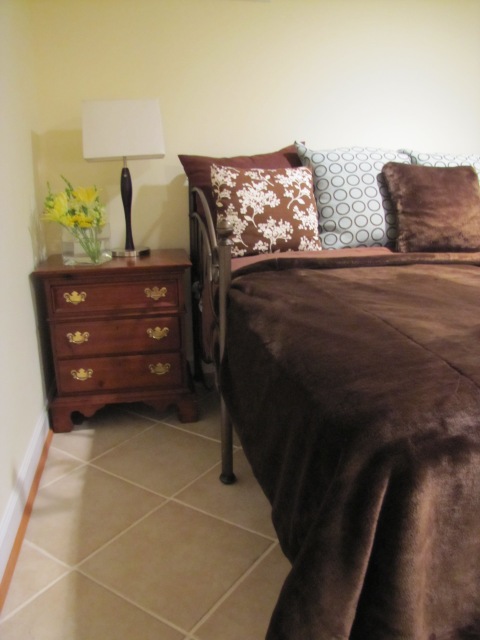 And here's a view from the back corner of the room.  Clearly I need to sew privacy blinds for the french doors.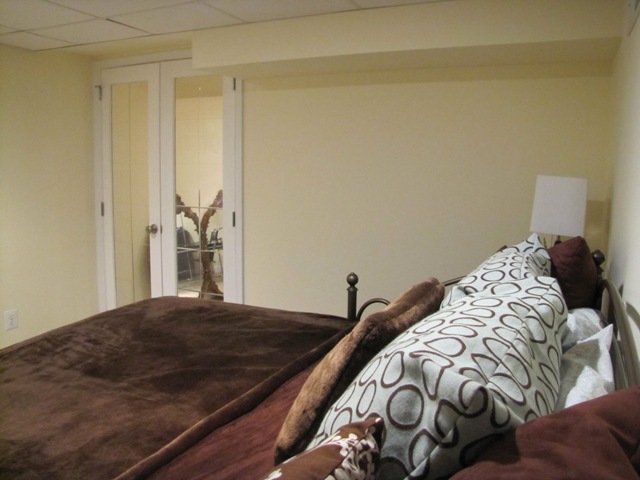 Pet-proof solution: In order to make this a pet-free space in a very pet-friendly home, we keep the doors to the guest room closed at all times.  Seeing as both our mothers have severe pet allergies, we must ensure they have an allergen-free space to stay in when they visit us.  And regardless of their allergies, I think it's preferable to offer my guests a hair-free space [if possible] just in case they're not as used to the fur as we are.
Right now I've got my daybed in the room.  In the photos it's expanded into its king-size form for a tall male guest.  When single guests (under 6′ tall) come to stay, the trundle is stowed away, leaving the room feeling more open.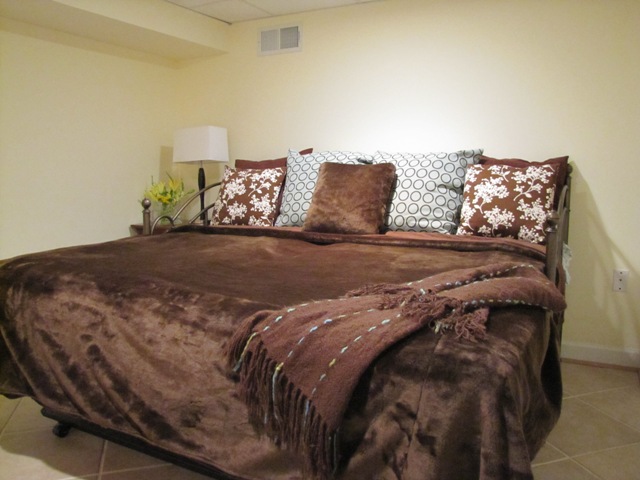 Since it's a small basement room with limited light, I want to use a color palette that is bright, cheerful, and a bit playful.   Remember the fun pink and green fabrics I was loving at Tonic Living?  I'd like to use those as the springboard for this room.  Back when I mentioned my love for these fun pink and green fabrics at my fave online fabric retailer, Tonic Living, this is one of the spaces I had in mind.  I can not wait to start playing around with those fun colors!!
Click here for Part 6:  Guest Bath