On Monday I shared how I created an organized pet feeding station in the random little nook of my finished basement.  Today I'm back to show you how I just may have gone overboard, whipping up a cute and pretty "pharmacy" station to keep all the four-legged-children's medications in check.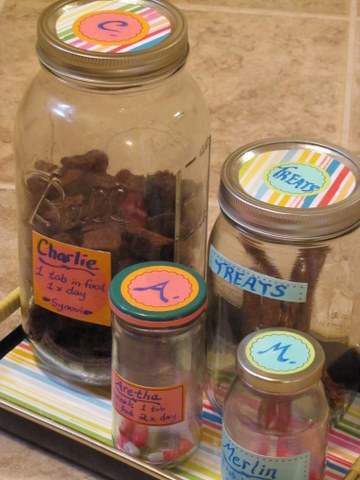 With two cats and two dogs ruling this abode, meal time was bound to become complicated eventually.  Just like me, they aren't getting any younger.  Pet care and feeding involves more than just plopping a scoop of dry kibble in a bowl and topping off the water. Add in a joint supplement for the old arthritic watchdog, Benadryl & special food for the younger pup's sensitive skin, and a supplement for the weird ninja cat's finicky bladder, and I'm feeling like a regular pet pharmacist come feeding time.
If I have to play pharmacist, I might as well make the drug counter cute.  After all, our overnight guests have to walk past the feeding station to get from their bedroom to their bathroom.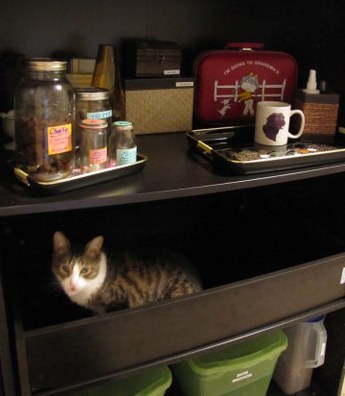 Enter the ever-useful recycled glass jars. I never throw out our food jars.  Why send them to the recycling plant when they can be upcycled in your very own home?
Decorating glass jars and using ModPodge is old news in the blogosphere, I know.  But just in case my  mom's reading this, here's how I did it:
Using some scraps of craft paper, I made a label for each medication.  Contents of the label?  Pet name.  Medication dosage.  Medication name.
I then used ModPodge to adhere the labels to the front of each jar.
In the mood to go one step further, I adorned each lid with the first initial of its' intended recipient.
Lastly, I sealed the deal with a final swipe of polyurethane sealant that I had on hand.  When the jars were dry, I added the medications.
But wait, there's more! I had two little black plastic trays on hand.  The smaller of the two was perfect for corralling all the jars.  Using the steps above, I adhered a swatch of coordinating craft paper to the base of the tray to jazz it up a bit.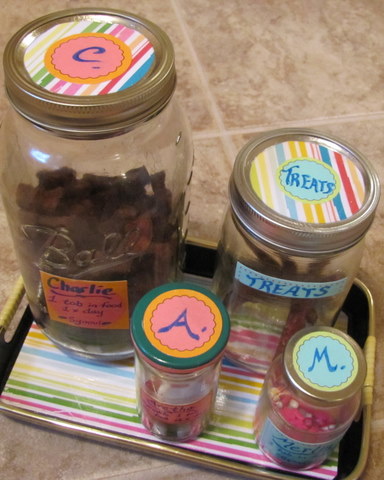 Here's a tip about the labels:  By including pet names and dosage instructions, I took the guesswork out of feeding time –  for both my dog sitter and anyone else who may need to feed the pets.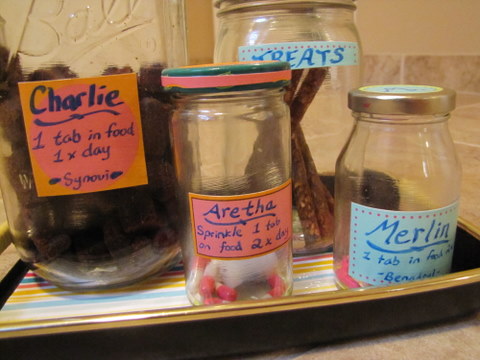 And as for the larger of the two trays?  I set that on the pharmacy shelf, creating a cohesive space from which to prepare the bowls of food . . . as the kitties wait impatiently below.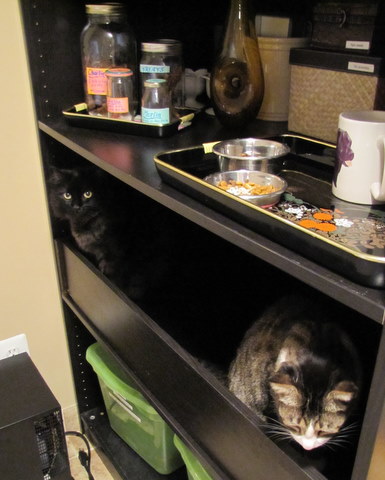 So what do you think of my "pretty pet pharmacy?"  Are you sure I've gone bonkers, or have you done something equally silly?  Or does this only make you happy to have spared yourself the work and expense of having too many (if any) pets?
(Shared at:  Organize and Decorate Everything, Someday Crafts.)