Every time I walk into the kitchen, my eyes automatically dart to the back door, looking out onto the porch to see if Doctor wants to come back inside from his perch on my yoga mat.
And then I remember.  He's not there.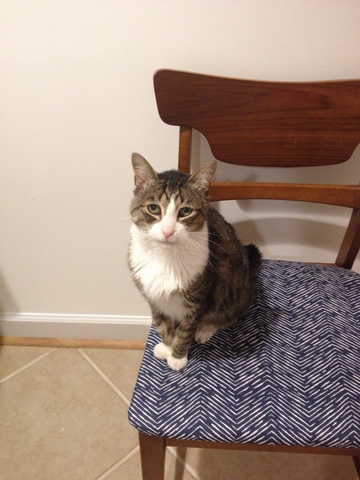 We said goodbye to Doctor two weeks ago, in the same room of the same hospital where we said goodbye to Charlie on Christmas Day, only nine months ago.
Taking Charlie to the Hope Center to say goodbye was hard because I couldn't bear to lose my canine best friend.  Taking Doctor there was hard in a very different way – it was difficult to know if we were making the right decision, because he still was purring a lot and loving affection from us, but for reasons hard to describe to those who never met him, he wasn't himself. We were worried he was uncomfortable, and he'd lost more weight and had other signs that the cancer had gotten worse.
We probably could have waited longer if we really wanted, but for what?  To selfishly have a few more days or weeks with him, sure, but at the potential price of making him suffer.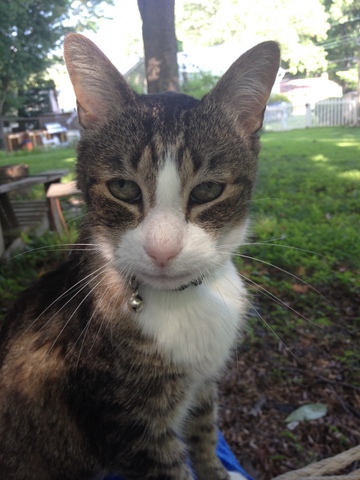 In his last few months, Doctor preferred to sit outside for hours each day and night, stretched out or balled up on my blue yoga mat.  Now I can't stop checking the mat outside because I'm so used to checking to see if he wants to come in the house. I also keep thinking that I hear him meowing in the house.  I said something to Ryan about both these things, and he said they're happening to him, too.
I hope this ingrained habit goes away eventually, because it sends a jolt of sadness through me every time.
I also hope that our three remaining pets stay healthy for a few years, because two cancer losses in one year is more than enough.  I've found myself feeling a little paranoid about the remaining pets, simply because of the string of events we've been through in the last year with pet health.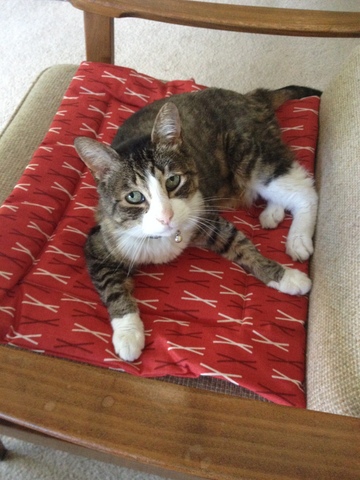 However, at the same time, I understand that when you adopt 4 animals, all around the same age and around the same time, these things can happen.  More importantly, I refuse to mope about it, because I have three other animals who love my company and deserve a happy mom.  Plus, with our silly poodle joining the family, I can't help but laugh several times a day at her antics.
In the mean time, my blue yoga mat remains on the porch, but the only thing relaxing on it now is fallen leaves.  It's sad, but it's also a nice reminder of Doctor.
For awesome updates & exclusive discounts on Janery pet beds, please sign up for my newsletter!