The day after we said goodbye to Charlie, I had to run some errands.  Maybe I just had to get out of the house.  Either way, I took Merlin with me.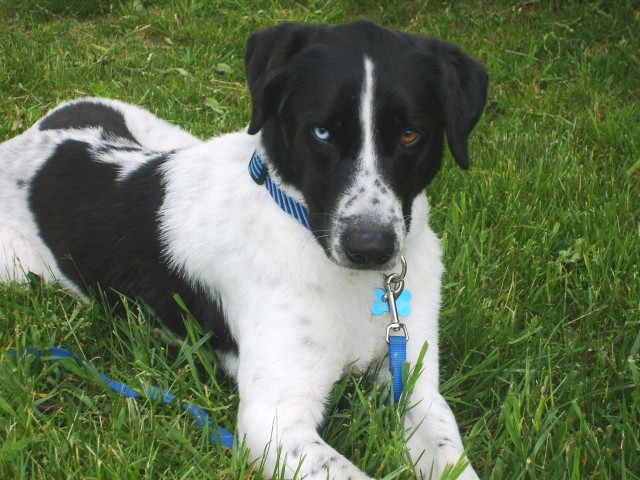 When we got home, Merlin dashed excitedly through the house.  First into the bedroom, followed by my office.  Then back into the living room, and into the kitchen.  He pranced at the back door, so I let him out to circle the yard.
Coming back into the house, Merlin sat down in front of me with his silky black ears flipped forward, his head cocked to one side, and his brown and blue eyes each looking at me questioningly.
"What's going on?" I asked him.
He panted at me and proceeded to repeat the home inspection.  When he returned to my side a second time to sit down and look confused, I realized what was happening.
Merlin was looking for Charlie, excited to see her after being out on a special adventure with me. It was then I remembered how he always raced into the house to see her.
The next day I went out for more errands, again taking Merlin with me.  I was reluctant to leave him home, and having him along for the ride was a nice distraction.  The Looking for Charlie process repeated when we returned home, so I grabbed some treats and gave Merlin some extra attention.
Merlin's confusion across those two days was a good reminder for me.  In the midst of my personal grief, I'd failed to think of how our three remaining pets might be affected.   When Merlin came into my life as a wriggling 3 month old puppy, Charlie was there to mother him, play with him, and let him know she was the alpha dog.
Ryan and I were devastated at the loss of Charlie, but we couldn't retreat completely into it.  We had three other critters who still needed us, maybe even more now than before.