Do you ever get tired of seeing all the perfect before & afters of DIY projects?  Let's be real for a minute and admit that not every DIY attempt results in a project you actually want to use in your home.
Today I've got just such an example, and I'll share the process I went through as well as the end result, and my thoughts on why it didn't work in my home.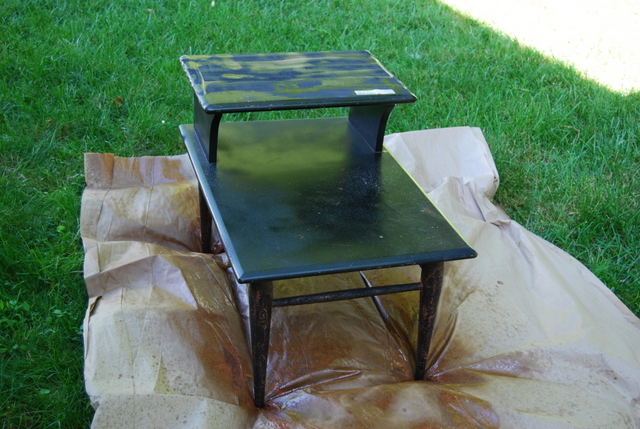 I found this mid-century two-tier end table in a thrift store for only $10 this past summer.  It felt like solid wood, and I thought it would be fun to strip off the sad black paint job and return it to a more authentic stained-wood look.
I applied Citri-Strip to remove the paint.  This is my favorite paint / varnish stripper, because it's more natural and the fumes aren't bad.  (Still, I did it outside and wore a ventilator mask because I was pregnant at the time.)
I got excited as I scraped the paint off the sides and legs and found pretty wood grain hiding beneath.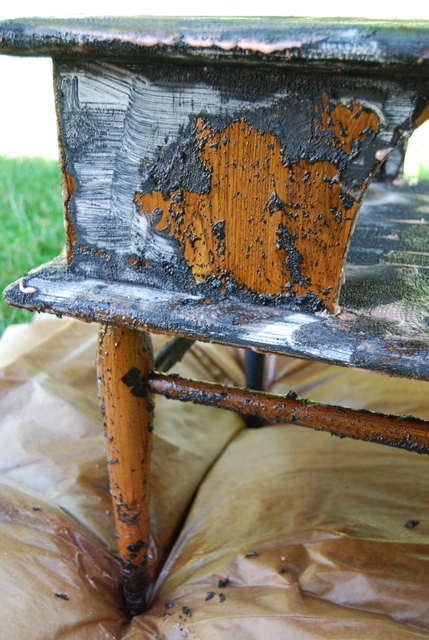 However, when I removed the paint from the two table tops, I was disappointed to see that they were made of MDF surrounded by a thin edge of solid hardwood.  There went my dream of refinishing with wood stain alone.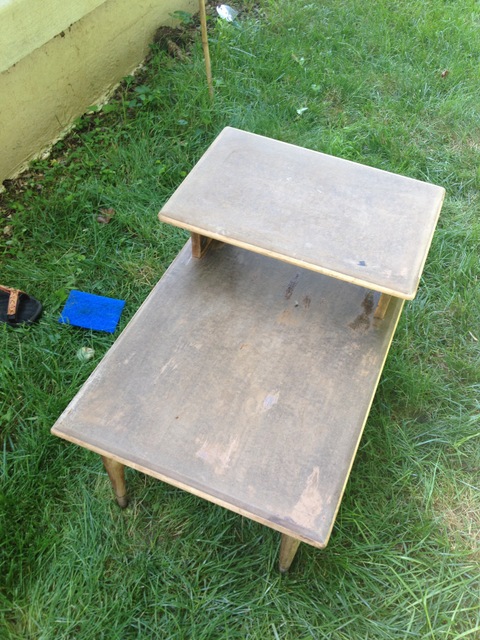 I ended up staining the hardwood parts and painting the two table tops white.  I've always liked the look of mid-century furniture refinished in a mix of stained wood and white paint, and had been excited to try that myself.
However, I disliked how the table turned out in the two-tone look. Still, I tried setting it up in the living room; ever since we got the sofa recovered in leather, I've felt like there are too many wood-tone pieces in that space.
Perhaps the white paint would add some good variety?
Nope.  The scale was off and the color looked harsh and mismatched against the rest of the space.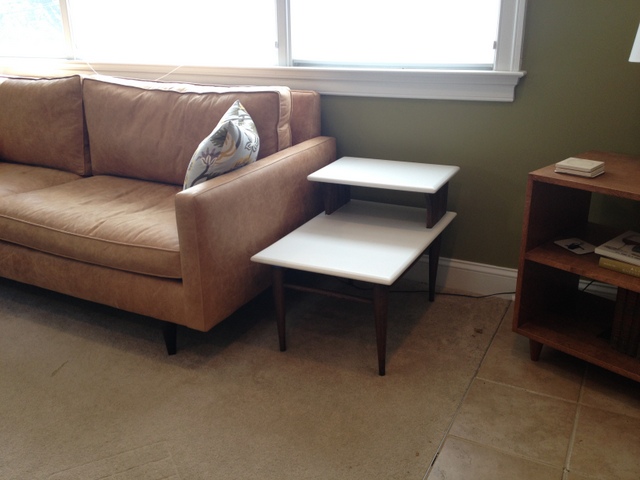 I ended up giving the table to my friend to use in her apartment, suggesting that perhaps the table tops would look better painted in a dark color, such as teal.
The moral of this story?
Sometimes there's a reason that secondhand furniture is coated in a bad paint job!