I always try to do the bulk of my Christmas gift shopping with small and handmade businesses.  It's fun to support artisans and local entrepreneurs while giving a truly unique gift that won't be found in the mall. It's an added bonus that, with strategic shopping, you can avoid the mall altogether!
So here are a few handmade gifts that I enthusiastically recommend.  You can find even more recommended shops here and here.
I've met all of the following handmade business owners either at local art shows or through friends, and I vouch for the quality of their products!
Unique Handmade Jewelry: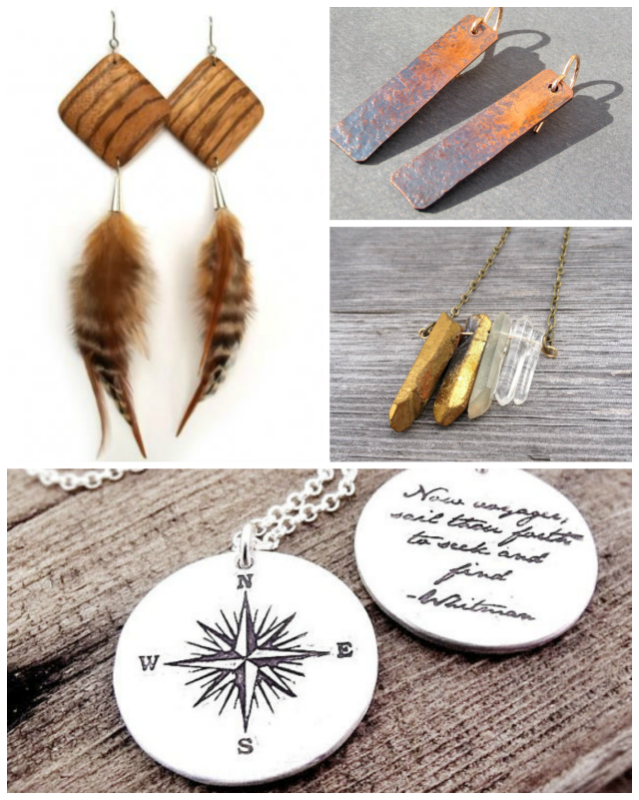 Clockwise, from top left:
Zebra Wood and Feather Earrings by Onetribe Organics. They also sell handmade, organic body jewelry.   (I went to school with Jared, the owner and designer, and he runs an impeccable company and gives so much back to his community.)
Ombre Earrings in Copper by HattieRex on Etsy
Gold Aura Quartz Long Necklace
Compass Rose Whitman Quote Silver Necklace  – I've purchased this exact necklace as a gift in the past.  Great service and top quality product!
Awesome Screen Printed Gifts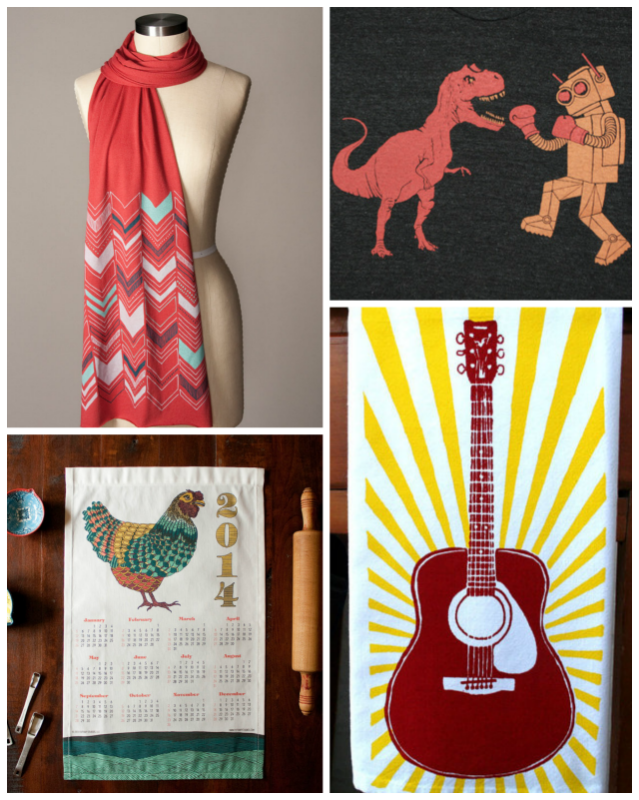 All are designed and printed in the USA by small handmade businesses.  Clockwise, from top left:
Chevron Printed Jersey Scarf by Flytrap on Etsy – I have one in a different design and love it!
Dinosaur vs Robot Tee by Gnome Enterprises.  They have a huge selection of wacky designs.
Guitar Print Tea Towels by TinyPeepers on Etsy – I've given these as gifts Another
2014 Tea Towel Calendar with a Rooster – also by Flytrap.
Finally, my favorite item from Gifts in the Galleries, at the University of Pennsylvania, a show I recently attended: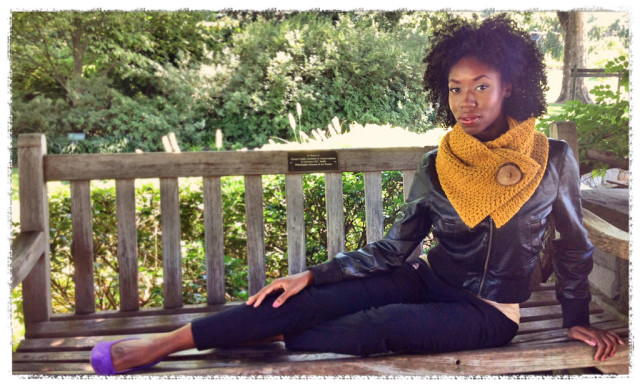 These fabulous knit neckwarmers / cowl scarves by Wise Owl Shop.  Ashleigh also makes similar neck warmers from vintage materials – and I have been wearing mine nonstop since I bought it. It makes it easy to stay warm when you keep the temperature low in your house to save energy.

I hope you'll consider supporting handmade and small businesses when you shop this holiday season.
Are there any other handmade businesses you'd recommend?