This Christmas Ryan and I received an amazing wedding gift:  a king-sized quilt made for us by Ryan's mother.  The jewel blue batiks are pieced together in a wonderful modern pattern, so perfect for us that I can't stop admiring it.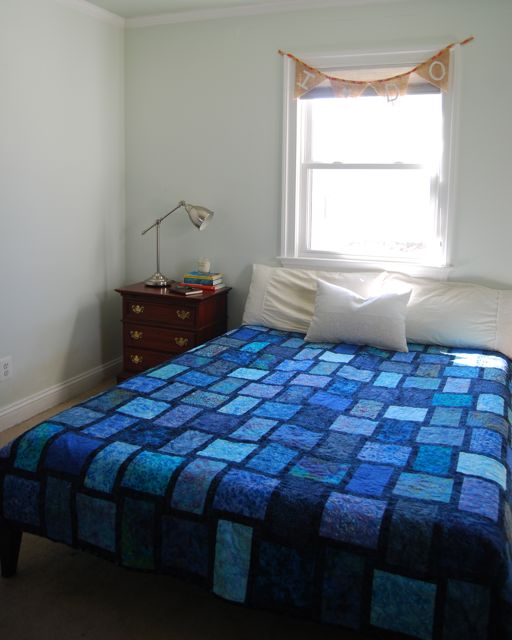 She chose a wave pattern for the actual quilting that was done to it, because we got married on the bay.  How awesome is that?  (I know the pattern is a little hard to see in my photo below.)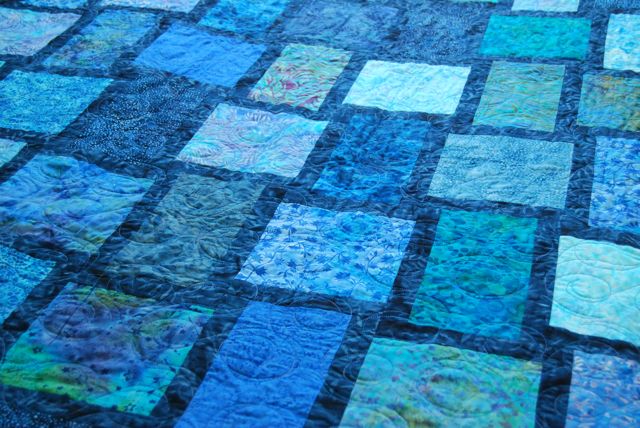 And on the back corner she included a sweet message.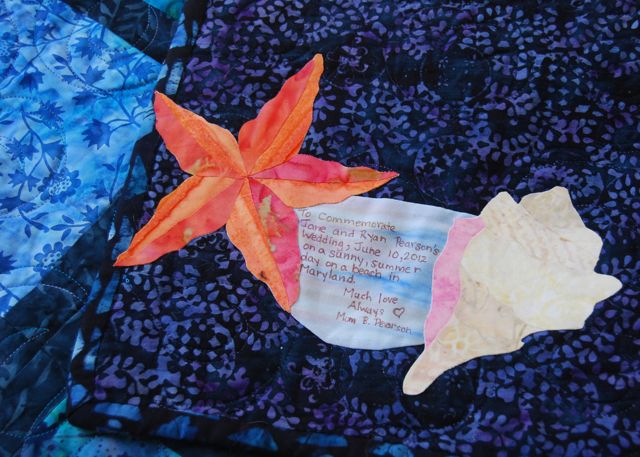 Right now we keep it on the foot of the bed when we make the bed, because the cats sleep with us at night and we don't want it to get hairy just yet.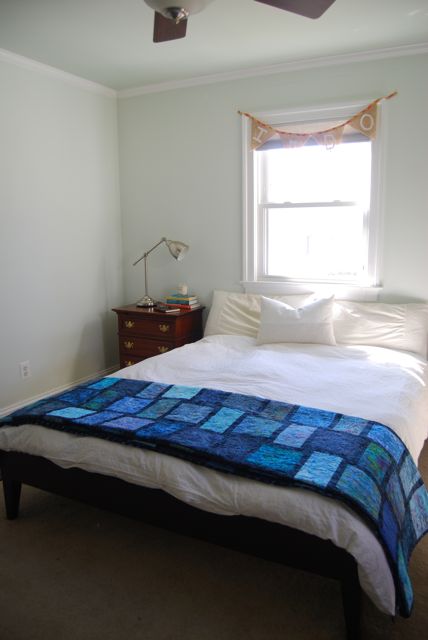 Are you surprised to hear me say that?  I'm usually a firm believer in using something rather than saving it – but we want this to last for the rest of our lives, so we're not ready to let it get hairy just yet. 🙂
Showing you the quilt, however, means that you now see how we've undressed the bedroom quite a bit.  It looks so naked to me.
Once the most "finished" room in the house, our bedroom is now naked.   It's hard to explain, but it started when we removed the too-dark nightstands that we built.  Then I reluctantly removed the curtains that I had sewed, because without a headboard for the bed, the curtains got tangled on Ryan as he slept.  (He's a very active sleeper.)  Then I removed the wall-mounted lamps, and replaced my wine crate nightstand with one from my parents' house, simply because I wanted to use that Ikea lamp 🙂
What drives me craziest is the lack of curtains.  Ryan's finishing up plans for building us a king sized bed with a headboard.  Once that is built, then we will add curtains back in and go from there.
February is filling up, but the bed needs to be built by the spring, so we'll be building the bed and tackling the bedroom re-makeover in March and April.
In the mean time, I'm open to your thoughts on quilts.  To use them or save them?  How do you like to store them and wash them?  Have you ever had issues with pets messing up quilts?