Did you know that $600 could get you a king size American-made, eco-friendly mattress – in the mail – that is actually super comfortable and well made?
You can, and I promise you that this is for real. This is not a sponsored review, just a super enthusiastic happy customer one.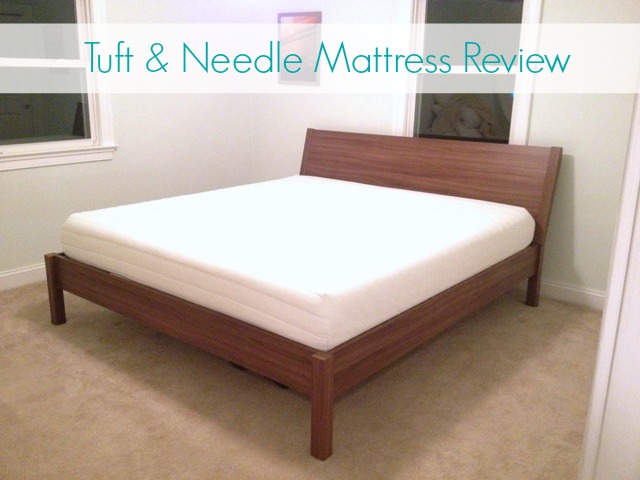 Until a few weeks ago I had no idea such an option existed. I thought Ryan and I would have to head to a few mattress stores, deal with skeevy salesmen, and go through the painful negotiation process only to spend $1500 or so.
Fortunately, when I posted on Instagram about the Ikea bed fame we were considering, my friend from Old Town Suds commented about Tuft & Needle, a relatively new mattress company selling exclusively online.  Fed up with the middle man and mattress store shenanigans, they decided to create a better product at a better price.  Made in the USA, start to finish. 
"We source all the raw materials—everything from the threads to the zippers. The fabric comes from a 90-year-old, family-owned textile mill in the Carolinas. The foams are freshly poured and cut here in the US. We put the finishing touches in Southern California before we load it on a delivery truck."
Additionally, the company is working to provide beds to foster children.  After reading over the website and loving the company's story, I showed Ryan and he agreed – why not go ahead and order it?
"But how can you buy a mattress without ever laying down on it?"
Well, Tuft & Needle cut out the middle man (mattress stores) to cut prices.  They offer the lowest price by being the manufacturers and selling directly to you. To make up for the scary unknown risk of ordering a mattress you've never slept on, they offer free shipping and free returns for 30 days – no questions asked.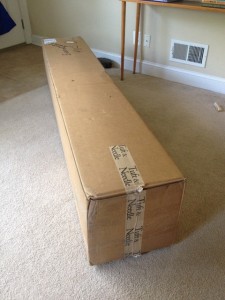 That's right.  We could order the mattress, sleep on it for a bit, and if we hated it – just return it.  We wouldn't lose a penny.
The mattress arrived within 5 business days of our order, in a long rectangular box.  We opened it up and pulled out the rolled-up, decompressed, vacuum-sealed mattress.  It was like a log of mattress.  We rolled it out, and when we punctured the plastic wrap around it, the mattress slowly began to inflate with air.
But it's not an air mattress.
The sturdy foam that makes up the mattress is somehow vacuum sealed so all the air is pulled out, and that makes it much easier for shipping.  After 3 hours the mattress is ready to sleep on. Unfortunately we went out of town for the weekend so we had to wait two nights to sleep on it.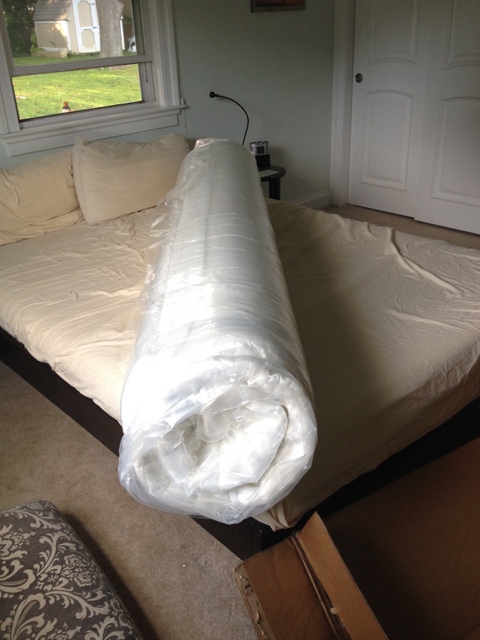 So, how was it?
On the first night it seemed too firm, but on the second night it was perfect, as though it softened up just a tiny bit from being broken in.  And it's been perfect ever since.  I'm finally sleeping well and waking up without back pain.
It's fairly firm, but it still gives nicely to support the curves of your body.  We've slept on it lying on backs, stomachs, and sides – all positions are comfy.  If you like a really squishy pillow top, you will want to add a pillow top mattress topper. That's easy enough – and you'd still have a great mattress for much less than the cost at a mattress store.
Pros of a Tuft & Needle Mattress:
No flame retardants on the outer shell
Foam core made from recyclable, low-VOC polyurethane foam
Made in California from start to finish
Made by a pretty cool small business
Free shipping & free returns for 30 days if you hate it
Cons of a Tuft & Needle Mattress:
You don't get to negotiate with annoying salesmen in mattress stores. . .
Just kidding.  We don't see any negatives since you can return for 30 days if the mattress doesn't suit your sleep style.
Oh, it comes in two thicknesses – 5 inch and 10 inch. We decided to get crazy and go for the 10″.  I'm glad we did – it feels like a "real" mattress.
So, if you're curious, check it out!  You can order through this link to receive $50 off your purchase.  Full disclosure: we also will receive a small commission for the referral.