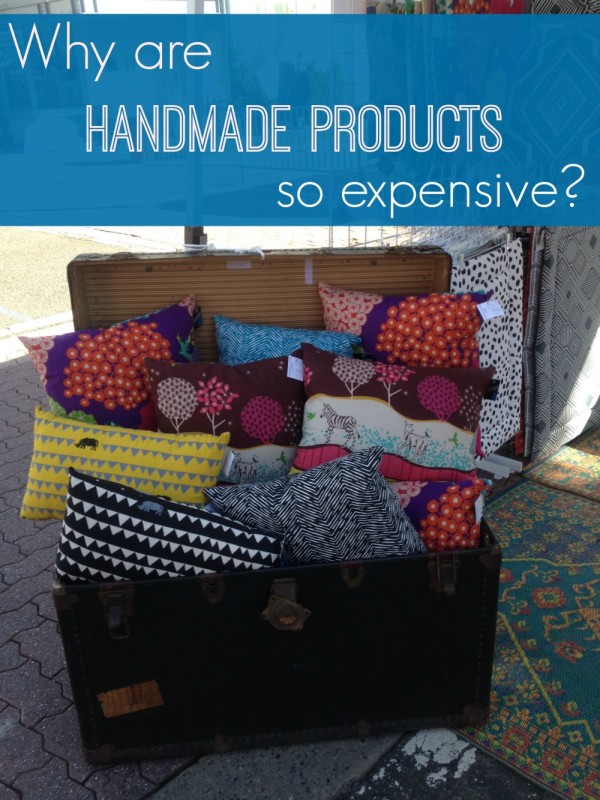 Did you ever look at the price tag on a handmade item and wonder why handmade products are so expensive?
When I'm selling at art shows or craft fairs I sometimes hear "I could get it at Target for half that price."   I don't take offense, because I know I thought the same before I started Janery, my handmade home decor and pet bed business.
This is on my mind because I just released a collection of plush waterproof pet beds. I was nervous before the launch because I knew some people would see the $125 – $195 price tag and be shocked at how "expensive" they were. It's true: my Charlie Cushions are not cheap dog beds. They are made carefully with ethical labor and quality American-made materials.
So why was I nervous about my prices?
Because I know people often experience "sticker shock" at handmade prices, and I'd never want customers to think I was trying to take advantage of them.
A handmade product costs more than its counterpart at Target or Walmart. The big box stores manufacture in overseas sweatshops, where people, often children, are paid pennies an hour in dangerous working conditions.
Given the low prices (and frequent sales) that big box stores advertise, we've been conditioned to expect low prices on everything.
To combat that, here's a very simplified look at what's included in the price of a handmade product:
Cost of materials used to make the product
Labor – any time spent designing, making, and then marketing the product – whether it's the business owner or an employee
Packaging materials
Overhead (all other business costs – including the cost of equipment, accounting, insurance, utilities, rent, advertising, etc)
Profit
Profit? Yes. A business that does not make enough profit will go out of business.
Profit may seem like a dirty word to shoppers. It conjures images of wealthy CEOs living on yachts in the Caribbean, but the majority of small business owners will never live in such luxury.
Profit is what remains after the employees are paid and all business expenses are covered. Profit goes into the bank where it's saved until I need to buy new equipment, take training courses, or grow and strengthen my business in other ways. It's my businesses' emergency fund.
At the end of the year the owner may pay themselves a bonus. That does come out of profit, and it's no different than an employee at a big company getting a bonus for a job well done.
My goal with Janery is to grow the business and hire women in my community to sew for Janery, so that I can focus on designing more fabulous home and pet products. A talented seamstress makes $15-$20 an hour in the US, and my prices reflect that. A similar employee at a factory in China would make pennies.
I can't compete with sweatshop prices, and I don't want to.
Next time you see a handmade product with a price that surprises you, hopefully this will help you understand what's behind that price tag. I encourage you to support small businesses during the holiday gift-giving season, and year round.
PS: Will you help me educate shoppers on the costs that go into handmade and ethically made goods? Please pin this on Pinterest, or share on Facebook and Twitter.  Thank you!!