Ryan and I got a Vitamix for Christmas, and I've been blending nonstop since then. We asked for the Vitamix because we had ordered a fancy Omega juicer to make green juice, but returned it when we were disappointed with how slow and cumbersome it was to use and clean.
The Vitamix surprised me.  I was nervous it wouldn't live up to the hype – or the price – but it is absolutely worth every penny. Because it is so expensive, we asked for a reconditioned one, which took $100 off the price. It still comes with a great warranty, and we're happy with it.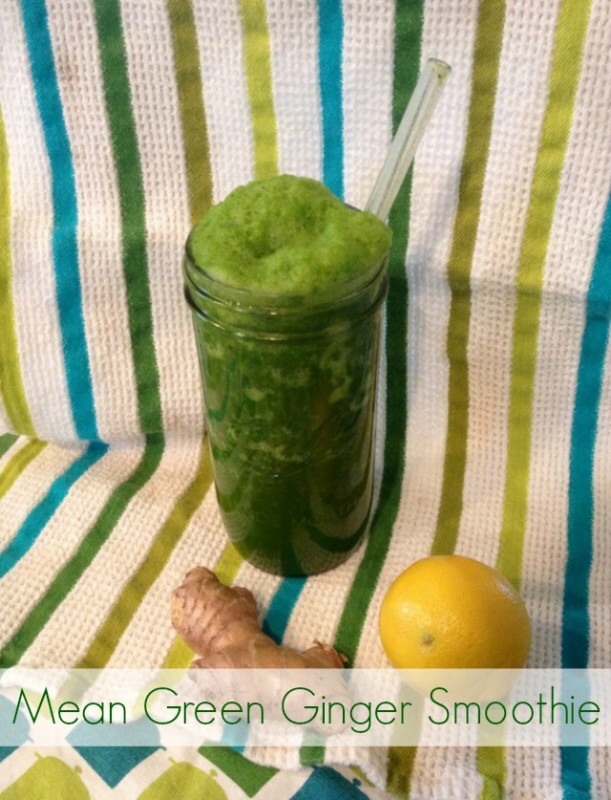 I don't want to have too many kitchen appliances, because I like to keep things simple. The Vitamix is so much more versatile than a juicer, and I can still have smooth green juice if I run a smoothie through a Nut Milk Bag
. So I no longer need a juicer.
So let's talk about the green smoothie I shared on Instagram yesterday.
I love to throw fresh ginger into my smoothies and juices because it's so good for you, and it has a great spicy kick to it. Ginger has tons of health benefits – aiding in digestion, counteracting nausea, aiding in liver cleansing, and boosting your immune system.
Green Juice novices be warned: this smoothie packs a punch, between the serious dose of green veggies and the spice of the ginger. If you're new to green juice, you may want to temper it with a bit more apple or add some pineapple to make it sweeter.
Mean Green Ginger Smoothie
1 C water
1 lemon, peeled
4-5 Kale leaves, no big stems
2 inches ginger, peeled
1 or 2 apples
1 c ice
Place in blender in the order listed above and process on the "smoothie" function on the Vitamix.
If you're using a less powerful blender, puree just the water, kale leaves, and lemon first – then add the firmer apple and ginger and ice, and blend on high until smooth. That's all there is to it! This makes a massive smoothie – about 20 oz.