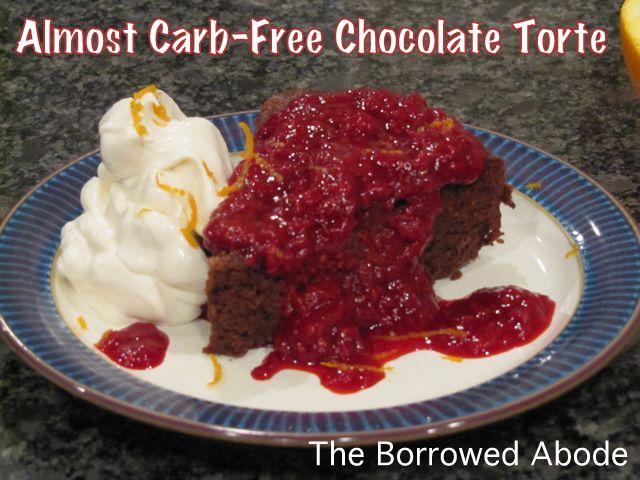 This past weekend was Ryan's birthday, and Monday was Ryan's Birthday:  Observed.  Or so he claimed. 😉
He was back home with his family for most of the weekend, and I was sewing to catch up on all the orders (still) from when food poisoning kicked my butt two weeks ago.  But before Ryan came home I attempted to do a little festive decorating & cooking.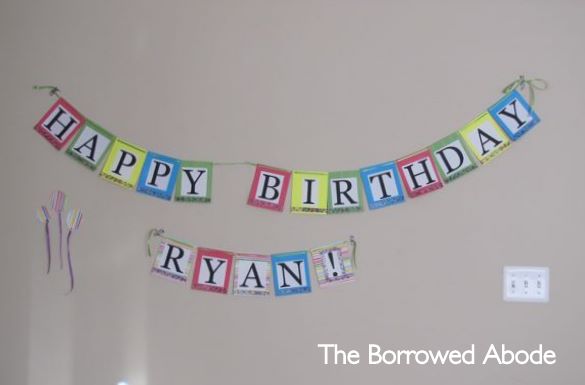 I put together a super quick and easy banner, using scrap booking paper, ribbon, and letters printed off the computer.  I simply chopped the colorful papers into squares, pasted the printed-out black-and-white letters over them, and then strung it together with ribbon.  I hung it on the wall in our living room that is STILL blank after all this time.  Sometimes it comes in handy – for Christmas cards & stockings or apparently for birthday banners.  It's like a "special occasion" wall. 🙂
I also snagged some balloons during my run to the grocery store.  Not the most environmentally-friendly decoration, I know, but they sure are fun and give you a lot of celebratory bang for your buck at only $5.95 a 1/2 dozen.
And after the birthday boy has been surprised, the balloons are fun for annoying your pets.  Or tying them around the dog.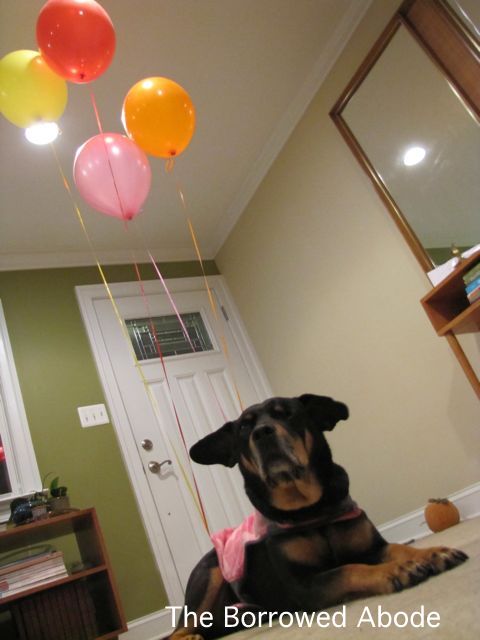 But I digress.  Let's talk about CAKE!
Because Ryan and I both love chocolate, but we are trying to do a low-carb and low-sugar diet to slim down for the wedding, I experimented with an almost guilt-free dessert.  It turned out really well (if you love dark chocolate), so I wanted to share the recipe with you.
I based the recipe on the chocolate torte (Reine de Saba) recipe in the Williams-Sonoma Chocolate cookbook.
Ingredients for Jane's Almost Sugar and Carb Free Chocolate Torte
*5 oz Unsweetened Ghirardelli baking chocolate, 100% cacao  (don't get the cheap stuff)
*3 oz Bittersweet Chocolate (I like Scharffen Berger, don't skimp on quality)
3/4 Cup Unsalted Butter, (room temp)
**1/4 Cup Sugar or Splenda
6 Large Eggs, Separated (room temp)
1 1/2 Cups Ground Almonds (use a food processor)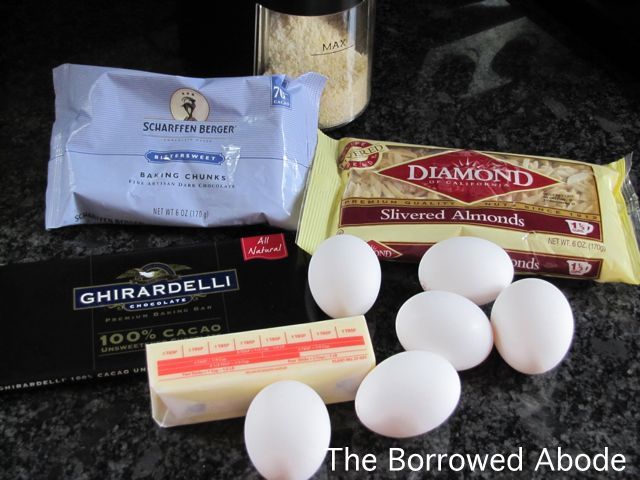 *Instead of 8 oz bittersweet chocolate, I did part unsweetened, to help cut down on the sugar. 
**Instead of 3/4 cups sugar, I only did 1/4, and I did a mixture of Splenda and Real sugar for that 1/4 cup.   I hate Splenda but Ryan swears by it.  So this was a compromise.
To make ground nuts, use your food processor.  I used my coffee grinder, and it gunked it all up. Huge mistake.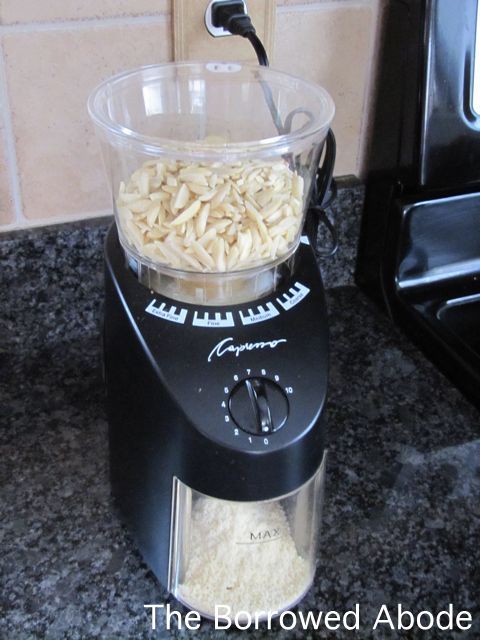 Directions!
1.  Preheat oven to 350.
2.  Butter and flour a round cake pan, spring form is ideal. (I used a cheap aluminum foil cake pan.)
3.  Break the chocolate into small chunks (if not already chopped).  To melt the chocolate, use a double boiler (or a pot of water with a heat-safe mixing bowl on top of it.  Stir until melted and smooth.  Remove from heat.  The chocolate should cool slightly.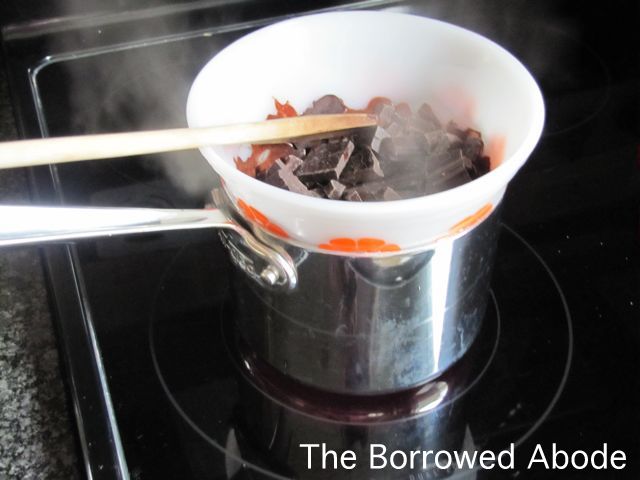 4.  In a separate bowl, cream the butter and sugar until light and fluffy.  Use an electric mixer if you have one.  Add the egg yolks gradually, mixing well after each is added.
5.  Mix in the chocolate and the ground almonds.
6.  Beat the egg whites until glossy and stiff but not dry.  (This was hard for me because we don't have an electric beater or mixer.)
7.  Fold the egg whites into the chocolate cake mixture.  Be gentle.
8.  Pour  the mix into the cake pan, smooth out with spatula on top.
9.  Bake at 350 for around 50 minutes.  When the top puffs and forms a crust, the torte should be done.
10.  Remove from oven.  Cool in pan for around 15 minutes, then turn out onto a rack to continue cooling.
Serve it up:
We like it with Frozen Raspberries & Unsweetened Whipped Cream.
The original recipe recommends that you serve this baby dripping in chocolate ganache.  But because we're trying to make dessert healthier, I made a simple raspberry sauce.  Simmer a bag of frozen raspberries in a pan, stirring and mashing occasionally until they just become saucy.  Like a puree, only less work.
Take heavy whipping cream, add a few drops of pure Vanilla Extract, and whip  – well whip it until you've got whipped cream.  The unsweetened cream is so naturally sweet that you don't need to add the sugar.  And it's SO much tastier than that stuff that comes out of cans.
I drizzled a very generous spoonful of raspberry sauce over the torte, then added a huge dollop of whipped cream.  Garnish with orange zest for a natural sprinkle look. 🙂
The verdict?  Ryan and I both loved this very chocolatey, only-slightly-sweet cake.  However, we realized that it's best if served in small slices, smaller than the one pictured above.  It's so dense that a little bit goes a long way.  And you know what? That's fine with me!!
PS:  Want to see what happens when we tie balloons around the dog and then ask her "Do you want to go for a walk?"  She gets so excited she has to run in circles, even if there are balloons tied to her collar.  And then our other pup thinks he should play-attack her.  Don't mind the disheveled state of the room.  It was a busy weekend. 🙂