Saturday's Art on the Avenue festival in Alexandria seriously rocked.  I had so much fun and was worn out by the end (in a good way) from the constant stream of awesome customers from 10 am to 6pm.
Although I didn't find time to blog in the last two weeks leading up to it (thanks for pointing that out, Ryan!) the final preparation went really well. In fact this time Ryan and I got 2.75 hours of sleep the night before, instead of the 1 short hour we got the night before my first show a year ago.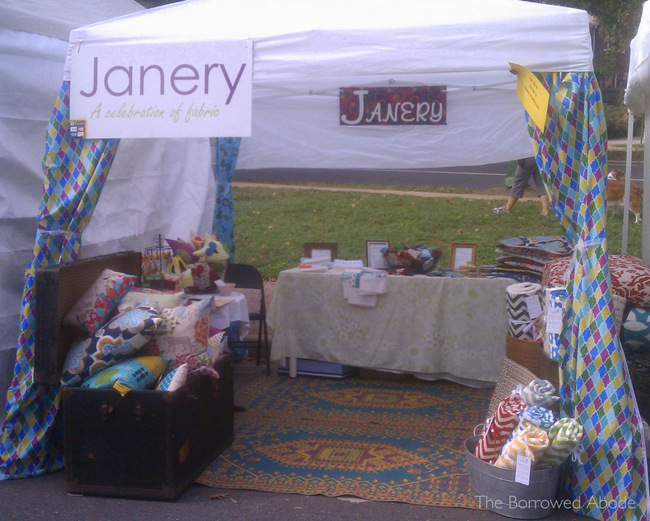 I think my booth looked much better than last time, and the addition of printed, framed product signs (rather than hand-written) really helped.  (But I wish I'd been able to keep that back tablecloth down to the floor – it looks so messy!) 
I used my antique steamer trunk to display pillows at the front of the trunk once again. Although it kept getting messy as customers dug through all the pillows, it was a great attention-getter.  When people stopped at looked at it but were hesitant to dig in, I told them "You're welcome to dig through there and pull pillows out if you need to."  I wanted them to know that I didn't mind if it got "messed up."  After all, it wasn't just for display!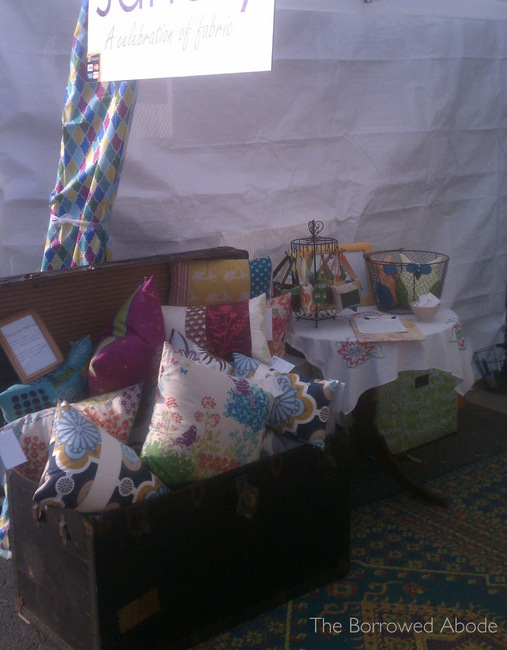 See that pretty wooden sign at the back of the booth? I have Ryan to thank for that.  I selected some wooden letters at the craft store, then Ryan cut a plywood board to fit, I wrapped the board in fabric, and then Ryan nailed through the back of the board to hold the letters on.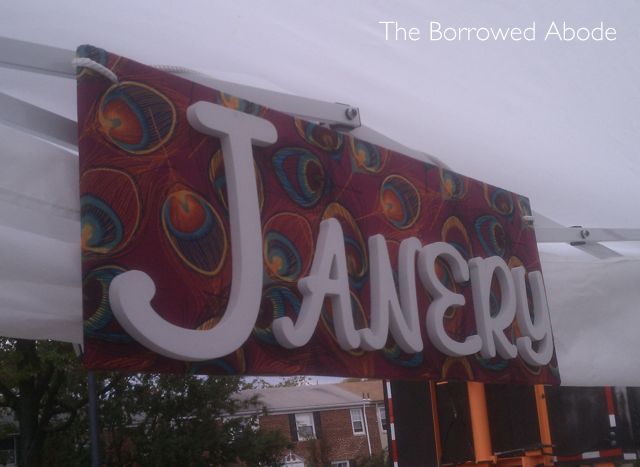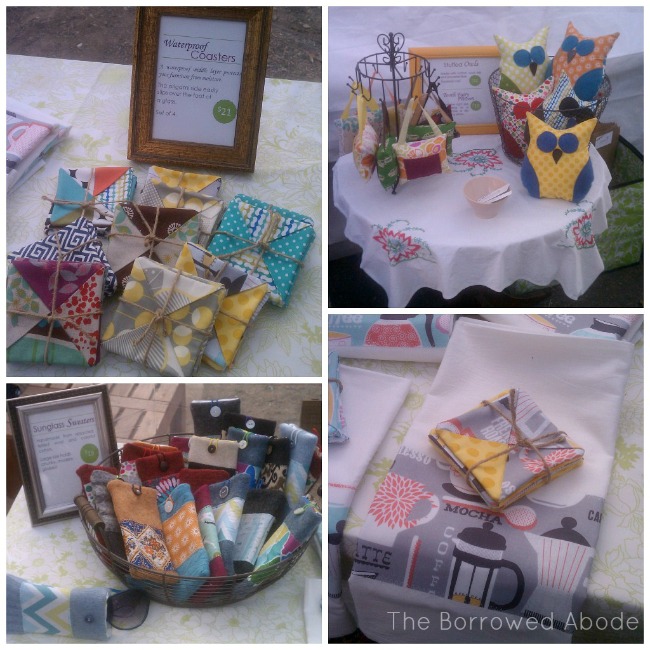 See the "curtain" effect I had going on? I don't think it photographs well, but in person I thought it worked well to frame the entrance to my booth . . . although I still have no idea why I bought over 10 yards of that fabric.
We used the two outdoor rugs from our back porch, and I love how they tied into my logo and curtain colors.  That's why I used them instead of the wool rug I used last time.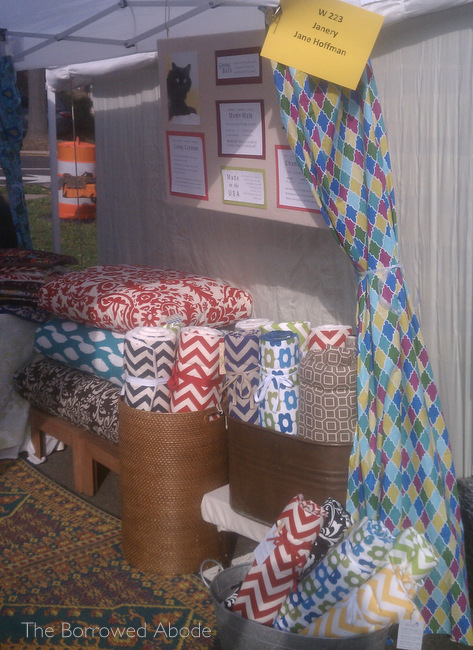 I used assorted tubs and hampers to display the three sizes of Merlin Mats.  Oh, and so exciting – can you see I've added tie straps to all of them, so they can be rolled up for portability?  I was SO EXCITED when I thought of that feature!!  So many of my customers have mentioned they're buying the mats to use on travel with their pup, or in the car – so why not make them easy to tote around?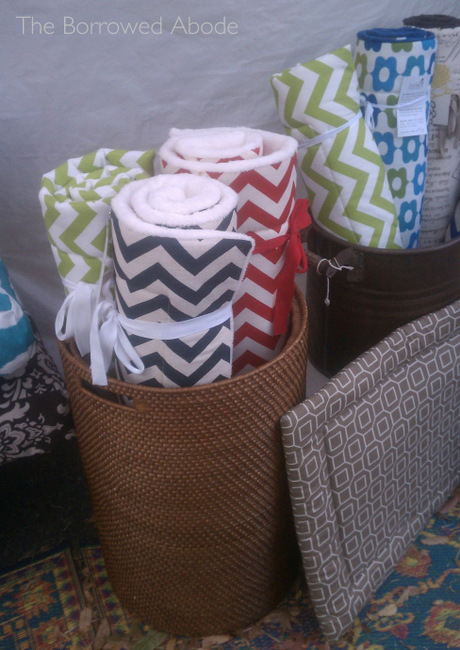 I also introduced my long-awaited Ultimate Dog Beds, named Charlie Cushions after my geriatric girl Charlie.  Very exciting also, and there will be more details on the blog once I get them officially photographed.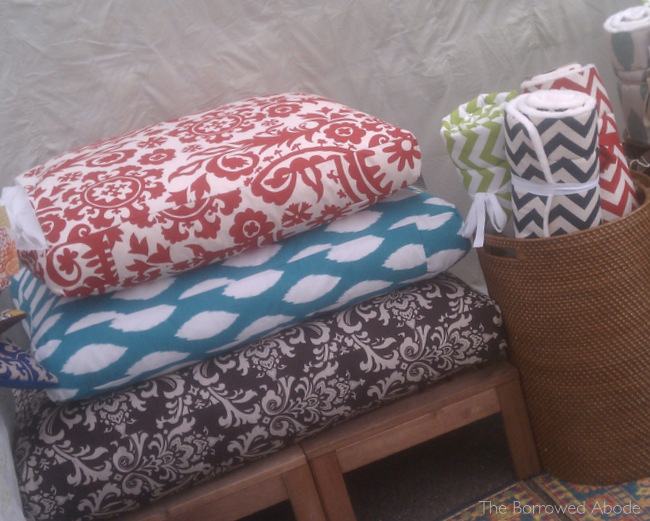 Because I have several varieties of pet beds I decided to make an informational sign, complete with photos of a few of the pets they were named after / inspired by.  The sign was really helpful because customers rarely will ask questions like "what IS this thing?" and it explains the maybe not-so-obvious benefits of the different pet beds.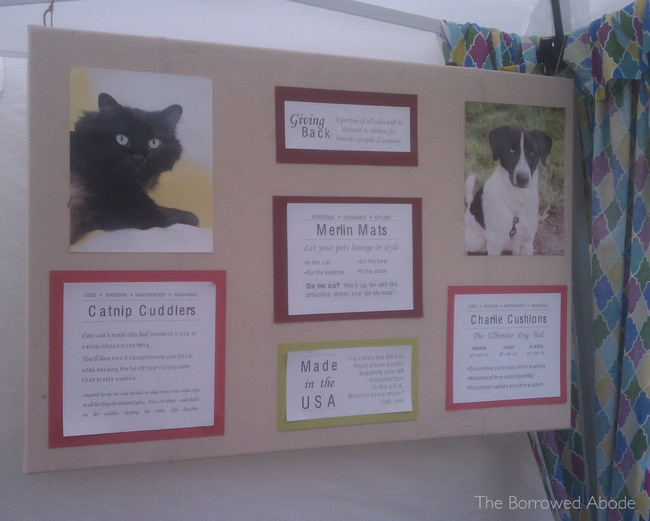 This was the "kids table" – using a round clawfoot table I scored at a yard sale just two weeks earlier.  The spinny thing from the jewelry aisle at Michael's was perfect for the tooth fairy pillows.  I think I need a better owl display next time.  The owls don't fit in that basket very well.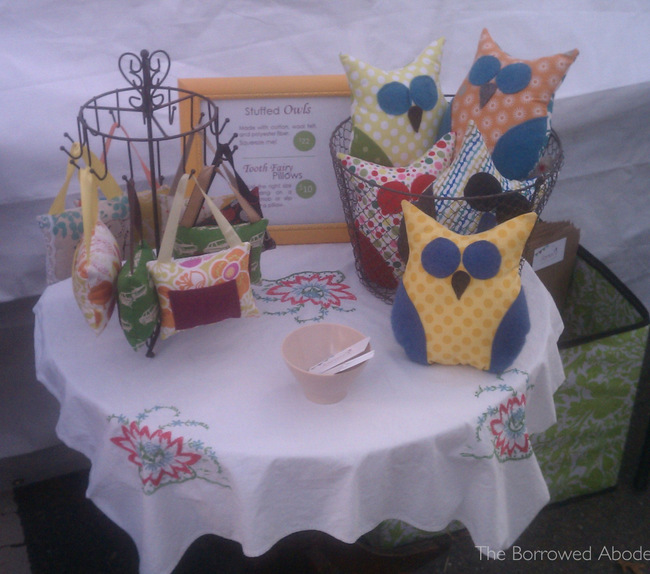 Hang tags! I made some, at the last minute of course, using fabric and cardstock. I love having fabric backs on them but I need to do some process improvement on them before the next event.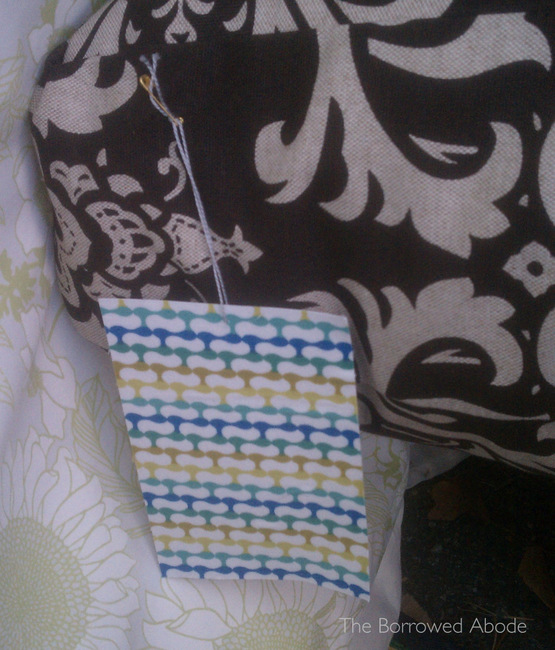 Some of my Richmond bffs came, along wtih the newborn baby, to help me out.  I was so glad to have them there, especially when the high winds rolled in and it threatened rain.  Thanks to them there were some clear shower curtains hung at the back in case of rain.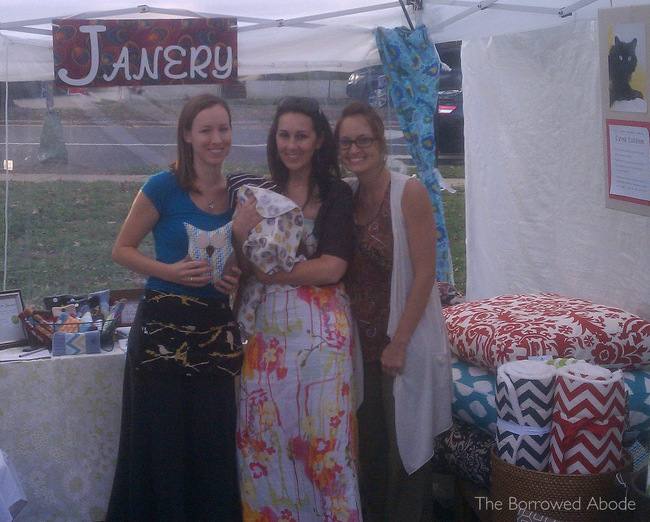 And my parents came down to help / visit / shop / meet the baby too!  The most interesting part of their visit was my dad's attitude adjustment. 😉  Before my first event he was stamping my logo onto my shoppping bags.  He said "You don't want me to stamp these, then you won't be able to return them when no one buys your products!"  Seriously.  His pessimism was hilarious.
After watching the crowds purchasing my pillows and other products at Art on the Ave, his pessimism seemed to dissappear and be replaced with enthusiasm and ideas for how I can do even better in the future. Another Janery convert!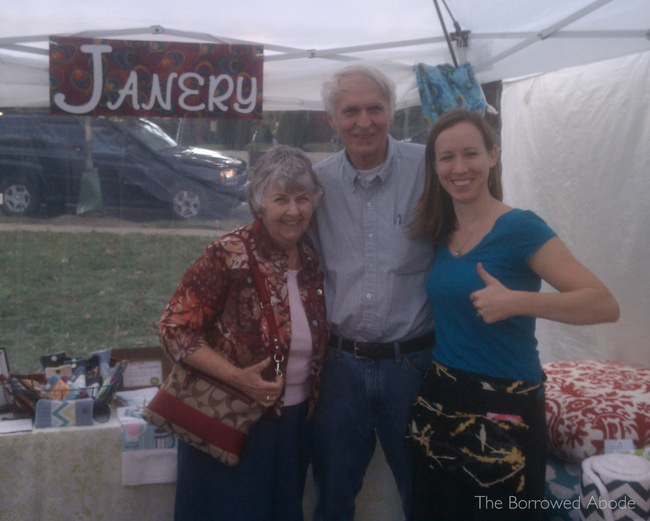 Speaking of improvements, I'd like to do a separate post in a few days that outlines some of our "lessons learned" from this event. I have a feeling that I'll continue to learn for the next few shows I do.
That's right, I said "next few shows." I had so much fun with this festival that I am BACK ON THE WAGON with my sewing and will not be closing Janery anytime soon. I will, however, be limiting what I offer in my Etsy shop between shows so that I can still find time to enjoy life (and blogging). But that, too, will have to be a separate post.