Each year I donate a portion of sales from Janery to programs for homeless people and pets. I donated approximately $500 of my 2013 profits to the cause, and I hope to significantly exceed that number in 2014.
As the parent to four previously-homeless pets, it's fairly obvious why I support animal rescue. But the reasons for my support of programs for the homeless may surprise you.
When I was in college, my view of homelessness changed overnight.  One cold winter night, my friend got a phone call to alert him that his aunt had died.  It wasn't a peaceful death; her body was found naked in an icy stream in Washington, DC's Rock Creek Park.
His aunt had struggled with schizophrenia and manic depression for most of her adult life. He remembered times when she would show up at his place in what was clearly a manic streak.  She had trouble holding down jobs due to her mental illness, and when she was unemployed she had no access to affordable medication.  Prior to her death, she had gone off her medications and became homeless in Washington DC.
It pained my friend to know that he'd only found out about her suffering when it was too late.
I was 21 at the time, and the image of the dead aunt stuck with me.  Before then I hadn't realized that:
60,000 of our veterans – the people who voluntarily served our country – are homeless
At least 25% of the homeless population has a mental illness or disorder
28% of homeless families have fled domestic violence
Many struggle with addiction, which is an illness which requires real treatment
This is why, in addition to helping animal rescue groups, Janery will continue to donate a portion of sales to good programs for the homeless.  Everyone deserves a safe place to call home.  To find that, the homeless usually need resources, counseling, and most of all – for people to believe in them.
I'm currently donating to a local organization:  The Lamb Center.  It is a small but powerful daytime center only 10 minutes from my home.
It serves the homeless population by providing a warm, safe place for them to drop into if they choose, and it's staffed by a wonderful group of volunteers from local churches.  Additionally, The Lamb Center provides an extensive group of services to help guests get back on their feet: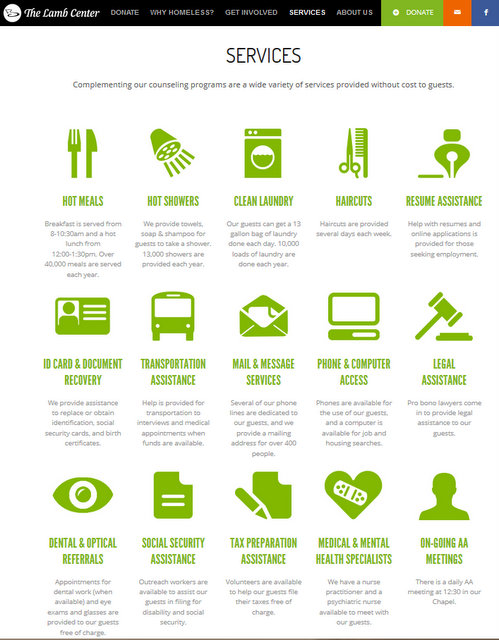 A note about the shelter's religious affiliation:  I don't often donate to faith-based groups, but I feel the Lamb Center is one of the most ethical and fiscally responsible organizations in the area.  Some faith-based shelters require that their homeless guests participate in bible study prior to receiving a meal.  At The Lamb Center, services are available to anyone, regardless of participation.
My donations for last year were primarily in the form of purchased goods rather than cash (toiletries and thermal underwear for the brutal winter we had), but my 2014 donation will be more cash-based to support their programs and (hopefully) their move to a larger facility in Fairfax.
I'm working on nailing down a more concrete plan for how Janery will donate each year, both to the Lamb Center and various animal rescue groups.  In the mean time, I just wanted to share my story of why homelessness matters so much to me.
For awesome updates & exclusive discounts on Janery pet beds, please sign up for my newsletter!