Update: I ended up choosing the E-Z Up Dome Pop-Up Tent and have been happy with it for several years.
There's a big part of my life that I'm not sharing much on the blog right now.  The Jane who is getting ready for her first craft fair / arts festival.  But because owning my own business is as important to me as blogging about rental home decor, I think I'd like to start sharing the process.  Oh, and I'd also like to share the process in case any of you can learn from my mistakes experiences.
So let's get started.  I'm working very hard to prepare for the Viva Vienna Memorial Day festival in my awesome little town.  It's scary and exciting all at once – there's so much to do , and so much to worry about, but at the same time, when I picture myself meeting potential customers in my fun little booth that Sunday & Monday, I can't wait.  Because it's my first time selling my handmade products to a potential crowd of 30,000-50,000 people, in a space that I paid $275 for, I'm trying to take my preparation seriously.  When I decided sink the dough into participating, it wasn't just from a sales perspective, but from a marketing angle as well.  The people who come into my booth and don't purchase, but take my business card, may be future customers – or blog readers.   Therefore I need to be AWESOME at the festival.
The booth starts with a 10×10 canopy tent to protect the space from the sun and [hopefully not] the rain.  That's a key item that I need to purchase soon.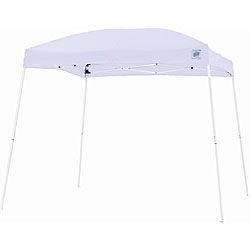 In reading reviews on Overstock and Amazon, I'm becoming apprehensive about making this purchase.  It seems that people have complaints about every model out there.  Some do not handle rain or wind well, others don't pop up as easily as they claim to, and yet others aren't tall enough, so people have to duck to enter.  Budgets are important, especially with a new business like mine, so I need to make the best possible purchase.  And I'm hoping to get the tent for around $100 or less.  Ryan's doing the research for me now, and hopefully will have a suggestion for me by the weekend.
Do you want to hear more about the steps we're going through to prepare for the festival? I think I'd like to blog about the process, because when I've googled things to find advice or suggestions, I just get a bunch of lame search results from fake sites that are just trying to make ad revenue.  I think it's about time we took back the Google.
Once we get the tent, we'll be setting it up in the basement and doing a few run-throughs with the displays, to get your opinions and be sure I'm ready to go on the big day.
If you've got any suggestions on which tent canopy to buy (or not to buy), please let me know!