I was emailing with one of my fave blog buddies, Jenn at Peas and Crayons, when she popped a question.  No, not that question!  A question about home decor!
"I have to design the living room, and my stuff doesn't match.   Our furniture is the same color as the floor.  It doesn't come with blinds either!   Should I just get curtains now and blinds later?  Or blinds first, then curtains as I can afford them? "
Because the house is being built, Jenn doesn't have any photos of the space yet.  However, she knows the flooring will be dark, and the walls will be a cool light gray,  like in this gorgeous Pin-spiration photo:
Talk about starting off with an awesome blank slate.  She'll have white molding and a white chair rail running through the living room, with several large windows and a sliding glass door.
As for the furniture, her couch and loveseat look like this – so you can imagine why she's worried about the furniture blending in with the floor color:
First things first, let's tackle that "furniture blending into the floor" situation.
To make the furniture stand out, throw down a good contrasting rug!  A killer area rug is key to making the large space work, and as a bonus it will most definitely help Jenn break up the expanse of brown floors and brown sofas.   (Just don't look at my house for proof.  Ryan and I have yet to agree on rugs for the house.) Ryan mocks me when I say this – but I do believe a good area rug will define a space and make the rest of the items in the room stand out.
For a living room with a full-size sofa, I think you need to go with an 8′ x 10′ rug – but wowzers, they are expensive.   The first place I'd look is on Overstock.com ; they have a ton of rugs in every style and price point.  Another great source is the outlet store on the Home Decorators website.
Choosing rug colors
As for colors – I'd choose a rug in either a cream or a pale gray or a combo of pale gray / cream / chocolate.  I know Jenn is loving turquoise and red right now, but considering the cost of a rug, I'd lean towards getting something simple and neutral, so that it can be used for years to come, even if your choice of accent colors changes.
Save money, DIY a Rug
Of course, if paying upwards of $350 for an 8×10 rug isn't in the budget, another option is to DIY a rug.  Starting with a simple, inexpensive cream or white or pale gray carpet (from Ikea, Home Depot, Overstock, etc.), you can use fabric paint (or RIT dye) to create a rug with the design of your choice.  And it's awesome that geometric patterns are "in" right now, since they're easy to whip up with just a stencil!
Another paintable and super affordable option is jute or sisal.  For example, Jenn could start with this $200 gray-bordered 8×10 sisal rug: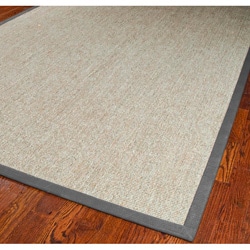 Using some latex paint and a homemade stencil, she could DIY her own version of this West Elm rug:
Alternately, at that price she could play around with color and DIY a geometric pattern inspired by this fabric swatch:
But of course, when you get into DIYing the rug, the options are endless!  Either way, a rug would be at the forefront of my "to-buy" list.  Get a rug that contrasts against the floor and furniture, and then your furniture won't blend as much.  Then you can add accessories as you go, including some colorful throw pillows and art to make the space really come alive.
Now on to the blinds or curtains dilemma:
Call me crazy, but I don't always think you need both, especially if you need to save money when you move in.   I'd take my time on this project, because when your house pretty and new, with nice new windows, they're not going to look so bad on their own.
If privacy is your concern, I'd buy the blinds first.  Bamboo blinds or roman shades.
Saving money on Roman shades
Have you seen the cost of typical lined blinds or Roman shades?  Good grief.  They cost a pretty penny.  But once again, I have a trick for saving money on them.
First, you can buy your own fabric and DIY them with a kit from the craft store.  But if that's too much work (it was for me) you can quasi-DIY them.  Here's what I did in my old apartment:  I bought un-lined bamboo blinds – they were way cheaper than lined blinds.  The only problem?  You could see right through all the little spaces between each bamboo slat.
I used hot glue and insulating drapery liner fabric to line the blinds.  It worked like a charm, and saved me a ton of moolah – not just on blinds, but also on heating and cooling costs!
I like to go with the blinds first, because I think that curtains without blinds can look kind of awkward and leggy.  Once you've got your blinds or Roman shades up, you can take your time finding great curtains – or, once again, DIYing them.
Cheap curtains and DIY ideas
Are you looking for cheap curtains?   One word: Ikea.  Seriously.  If there isn't one close to you, surely you have a friend or two who lives near one and can ship you curtains.   They have so many affordable options, especially in plain colors.  Another option is to find bed sheets that you love – with the addition of drapery clips, the sheets transition seamlessly into window dressings.
But say you can't find curtains in the colors and patterns you love, and want to DIY them – without sewing them entirely from scratch:
Buy some solid color panels, then choose a fabulous fabric.  Then sew (or use iron-on hem tape) to put a piece of fabric over the top 1/3 or bottom 1/3 of each curtain panel.  Just like that, you have two-toned curtains that look all fancy-shmancy, while introduce a fab color and pattern into the room!
So there you have it -just a few ideas on how Jenn (or any of you) could approach the decorating process when moving into a new home or rental apartment.   Do you all have any tips or ideas for Jenn?