This Giveaway is now closed to entries.
I've been keeping a secret from you all.  I won an exciting contest, and now that the affidavit has been signed and notarized, and the prize pack received, I'm ready to spill the beans!
Back before Christmas I entered my Christmas Stocking Branch idea in the Take Command of your Space contest held by the company that makes Command Brand adhesive strip products.  Imagine my surprise when I got an email from them telling me I won!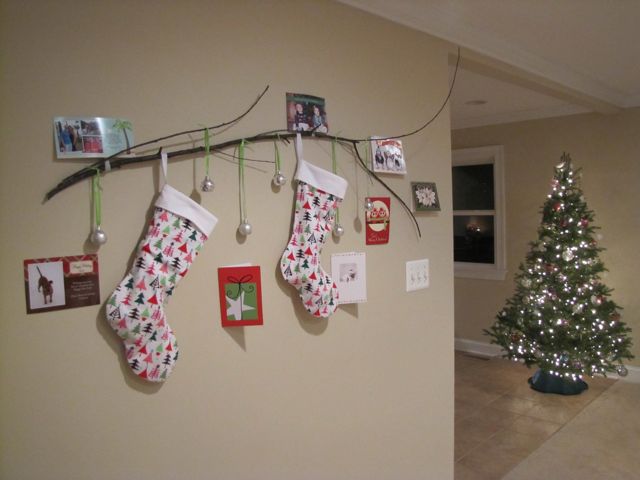 So what's the prize?  A Flip Video Camera, $100 in Command Adhesive Products, and – drum roll – $500 freakin' dollars.  When I saw that, my jaw hit the floor.   Not only was it exciting to win, but that little chunk of dough meant that I could actually do something for the blog that I'd been dying to do:  travel to Nashville for the Blissdom Conference in the end of January.  So I'm going to Blissdom, where not only will I learn a ton, but I'll get to finally meet Katie from Making This Home!  (Thanks, Katie, for sharing a room with me!)
There's only one catch:  in order to get that $500 check, I have to use the Flip Video Camera to make a 1-2 minute video describing how I used those Command adhesive products to deck my halls with that winning idea.   ACK.  Yeah, the prize pack of products and Flip camera arrived yesterday, and I'm seriously freaking out.  I have to have the video made by Friday, and I know that it shouldn't be a big deal, but I'm most definitely nervous!  They suggest that I re-make the scenario to provide the best description, but I'm pretty sure that re-hanging the branch would take more than 2 minutes. So I'm not quite sure what I'll do about that.  If you've got any video pointers, please let me know.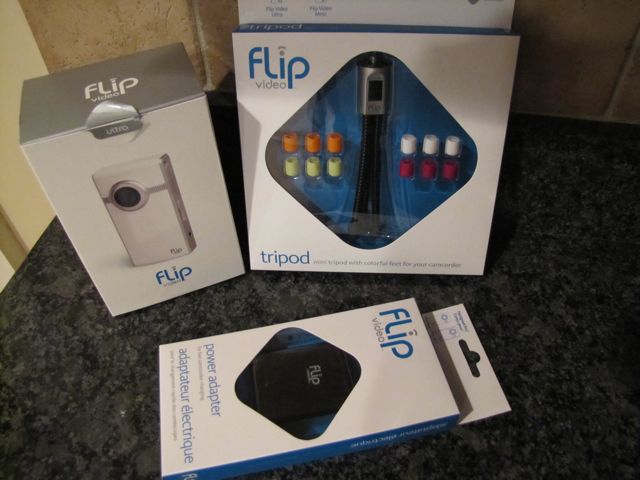 But that's a problem for another day.  Right now we need to talk about all the goodies I won – and how I want to pass them on to you guys as a giveaway!
The goody box consisted of a cute storage bin and $100 of products, including the fabulous Velcro Picture Hanging Strips, two large white wall organizers, several types of wall hooks, cord wranglers, mini cord clips, and more.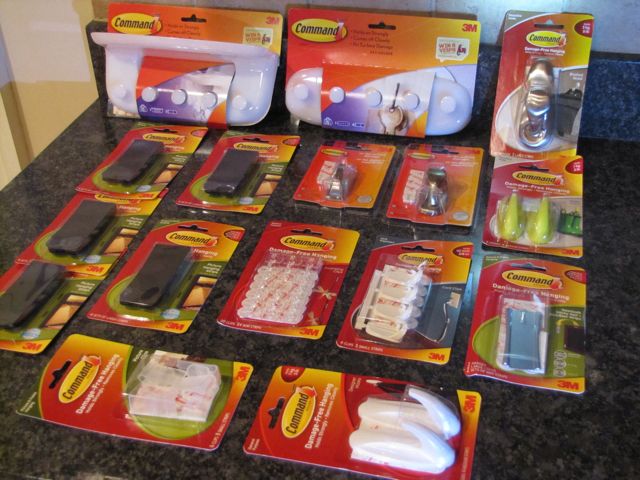 I set aside a few items for myself, including the Flip Camera (gotta make that video) and the citrus green wall hooks which just happened to match my new studio walls perfectly, and then I boxed up the rest of the goodies so I could pass them all on to you as a giveaway!
If you're wondering why on earth I want to give away the bulk of the prize pack, it's because I want to reward you guys with a totally rental-friendly prize as a huge thank you for your encouragement and inspiration in 2010.  Your comments, your emails, and just the fact that you actually take the time to read what I write means so much to me. It's that support which keeps me inspired to think up new ideas, including the branch idea that won me this contest!
But enough mushiness.  Here's a close-up of the giveaway prize: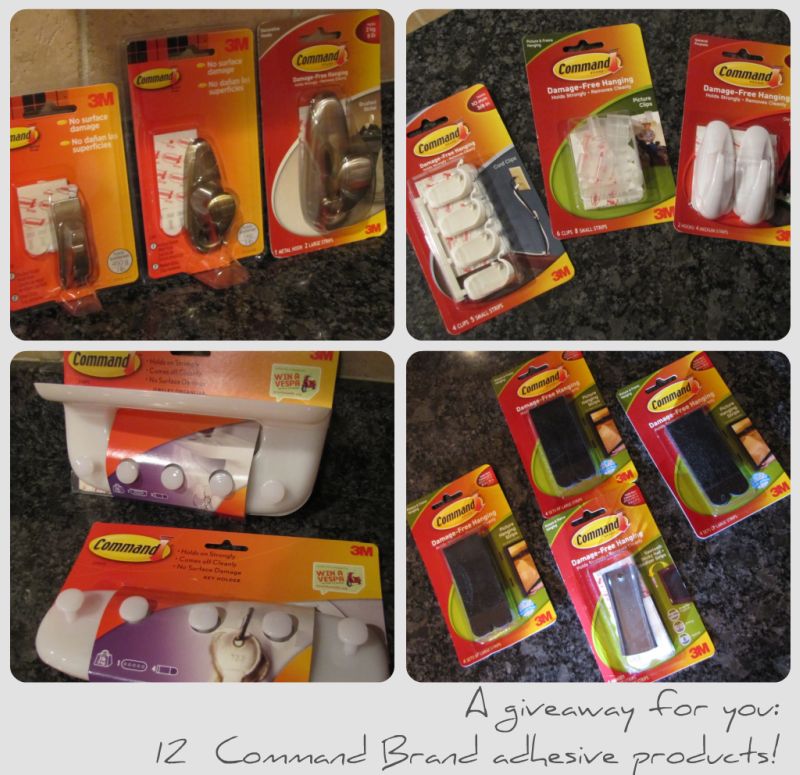 Now for my official Command Brand product giveaway details:
The Prize: A box of 12 Command Brand adhesive products
Who's Eligible: Anyone with a shipping address in the United States or Canada
Prize Value: It's got to be at least $50, but maybe more
To Enter: Comment on this post, and while you're at it, let me know what you'd like to see more of on the blog in the coming year!   One entry per email address.  But want a bonus entry or two?  Tweet this or hop over to The Borrowed Abode's Facebook page, become a fan, and share the link.  Either way, be sure to leave a separate comment if you Tweet or Facebook it!
Giveaway Closes: Friday, Jan. 21, 8 pm EST
Disclaimer:  Just to keep it real with you guys, I want to assure you that although I won the products via the Command contest, I was not asked to write about it or do a giveaway.  I'm doing it because I love the products and want to share them with you.
Now stay tuned for that video, which I'll share just as soon as I've made it and submitted it to Command!
PS:  Iif you'd like some free help with a decorating challenge in your rented home, (with our without the use of branches), drop me a line!