Question: What's more fun than finding a great [but cheap] piece of furniture at the thrift store and giving it some TLC?
Answer: Finding one for free when you "shop the curb" on large trash pickup weekends in your neighborhood!
Speaking of trash picking, Ryan scored some mad points when he spotted this solid wood mid-century modern record player/credenza on the curb of our old Alexandria neighborhood last Friday night.  We were in the area for some good Mexican food and sorbet, and as luck would have it, it was the large-trash pickup weekend.
As soon as Ryan pointed it out to me, I flew out of that car lightning fast.   I'm not even sure the car had come to a complete stop before my feet hit the pavement.   The streets were full of people strolling around, looking for treasures in their neighbors' trash piles.   Time was of the essence.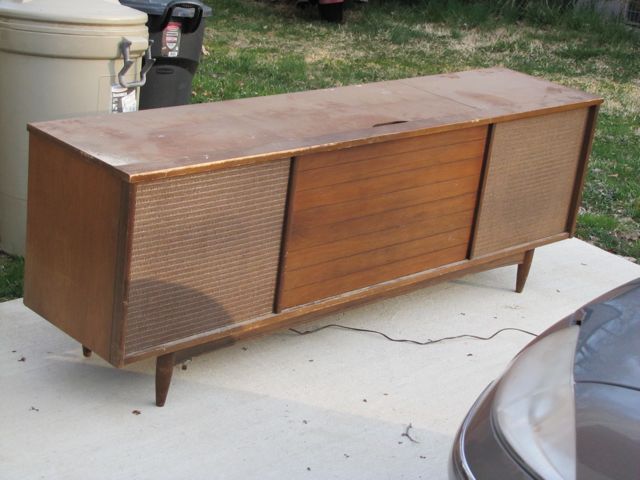 Miraculously, it fit in the back of Ryan's tiny car, and fortunately we had some bungee cords to tie the trunk door down. I sat on the floor holding onto it, hoping we didn't get pulled over and ticketed for my lack of seat belt.
The next day we inspected it.  The record player sits down in the middle of the credenza, and the top flips up  to reveal it.  We're not sure if the record player is in working condition, but one thing's for sure:  there's plenty of potential here.  The clean lines and the solid wood construction mean it can be refinished beautifully.
It would be fun to cut the back out behind the speaker screen, remove the speaker, and then put the game consoles and DVD player behind it.  If the remote controls work through the speaker screen, that is.
Another idea is to remove it and install shelves, of course.  And maybe paint it a bright, fun color?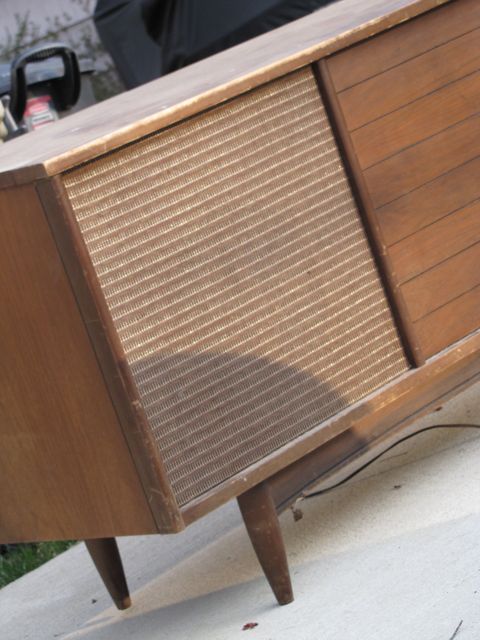 The only problem is that we don't really have a need for it in our home. But since I'm dying to refinish it, we're going to offer it to our friends as a wedding gift.  They like the console and need a good TV stand in their new apartment.  That way we could have the fun of revamping the piece, along with the joy of giving a great gift that we'll get to see in use over the years.
This is our first mid-century modern curbside find, and it's so exciting.  Have you had any good trash picking lately?