Happy Monday!  First I'm going to tell you a little story, and then we'll kick off the week with a small-space friendly decor giveaway.
10 Steps To Avoid Having to Vacuum Your Home
1.  Watch your boyfriend get out the vacuum and start to clean.
2.  Point out to him every time he misses some dirt, then realize that that the vacuum isn't picking up any dirt.
3.  Watch him take it apart and clean out the clog.
4.  Offer to take the dirty filter outside to shake the dirt out of it.  (He'll say "yes" just to shut you up.)
5.  Carry said filter outside, and throw it on the cement driveway.  This gets all the dirt and pet hair off it in a jiffy. Works every time.
6.  Watch triumphantly as it bounces around, with dirt flying everywhere.  As it rolls under your car, run to the other side to pick it up.
7.  Hmm.  Stare in bewilderment when you see that it didn't roll out the other side.  Scratch head.
8.  Lie in odd and uncomfortable positions in the driveway, trying to spot where it rolled to.  Go still with shock when you realize what seems to have happened.
9.   After about 5 minutes of searching, slooowly creep inside to inform the boyfriend that you . . . um. . .  somehow managed to throw the filter in such a way that it dissapppeared into the underside of your car.  Giggle because it's too absurd not to do so.
10.  After boyfriend recovers from shock, resume lying (now with him) in odd positions on driveway, trying to locate vacuum filter in underside of car.  Explain to neighbors after they inquire as to your sanity.
**Update:  When you're done entering the giveaway, be sure to read Ryan's version of the story. **
Yeah.  This really happened.  The rogue vacuum filter has not been located, and the car made it to work just fine today.  Will wonders never cease.
Now how about that giveaway?
***THIS GIVEAWAY IS NOW CLOSED***

Remember these lovely glass wall vases that hang in our bathroom?  If you spied them and found yourself wishing you had a few to call your own, then this could be your lucky week – because I've got a set of 3 to give to one lucky reader!
And what a great time to add these to your walls – because with spring peeking tentatively around the corner, don't we all want to bring a little more floral color into the house?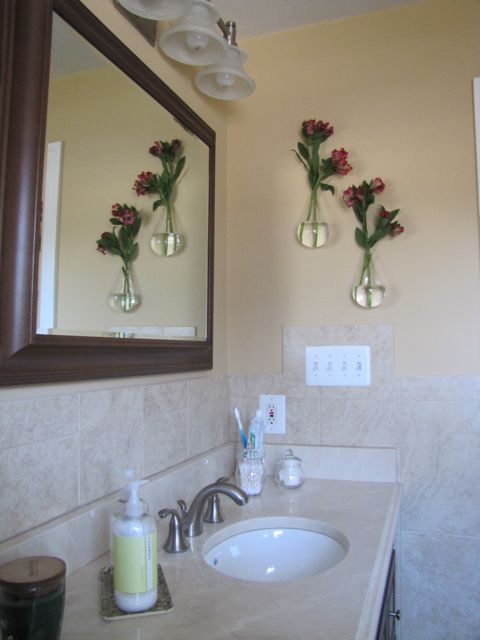 The Prize: Three glass Wall-Mounted Teardrop Vases from CB2.

To Enter: Comment and let me know where you'd like to hang them in your house!
Shipping: Will ship worldwide!
Bonus Entry:
For a second chance to win, do one (or more) of the following, and then comment a second time to let me know:  Fan TBA on
Facebook
or follow on
Twitter
!
Giveaway Ends:
You can enter between now and Thursday, 4/7/11 at 8 pm, EST.  Winner will be announced Friday!