For my friend's surprise birthday dinner last week I got to decorate, and chose to do a teal/blue ombré theme complete with ombré floral arrangements.  I think this was my first time "officially" doing a tablescape for a dinner, and I had so much fun with it!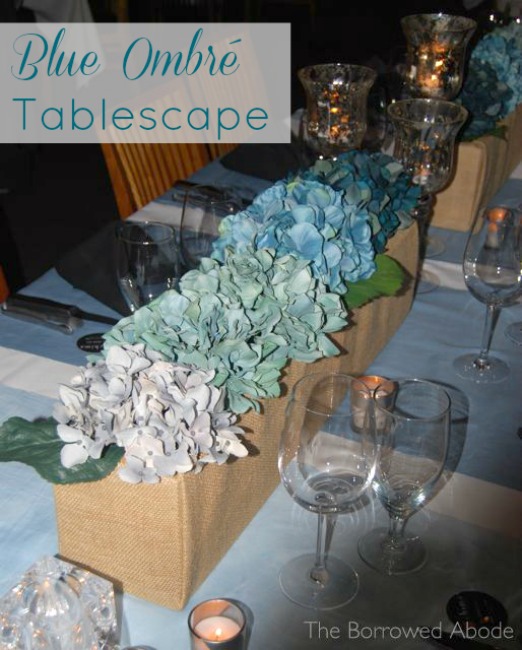 When C's husband said to me "the restuarant said that we have a semi-private space and can come in an hour early to decorate, if you want to" – I jumped at the chance!
The only catch? I didn't have any inspiration for the decor!  I didn't want to do something so typical as  a fall theme.  I hopped onto Pinterest and started doing for phrases like "tablescape" and "dinner party table", etc.  I stumbled onto some images of ombré floral arrangements, and the rest is history.
Sidenote: Thanks for understanding that I'm not sharing the cost because it was for my good friend.  With advance planning and use of coupons and sales at craft stores, you should be able to obtain the flowers and candle holders on sale for 40-50% off.  If you don't do that, the cost of fake flowers will add up quickly.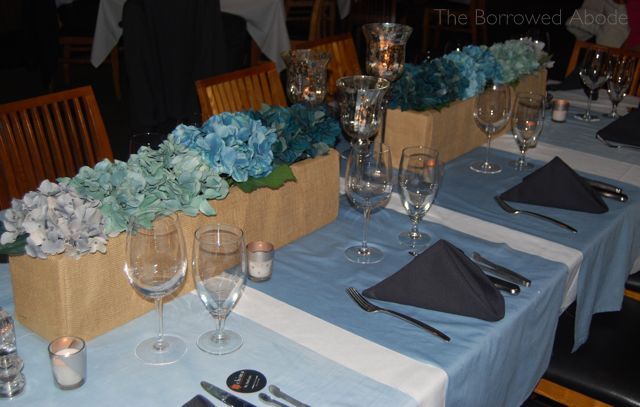 A collage of random vases filled with flowers of all sorts would have been awesome, but would require lots of faux flowers, thus increasing the cost.  Second, having to cart a ton of fragile vases into the restuarant would be more cumbersome.
Planter boxes, however, would be easy to transport safely, and I had enough scrap wood to build them. 
I ended up using some very warped boards to build the planter boxes. I was in a hurry and was attemping to bake a cake,  so I forgot to take photos and make  tutorial.  It's probably for the best, since the wood was so warped that the boxes ended up looking awful.  But it was late and I didn't have time (or wood) to try again, so I grabbed leftover wedding burlap to wrap the boxes.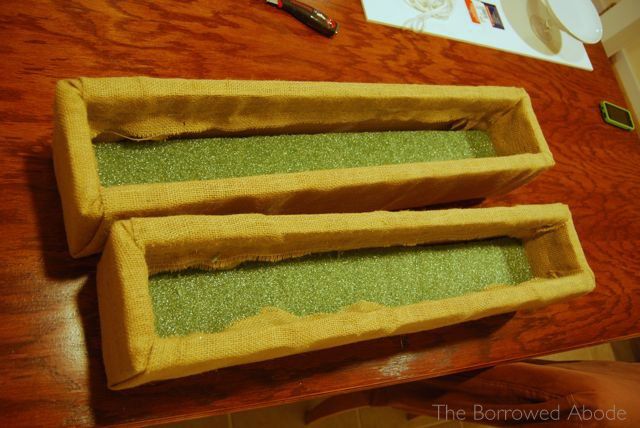 I simply wrapped the burlap inwards and stapled it to the insides of the boxes, being careful to fold neat and tidy corners on the sides.  Even though I hadn't meant to bring burlap into the decor scheme, it worked in a pinch.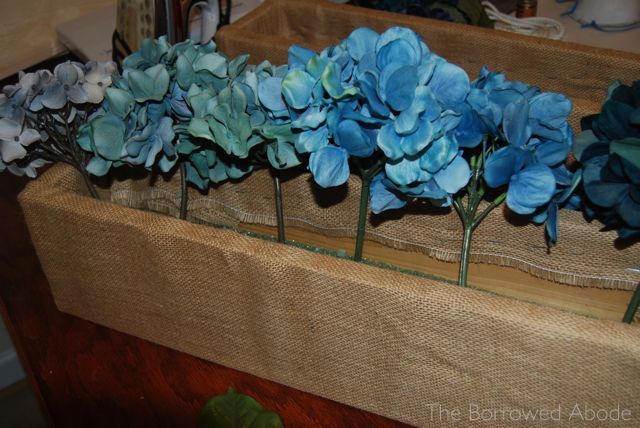 I lined the insides of the planter boxes with floral foam, then cut the stems short using wire cutters.  After that it was as simple as popping each short stem into the foam, fluffing the flower petals a bit, and tucking in some of the leaves.
I love how they turned out, especially that gorgeous dark teal color.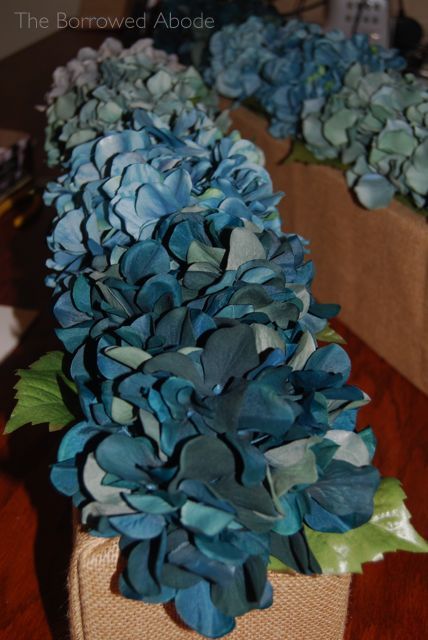 I also wanted to add some sparkle and glam to the table, so I snagged three votive holders at the craft store. They were in the Christmas decor section, and I figure they could come in handy for holiday decor in the future.  (Ryan has since told me they're ugly and he hopes I will never use them again. 🙂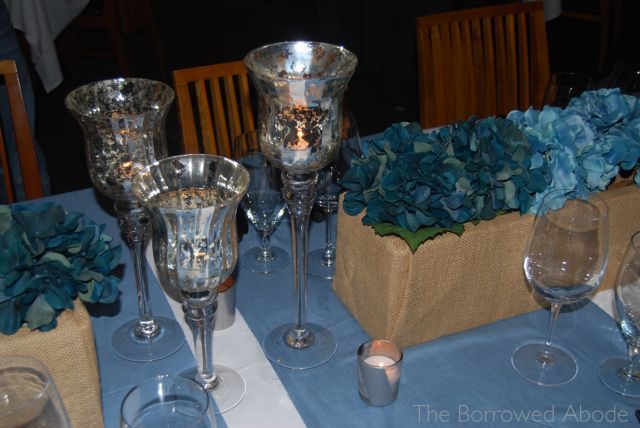 I also DIY'ed some little silver votive candles.  They came 12 to a box, so that's what I went with.  I used some Silver Liquid Leaf paint and some 3M painter's tape to create designs on the glass votives.  Honestly, while I'm happy with the designs, I'm disappointed in the lustre, or lack thereof, of the silver paint.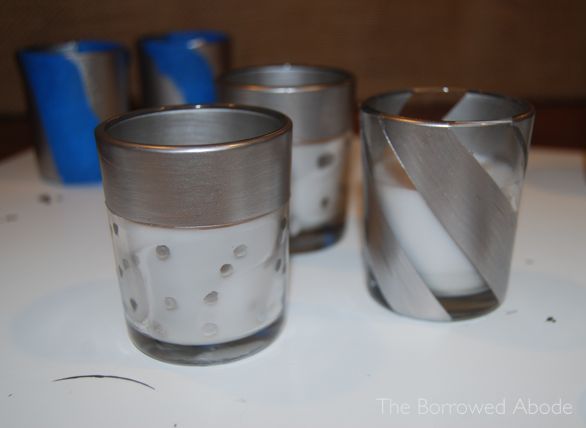 The next night at the restaurant, however, it didin't seem to matter that much. Candlelight always looks pretty, and it was dark in the restaurant.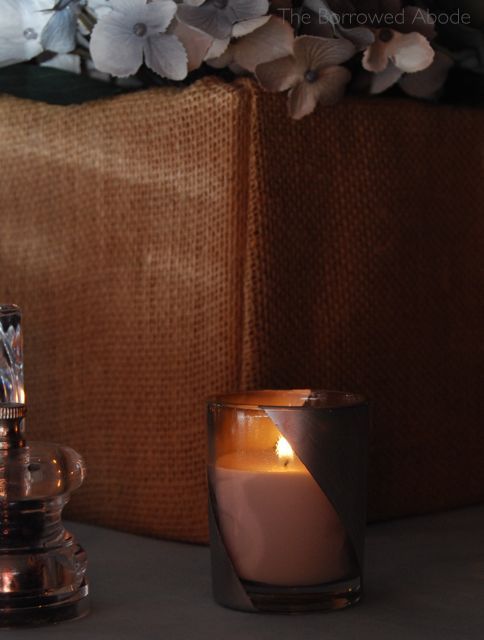 For the final touch, I took a cheap white sheet that I already had, cut it into strips, and dyed them in three different gradiations of teal.  This was directly inspired by Jenn's photos from the Portland Blogger's Meetup.  Thanks, Jenn!
To get three variations from one box of RIT dye, I simply made three different small vats of dye, using only a little dye in the first, more in the second, and the most in the third.  Unfortunately the table was only long enough for me to use two of the gradients, so it wasn't the total ombré effect I was hoping for – but I still think it looked great!
And now that the party is over, where are my ombré floral planter boxes?  Well, one is sitting on our dining table because we both love how it looks.   The other's fate is yet-to-be-determined. 🙂