My mom is notorious in my family for finding "bargains" on vacation lodging.   Her most famous find was the Red Wing Motel near Pikes Peak, which was nothing like the glamorous ad we viewed in the  AAA tour book.  Apparently I was trained well, because the "fancy country inn" I splurged on for our stay in Acadia National Park the last few nights was nothing like we expected.
Let me just say this first:  I never, ever, like to pay more than $100 a night for a hotel room.  I like to save my money for food, more food, and shopping for gifts for people.  But when I saw that this Inn had a breezy blue and white room offering wall-to-wall windows and a sweeping view of the bay, I thought Ryan and I could treat ourselves.
This is what was advertised on the site.  Isn't it a breezy, beautiful space?  I couldn't wait to wake up in it.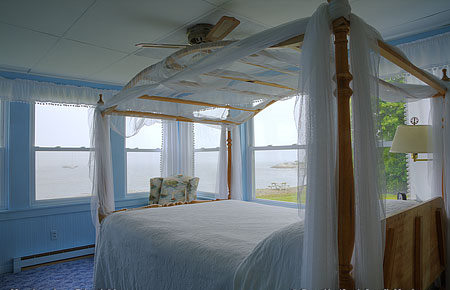 Unfortunately, when we arrived there Friday night, this is what the room really looked like: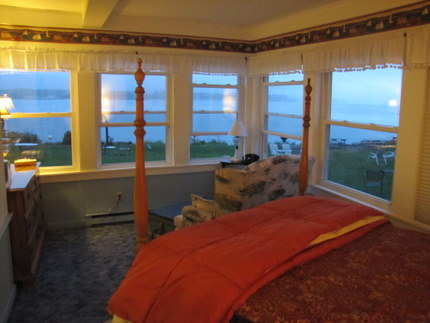 Do you blame us for being totally disappointed?
Gone is the breezy white bedding, replaced with an uncoordinated rust and gold bedding set.  The upper walls are painted white, and topped with a tacky nautical wallpaper border that edges only two of the four walls in the room. What on earth possessed them to add rust and gold to a pale blue room, complete with blue wall-to-wall carpeting??
I guess they decided to angle the bed against the corner because the room is narrow. . . but if it were me, I'd place it squarely against the wall.  Angling it only makes the room feel more cramped and awkward.  Does this look like an almost-$200-a-night room to you?  Because it doesn't to me.   Even worse, the bed was so rickety that we slept horribly.  Any time either of us moved the littlest bit in our sleep, the entire bed rocked to and fro like a ship in stormy seas.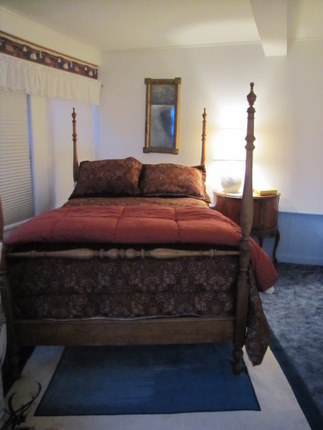 Anyway, the common areas of the Inn were cluttered with antiques displayed in every possible space.    The owner clearly loves collecting, which is cool . . . if you know how to display things well.  And know when enough IS enough.  When moving our luggage through these spaces, we were terrified that we were going to break something.
These photos don't really show the extent of the clutter, but take my word for it.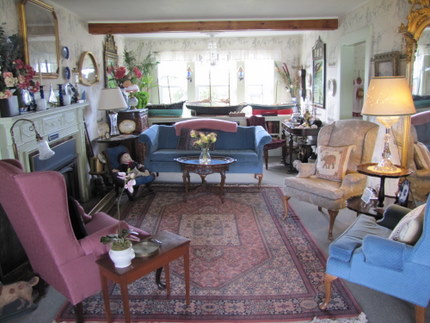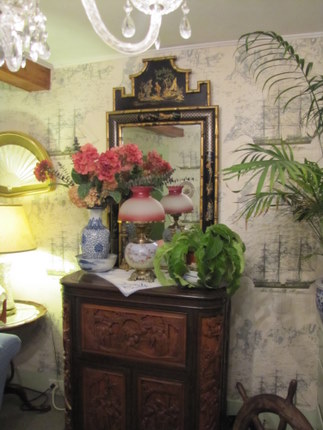 There were some great pieces mixed into the space.  I joked to Ryan that a team of thrifty home decor bloggers could totally flip that place around in one weekend, using only the pieces the owner had on hand.  Here are some of my favorites: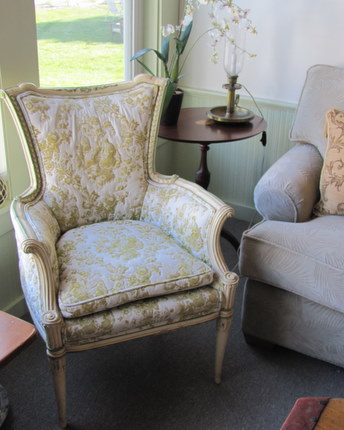 Totally digging these lamps that light the front room: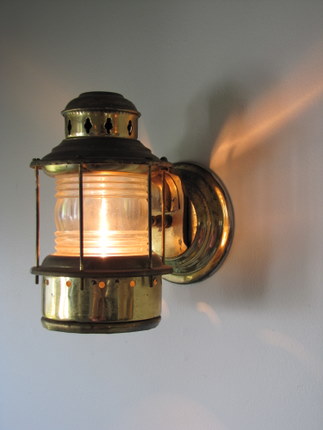 I love, love, love this telescope.  I'd leave the corner uncluttered to really show the piece off.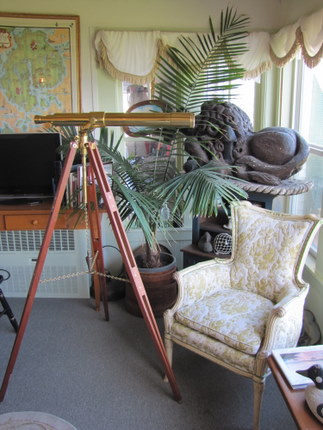 I'm not trying to be overly critical or judgmental.  I know that everyone has a different style, it's just that I don't think the website represents the space accurately.   I also respect that they're a small business owner and I was glad to support them. I thought of a way to help them out more, but Ryan wouldn't let me rearrange the furniture and leave a note explaining why I made the changes I did.
So what do you think?  Am I being too harsh, or do you agree that if your business is that of creating a cozy home-away-from-home for travelers, wouldn't you want to ensure your look was a bit more coordinated?
Have you ever been disappointed by the difference between how a hotel or Bed and Breakfast was marketed and what you really saw when you arrived?  Or do you always stick with a brand-name hotel chain, just to avoid this sort of uncertainty?