Were you liking what you saw in parts 1, 2, and 3?  Well if so, prepare to be unimpressed by the bedroom, the [temporarily] most haphazard looking part of the house.
Right now the rust-colored bedding from the old condo is clashing with the soothing seafoam green walls of the new bedroom.  I'm digging the beachy color, so I think we'll find new linens to match.  After my intense terra cotta bedroom in the old place I'm ready for something much calmer and lighter.
But all color aside, this room's got great potential.  I love the windows, and having my bed right under that window is heavenly.  I can sit in bed at night and rest my head on the sill, looking out at the stars and enjoying the suburban quiet.  And that's when I don't miss city living one bit.  Then I snuggle down in the bed and drift to sleep with the breeze wafting over me, just as though I'm camping.  Perfection.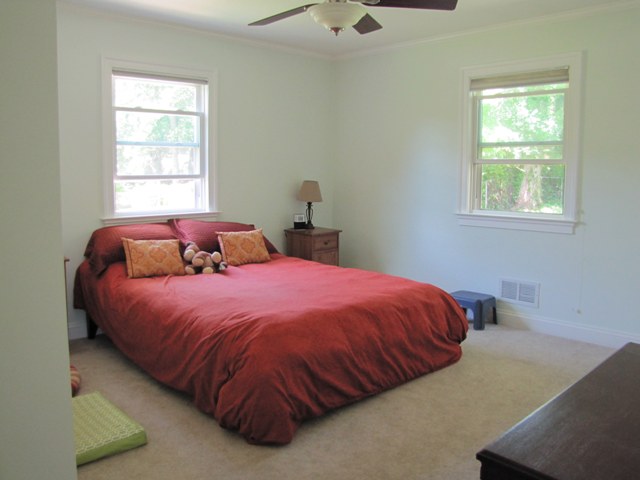 . . . and then I may or may not be awoken by the screaming barking of the fox, who lives behind our yard and makes midnight journeys right past my window.
You'll notice that the room looks pretty empty.  That's because we're each keeping our clothes in other rooms, since we're fortunate enough to have the space.  I am really liking this setup, because it keeps the mess and clutter out of the bedroom.  Even as we decorate it I think we'll stick with a somewhat minimalistic theme.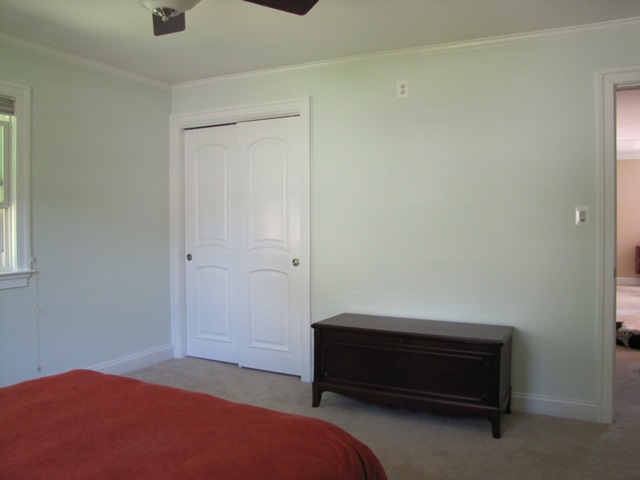 The entrance to the bedroom has this funny little corner: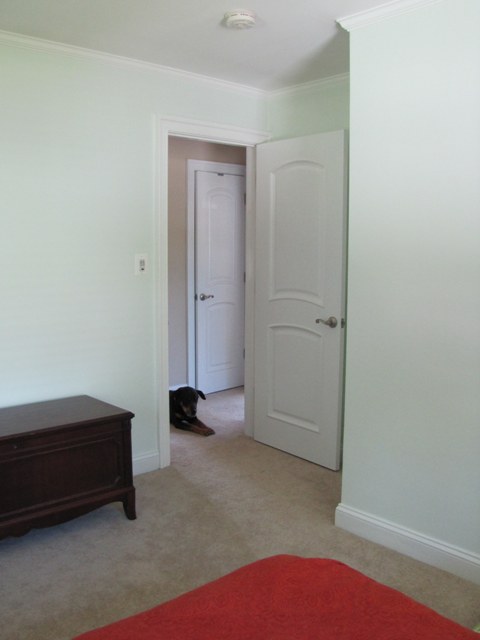 I haven't been able to find any bedding that has the right tone of seafoam green in it.  I think I'll work around it with a white duvet cover accented by some beachy toned pillows in a pale sandy shade as well as blues and greens.
Any other ideas for working with the color?  I thought of getting a gray duvet,  but between the beige and seafoam and dark wood already in the room, I just think gray would be out of place.
Click here for Part 5:  Guest Quarters
PS: This bedroom is currently undergoing a makeover.