From day one, I knew I didn't want a traditional pastel or pink nursery for our little girl.  Bring on the colors!  Did you know, though, that it's pretty hard to find nursery bedding and other items in primary colors like royal blue and red?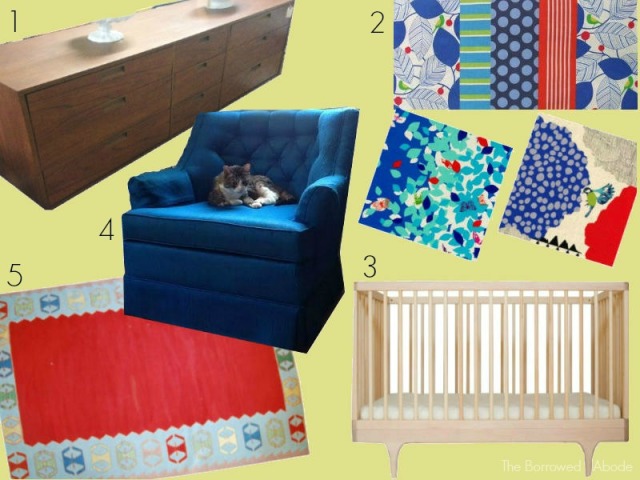 I pulled inspiration for the nursery design from two elements – the red kilim rug that I currently have in storage, and the colorful Japanese fabrics that I use for many of the pillows in my shop.  All of the major items have been found or purchased, so let me walk you through my mood board.
The background:  My office (future nursery) is painted in Sherwin Williams' "Lively Yellow."  Don't let the name fool you – it's more of a green than a yellow in person. I was going to repaint the room white, and bring color in with art and the rug, etc, but I found that the current color coordinated well with the rest of the look – so why make extra work?
1.  Mid-century walnut dresser:  Ryan and I bought this at our favorite vintage shop, Just L, in New Hampshire.  We found them on our first road trip as a couple, and then we registered with them for our wedding – so it seemed fitting to have something from them in the baby's room.  We just have to go pick it up sometime before the new year. It's 6 feet long but on the shallow side, which is great because it will probably move into our bedroom someday.  It does have feet but I accidentally left them off when making this image.
2.  The primary fabrics in the room:  The striped pattern will be box valances on the windows.  The other two fabrics will be accents on other items in the room.
3.  Caravan Crib:  It was important to us to find a crib Made in the USA, and this fits the bill while also looking awesome.  The crib is made in New England from solid maple wood, by Kalon Studios – a small furniture company.
4.  Blue Rocking Arm Chair:  This chair was my grandma's, and has been sitting around an unused room in my parents' house.  It swivels and rocks and is very comfy, and I love the idea of using a family piece in the baby's room.  The royal blue color is perfect, but the upholstery was shredded by my parents' cat, so we're having it reupholstered – probably in a stain-treated royal blue velvet.
5. Red Kilim Rug:  I've had this rug since my first DC apartment, and I'm pretty proud that I only paid $25 for it on Craigslist.  Last winter I had it professionally cleaned, but we didn't have a good place for it in our house.  Since we were trying to have a baby even back then, I suggested we save it for the nursery – and he was on board.
Accessories:  I've been slowly collecting awesome art and accessories for the room, which I'll show you in a future post.
With only 9 1/2 weeks to go until the baby's due date, we need to get this nursery completed.  Over the weekend my dad and I did paint touch-ups in the room, moved my closet out of there and into the master bedroom, and he and Ryan assembled the crib.  We're making progress, and hopefully will have it wrapped up by Christmas.
Also? It feels really good to be working on a design project again!
For awesome updates & exclusive discounts on Janery pet beds, please sign up for my newsletter!