The Little Sapling turned 5 months last week, and all I could think is – she's almost half a year old!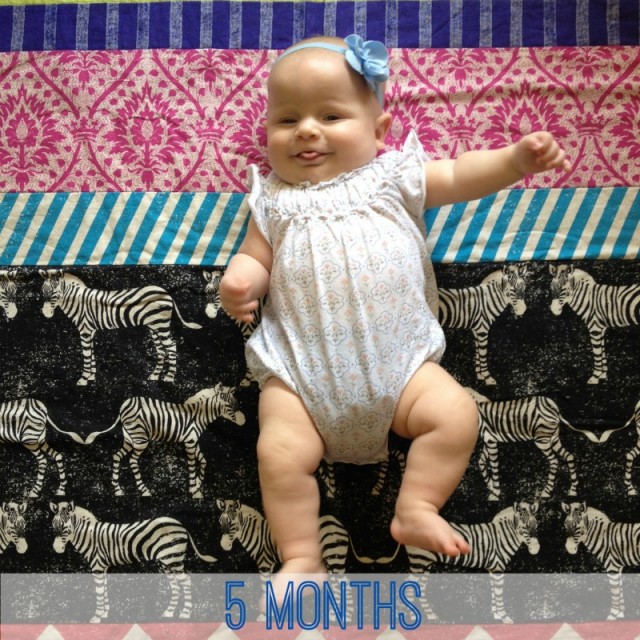 If Maple's 3rd month was all about "cooing", her 4th was all about silence. She clammed up, except for talking to her toys when we weren't in the room with her. On the day she turned 5 months, she started chatting up a storm with us, this time in crazy loud babble form! She's been babbling like crazy every day since.
She's got so much personality now and her hands are busy. Whenever she's awake she's either grabbing at a blanket and passing it between her hands, or putting anything she can reach into her mouth, or sucking/chewing on her fingers. Often while talking.
This month Maple just couldn't stop kicking and squirming, and loved nothing more than to be balanced by our hands as she stood, supporting her weight on her legs. She still doesn't like tummy time but she's getting stronger and will tolerate it if we entertain her enough. She does love spending time on her play mat just wiggling around and rolling from side to side to grab at toys.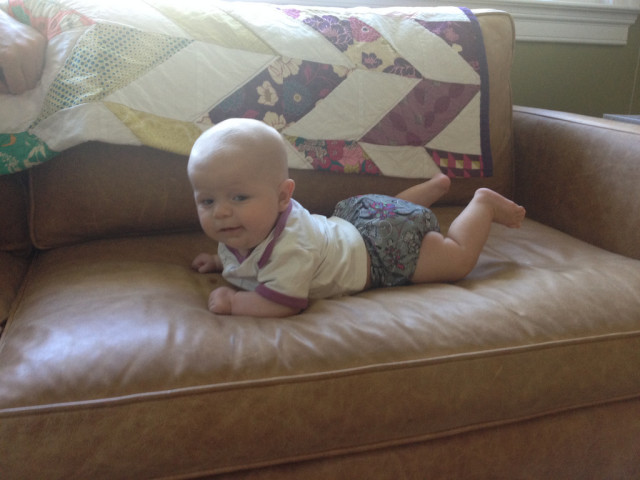 Speaking of her legs, they have gotten so chunky with rolls of baby fat. She's in the 50th percentile for weight and it's hard to believe that she was ever in the 5th percentile and not gaining weight!
Breastfeeding is quick and easy now, to the point where sometimes it only takes 10 minutes to feed Maple – a great thing when I need to run out the door! For the first few months it took so long that I wondered if it would ever become more efficient. The answer is YES!
The other big subject for many new(ish) moms is sleep! We're happy that Maple often sleeps for 5-6 hours straight at night in her bassinet right next to our bed. (We transitioned her out of our bed around 4 months). Some nights she still wakes up every 2 hours to eat, which I can do half asleep, thanks to having her close by. On the really rough mornings I remind myself this won't last forever.
I'm still trying to find the best way for balance as a working at home mom. I quit my day job, but I haven't finished working for them yet. I'm trying to squeeze that work into my day, along with Janery work and my freelance writing. I try to get a good mix of playing with Maple, taking her for walks, household chores, and work (during nap time) into my day but sometimes, when Ryan gets home from work at 3, I wonder where on earth the day went.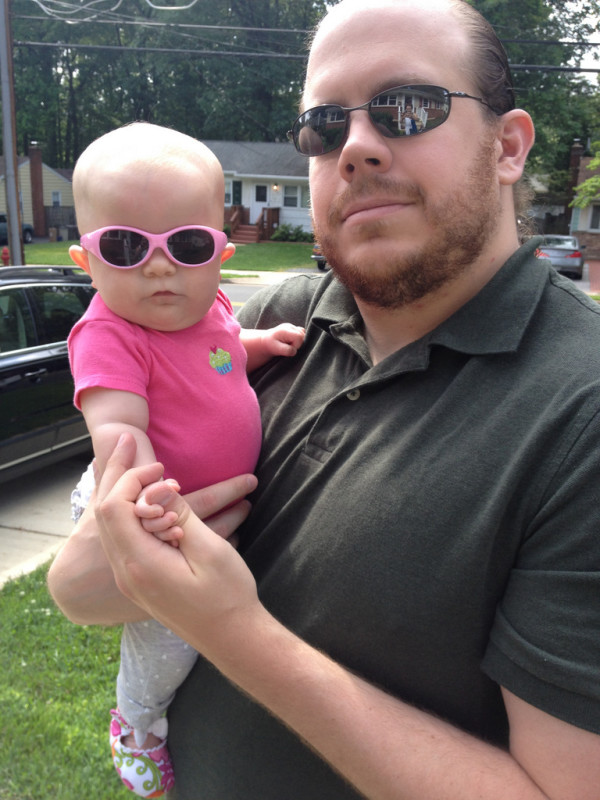 For the real, meaty work, I have to wait for Ryan to get home, and then he takes over with Maple and I work before dinner and then again after Maple goes to sleep. I really hit my stride late at night when I'm sewing, but if I don't get to bed by midnight, I pay the price the next morning.
We're taking Maple on a beach weekend just before she hits 6 months. That will be quite an adventure, I'm sure!