Ryan and I spent the long weekend in the woods of Pennsylvania on a belated 30th birthday adventure for Ryan's best friend. I spent much of the weekend feeling oh-so-thankful that Ryan not only has such an awesome best friend, but also that his best friend married such an awesome wife who is a total blast to hang out with. The four of us are a ridiculously awesome combination, and we don't take it for granted. Please note: our friends are not shown below out of respect for their privacy. Hard to imagine, but some people don't actually want to be plastered all over the internet. 🙂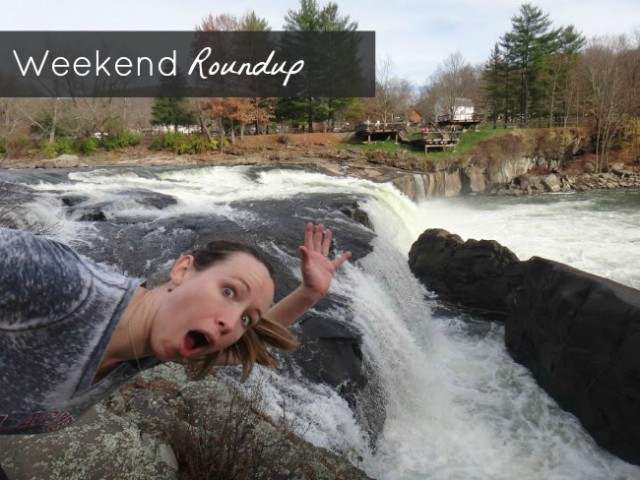 Enough sap, though – here's a recap of our weekend, in photos.
It was harder than expected to find a cozy little cabin that was somewhat rustic.  This one in the Laurel Highlands of PA was  a pretty good fit.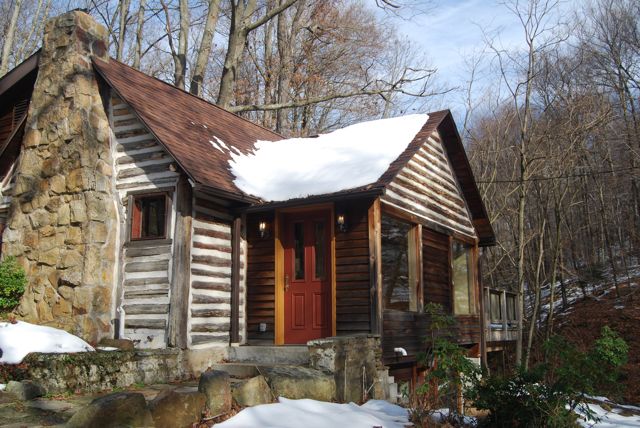 Fireplace? Check. Comfy and cozy with a good kitchen? Check.
Odd cabin decor? Check.  I really wanted to rearrange the living room furniture to set the fireplace as a focal point, but I resisted the urge.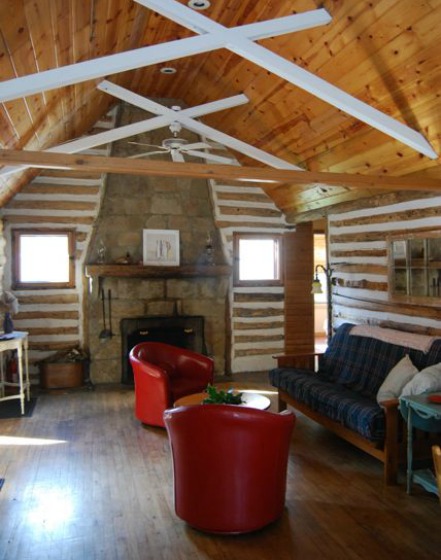 Revisiting the awesomeness of Fallingwater (and also Kentuck Knob) with our friends who had never seen either Frank Lloyd Wright home before. . .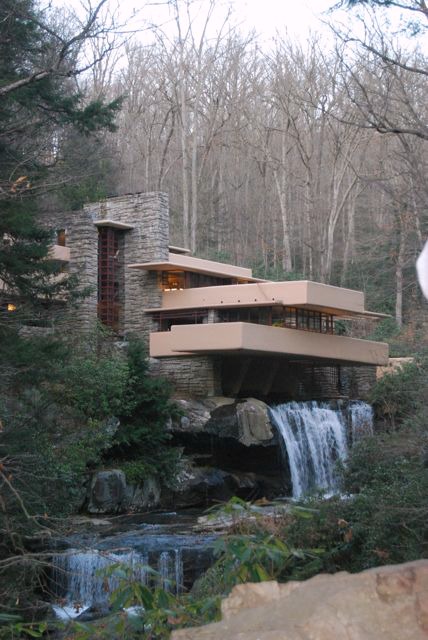 Feeling and hearing the leaves crunch under our feet on a deserted mountain trail at sunset . . .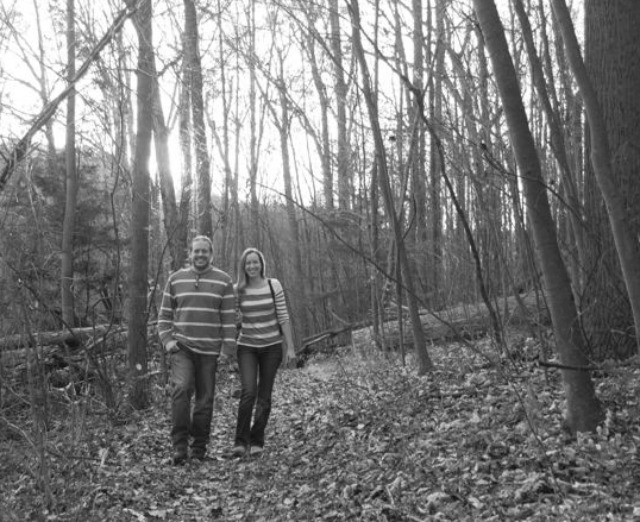 Dancing with joy at the thought of having Brussels sprouts for dinner . . . at least I think that's what I was doing.  Although C and I had several moments of dancing shenanigans throughout the weekend. . .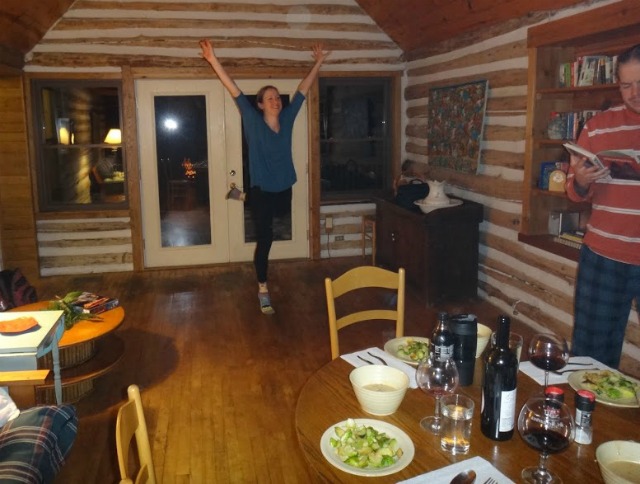 Flaming marshmallows atop twigs can be used in lieu of birthday candles on a cake . . . just try not to burn your fingers while lighting them.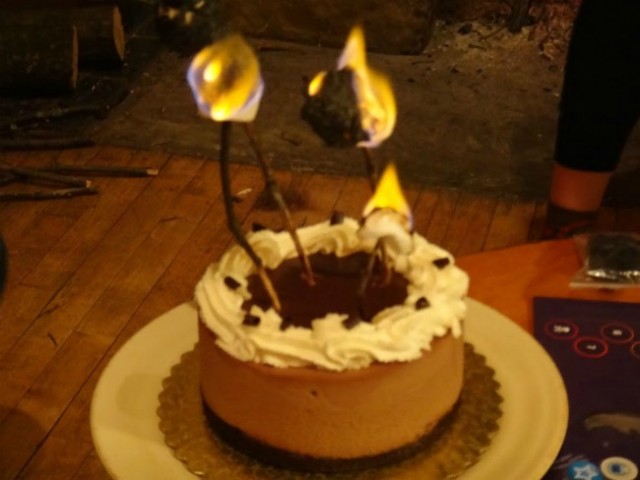 Saving the world from four medical epidemics at once proved to be difficult, but after several tries we succeeded at winning Pandemic, the board game: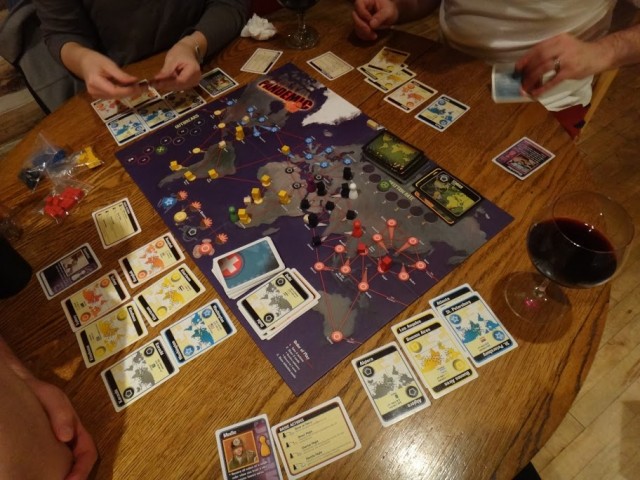 Scrambling to a nice high point on rocks above the Youghiogeny River . . .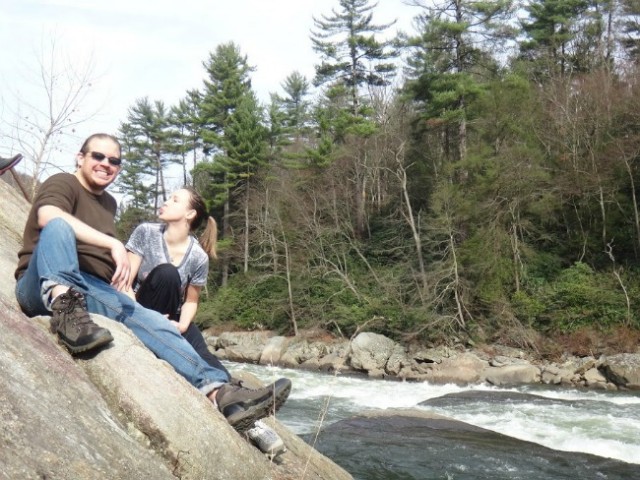 Which provides the perfect vantage point from which to observe the whitewater kayakers . . . including a woman and her DOG!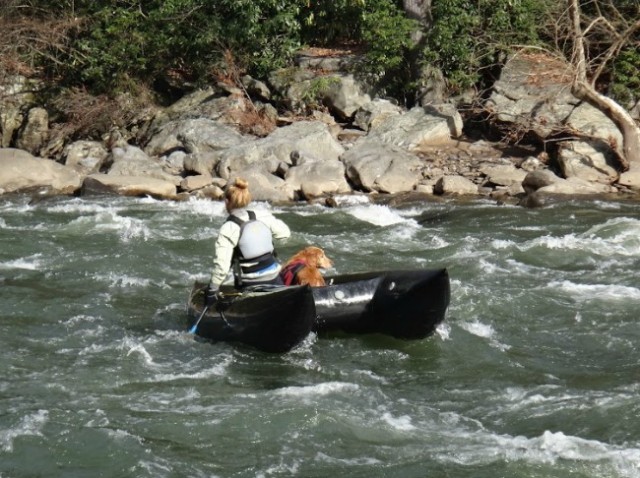 And, right before leaving on Monday, arranging half of the cabin bookshelf by color order, and styling the shelves a smidge . . . then giving up, thinking "the owner's going to think we're wack jobs."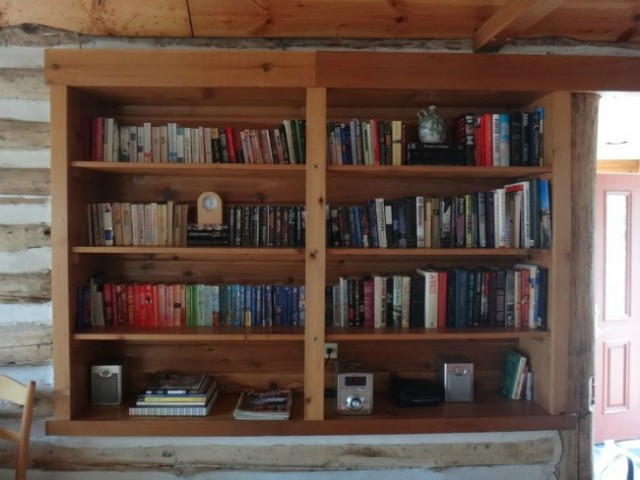 on a slightly more serious note, we were shocked at how hard it was to find a suitably rustic cabin.  So many of the propoerties that come up in searches today are anything but rustic, with 8 or 10 bedrooms and hot tubs and gourmet kitchens and TVs IN EVERY ROOM and WI-FI access so you can "keep working away from home".  WTF?
Whatever happened to just getting away from it all? Fortunately we were able to do just that. And it reminded me we need to do it more often.