I returned home from my business trip to Las Vegas last week just in time to take delivery of our reupholstered sofa!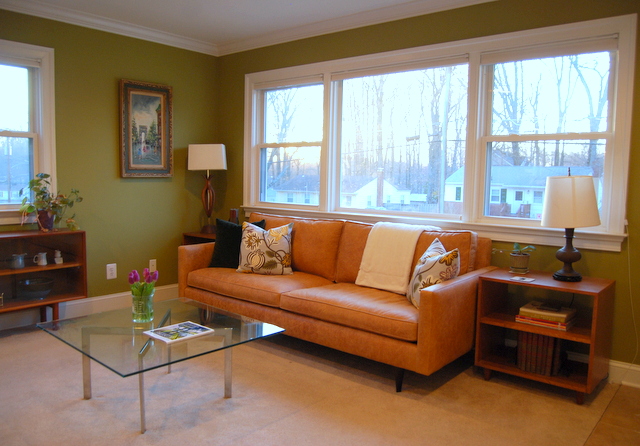 It's amazing what a difference it makes in the room.  I was worried that it would be too dark, after having such a bright white couch, but it's nice and warm without being depressing.
In case you're new here, after years of debate we chose to reupholster our well-worn Crate & Barrel Petrie sofa with leather rather than buy a new leather sofa.
The distressed leather feels amazing – already broken in and soft, not plasticy and new.   At the last moment I chose to have the cushions made with piping, because I realized that without the original biscuit tufts the seat cushions needed a bit of definition.  I'm glad the tufts are gone, because they were wearing out (starting to tear) in the spots where people sat down the most.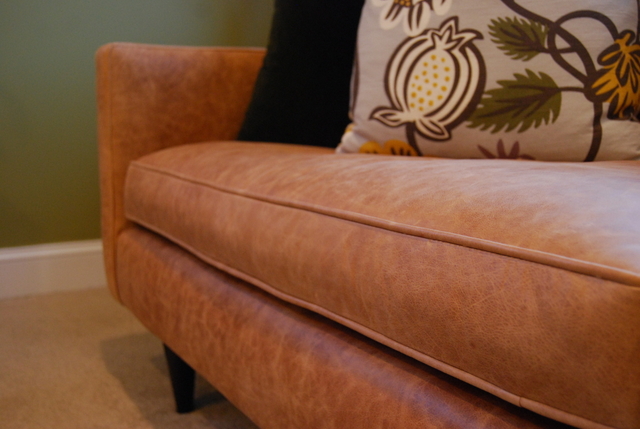 The reupholstery shop – Looney & Sons – provided excellent service, did a fabulous job, and their delivery people were courteous and careful.  The wait time was about 3 months from the time we placed our order.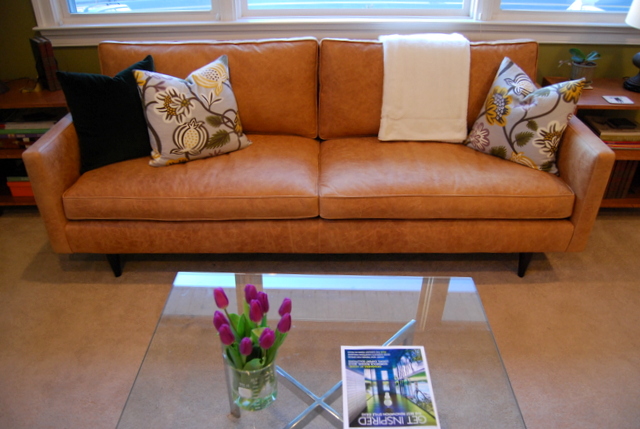 I think I'm going to make some other changes to the living room now that the sofa is here.  It's been the same for about 4 years.  I may add drapes, switch out the pillow covers, and maybe change the end tables (because they almost blend into the sofa).
These changes will occur slowly, since the sofa was a big splurge we saved up for.  It's the most expensive piece of furniture we've ever bought, by a long shot.  Labor was $695 but the leather cost several thousand.  We paid for it with some savings, some leftover wedding gift money, a bonus I got from work, and some furniture I sold on Craigslist.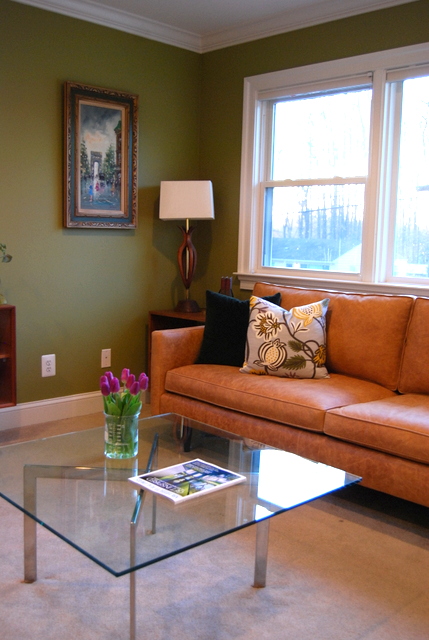 We expect the sofa to last for at least 10 years, so we feel it was well worth it.  Aside from the bed, it's the most used piece in the house.