For the last two months I've been working hard on one big decorating project – the baby's nursery.  I'm so excited to finally share the details that went into making this space.
When I was initially dreaming of the baby's nursery, I had my heart set on a vintage Danish modern rocker in a pretty wood tone. I grew up with one in my room, and it's still in a corner of my parents' house. I think it's fabulous!
It turns out that many vintage collectors think so too. The rocker was designed by the Dutch designer Frank Reenskaug for Brahmin in the late 1950's.
However, when I mentioned taking it and having new cushions made, my dad said no way!  None of us knew that he secretly sits in it and reads sometimes.  He offered to buy me an identical one on Etsy, but the price would be $1,000 – $1,500 after shipping.
Time for a new plan: shop the house!
My parents never throw anything out, and upstairs in their unused loft they had a vintage upholstered swivel rocker that my grandma bought in the 60's. It fit Ryan's tall frame comfortably, and while it was a total departure from the style I'd had in mind, I thought it was full of potential.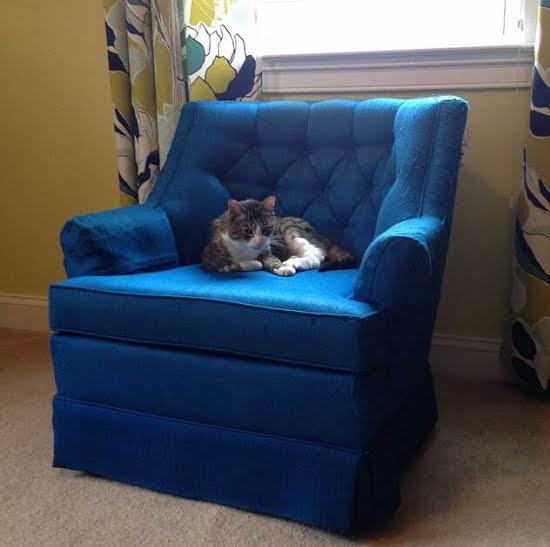 The chair was almost perfect as-is.  I loved the royal blue upholstery with a very subtle texture. Apparently so did my parents' cat, who'd been secretly clawing it for years.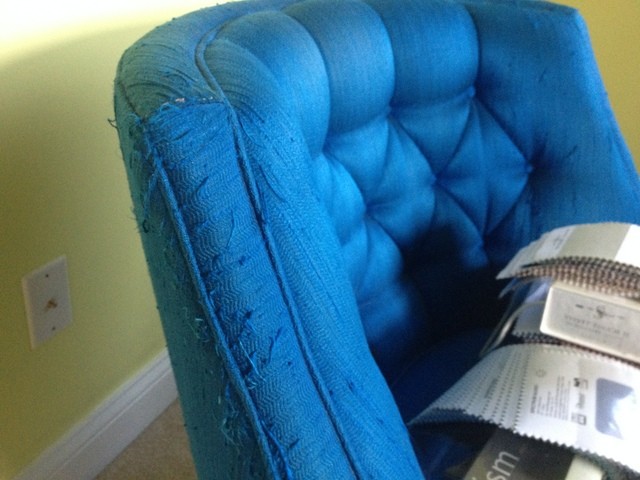 I had trouble finding just the right fabric. I wanted a royal blue velvet. Royal blue like the existing chair, and velvet simply because I've been wanting to cover furniture in velvet for years. On a more practical note, velvet is a smooth, open weave that doesn't trap pet hair and appears to be less attractive as a scratching post.
Looking through the hundreds of velvet fabrics at the upholstery shop, I was shocked that there were no royal blue options.  I settled for navy.
The navy blue swatches all looked so dark against the bright blue chair, but I narrowed it down to three choices and called the upholsterer to order.
My two favorites, both Robert Allen velvets, had just gone out of print. It felt like the crib search all over again! I started to search online fabric suppliers, but time was running out and I felt overwhelmed by options. I settled for my third choice, a super soft navy blue from Stout Fabrics (middle swatch below).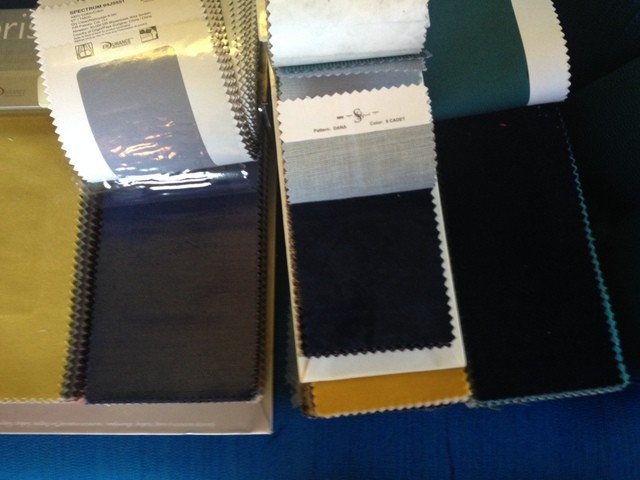 When the chair arrived back from the upholstery shop, I was ecstatic. Not only did the upholsterer copy the original style of the chair to perfection, the too-dark navy blue fabric that I had "settled" for looked perfect and just bright enough – actually royal blue.  I think that if I had chosen a brighter royal blue, the color would have been too strong and less versatile in our home.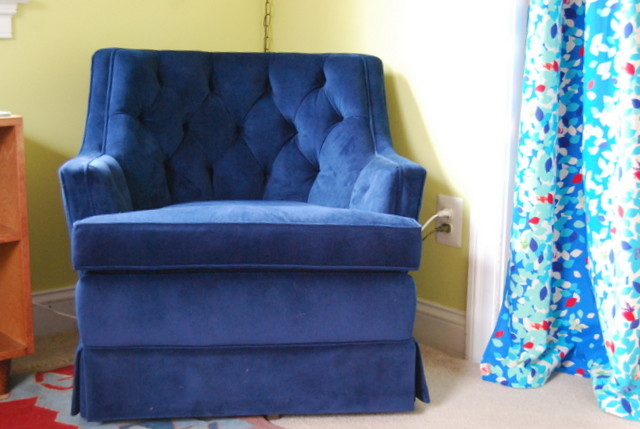 After the baby outgrows her nursery, we'll move the chair into another part of the house. It's too beautiful to have hidden away in a kid's room forever.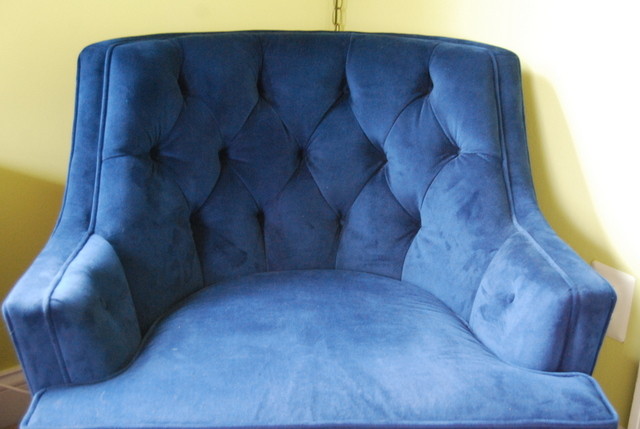 Some Upholstery Info:
For a reasonable and reliable upholstery shop in Northern VA, I highly recommend Looney & Sons in Merrifield. They have a 3-month wait list for most projects, but we've been thrilled with the service and quality of work done on both this chair and our leather Crate & Barrel sofa.
Reupholstering a chair is not cheap, but it's an upgrade that can let a solid piece of older furniture last another lifetime. In this case it was well worth the investment for me, because I love the chair and the family history with it. The fabric was $30 a yard, and the labor was about $400. I spent extra to have the fabric treated with a stain & water repellent, because I don't want the new upholstery ruined by baby spit up . . . or cat hairballs.
To keep upholstery costs down you can transport the furniture yourself, source the fabric yourself rather than through the upholsterer, and avoid fancy things like button tufting (each tuft costs a few dollars, and they add up).