In preparing my products and booth for the upcoming Art on the Avenue festival, I've encountered a dilemma:  not knowing how much inventory to create.
As of tomorrow I'll have one week left, and I work a 9-5, so I need to use my small amount of prep time wisely. 
I need to make more Merlin Mats, but I'm honestly not sure how many I should have on hand at the festival.  I'm going to have more in the smaller sizes and fewer of the XLG size because I expect the smaller ones will sell more quickly. I thought about having a fabric swatch book so that people can place special orders, but I'm not sure I want to come home from the festival with a stack of orders to fill.
Say I only have 10 MED, 10 LG, and 5 XLG.  That's around $1200 in sales, and selling that many would seriously rock – but at the same time I'm a little terrified of selling out of the Merlin Mats midday and then having that hole in my product lineup.   At the same time, I can't imagine selling even $1000 worth of dog beds in one day – but then when the weather is good, the show draws a crowd of 50,000 humans, many of whom attend *with* pups.
So I don't know.  Are 25 dog beds enough?
And while I'm thinking out loud, I also am not sure how to display my zip-off pillow covers.  See, I have a shipment of about 20 pillow inserts that should arrive in time (fingers crossed) but even if they do I have at least 40 pillow covers to display and sell.   I'm giving customers the option to buy them without the pillow insert if they choose.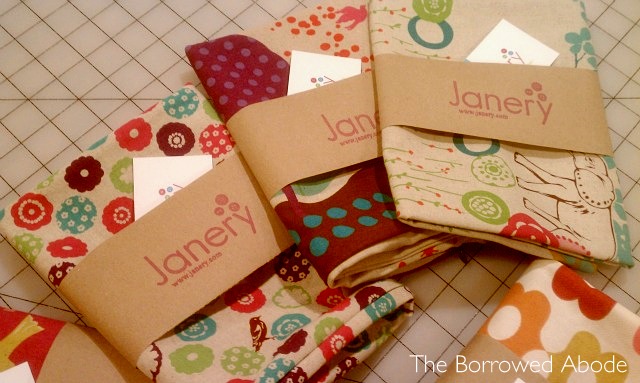 For the pillow covers I'm displaying wtihout an insert, I'm thinking of having them wrapped with a logo band like I do when I mail them out to customers. The band would be computer-printed, not stamped, so it would look more professional than this.   Pro:  The upside to this idea is that it would keep them nice and tidy in a tray or basket.  They would look more professional than if they were not folded and packaged. Con:  The customer wouldn't be able to see the whole pillow cover, so in some cases they'd be removing them from the band and I'd probably have to deal with re-folding and re-packaging throughout the day.
I thought about rigging up a system to have them all hanging, but I don't really care for that idea.  Too many logistics to worry about.
I'd love to hear any ideas you guys have on how to display the pillow covers – or on how much inventory I should make . . .
Also, my end-of-month giveaway may be delayed by a few days because I have camera issues.  I've "scouted out" an awesome product that I can't wait to share, but I want to do it with decent photos!
Have a great weekend!  What will you be up to while I'm frantically sewing?