When we last left off with the world's slowest bedroom makeover, I'd finally revealed our home-built nightstands.  But they were nekkid.    Oh, the horror!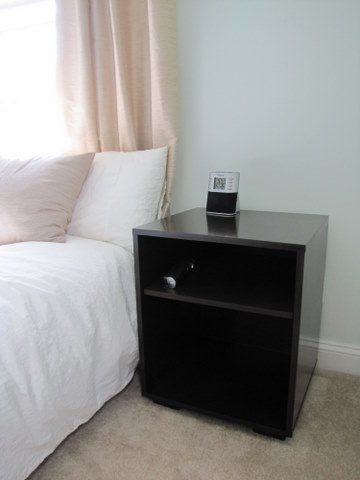 But now I can sleep at night, because they're finally accessorized.  Thank goodness for that.  I'd hate to be cited for nightstand nudity.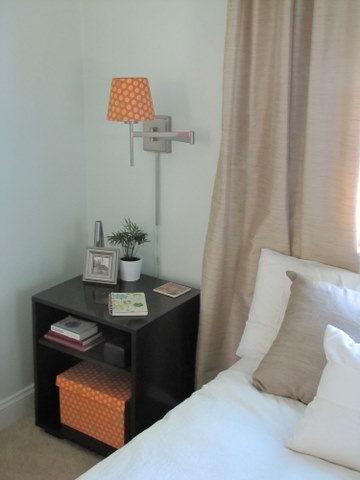 Now I'm sure you're saying to yourself  "Wow, that sure is one heck of a cute storage bin that Jane used on the bottom shelf."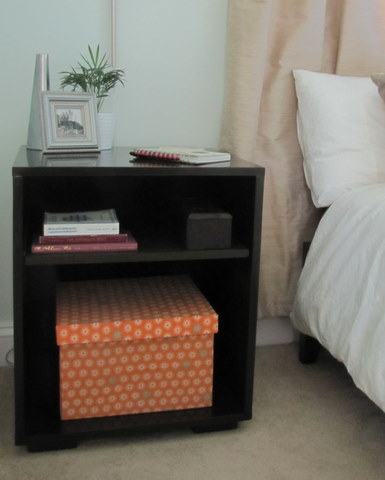 Why thank you!  It sure is, and you know what?  It's part of a sweet two-for-one deal courtesy of my local Home Depot.  Buy one wall lamp, get one storage bin free.
I'd love to tell you more, but I've got work to do.  I'll be back tomorrow with an awesome "how-to" lesson.   In the mean time, what do you think of my orange accessories in what was supposed to be my serene beachy-modern bedroom?  I'm really digging the combo of  seafoam and orange, although now I'm wishing I'd gone with chocolate drapes.