Thanks so much for visiting - Please subscribe to my RSS Feed or come say hello on Facebook!
Giving the gift of luggage? Here's a few personal touches you can add to take the suitcases from so-so to fabulous.
When my friend Reba suggested we give our newlywed friend Crysty a suitcase (off her wedding registry) for her birthday, we thought it would be fun to take it one step further with some personal touches.  I decided to give handmade luggage tags a try.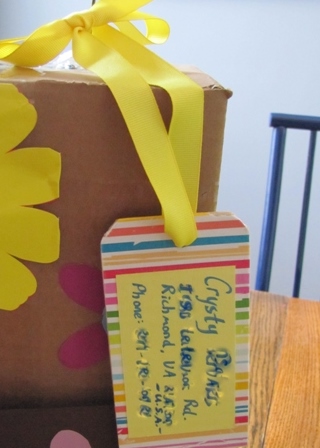 I'd planned to just use a few layers of card stock for the tag, but then I found thin wooden "tags" at the craft store.  (I think they were in the kid's craft section.)  They turned out to be the perfect sturdy base for the project.
I cut out some colorful card stock (the brighter the better, so that the suitcase is easy to spot during baggage claim), and adhered it to the wooden tags using ModPodge.  I used a nail to poke a hole through the paper where the hole already existed in the wooden tags.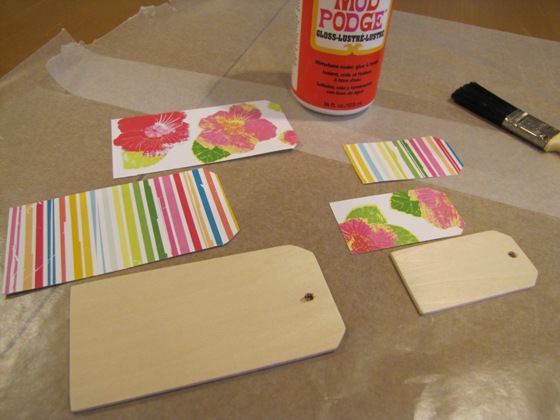 After the first layer of MP dried, I wrote out Crysty's name, address, and phone number on slightly smaller pieces of card stock, and adhered one to each tag with another coat of MP.  I let that coat dry, and then ran a long length of ribbon through the hole in each tag.  I then tied the ends of the ribbons and hung each tag on a hanger.  The luggage tags needed to be waterproof, so I applied two coats of polyurethane sealant (allowing several hours for drying time in between each coat).
The finished product looked like this on the front (the address and phone were neatly printed, but I blurred them in the photo for privacy):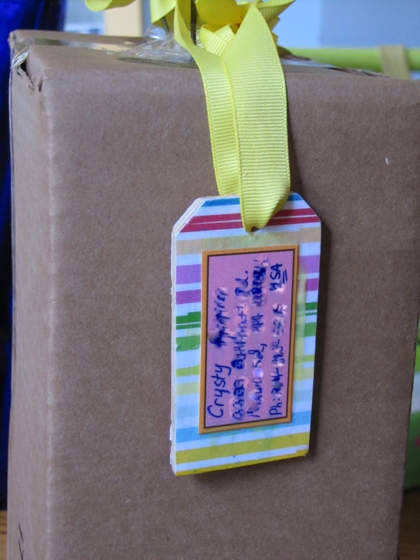 And the back looked like this: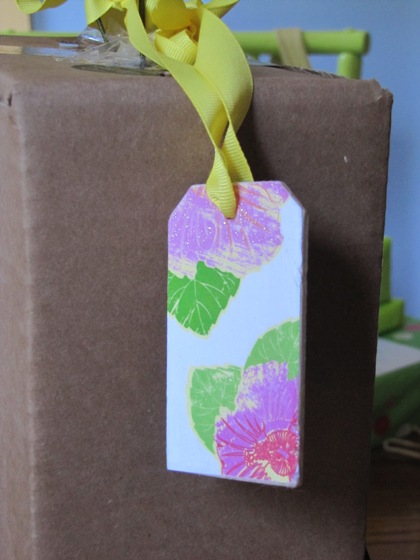 As another personalized touch, Reba and I decided to order one of the handmade travel journals from Katie at Gadanke.  Crysty and her husband plan to take a mission trip to the Philippines for their honeymoon, and we knew she'd love to record all their memories somewhere special.
Sounds like the perfect gift, right?   It would have been, but the suitcase was back ordered and didn't arrive in time. Reba came to the rescue with a super-createive solution:  She decorated an old cardboard box to look like a suitcase, complete with a flora design similar to that of the real thing, and an extendable handle on the top.  Genius.
We tied the luggage tags to the "handle" and she slipped a card and the journal in the front pocket she had made for the "suitcase."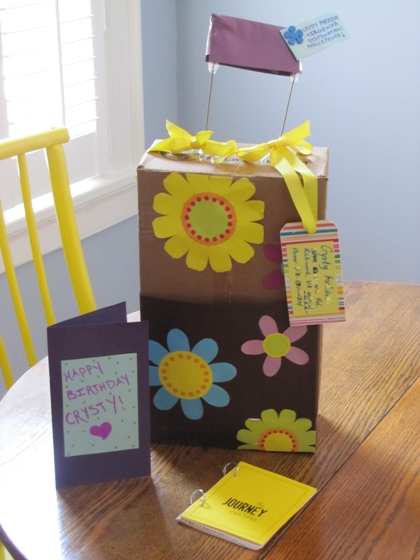 In the end, the creative solution for the missing suitcase was even more fun than the real thing – as far as the gift presentation was concerned.
And the grand total for the handmade luggage tags? $3.00 for the wooden tags and the ribbon.  I already had the paper and ModPodge on hand.
Shared at:
Take a Look Tuesdays and New Nostalgia