I finally have a bedroom before and after to share with you all: my new handmade curtains are finished!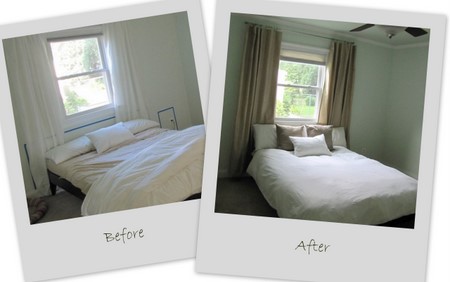 Here's a reminder of where we were:   When I last left off, I had just shared the fact that I was wrestling yards and yards of fabric, but I didn't share which fabric we eventually chose.
After a week of pondering, we chose the Shantung Bangalore Tan (#6) – which was plain, with a subtle striped color variation when viewed up close.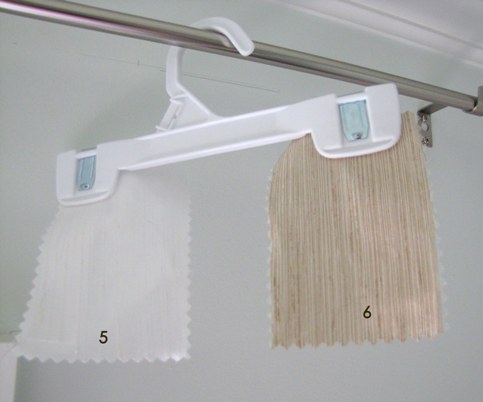 I know several of you were voting for others, including my beloved Barber Taupe Robin, but Ryan vetoed that completely (which is unusual for him), declaring it to be an "old lady fabric."   So I let it go, because I definitely want this room to be a space that he and I have created together.
So here I am now, ready to share the results of all our "hemming" and hawing.   Pun intended.
I can't begin to describe the joy that filled me as I finished the curtains, and started to hang them.  I immediately loved how perfectly they coordinated with my cheap Ikea pillows.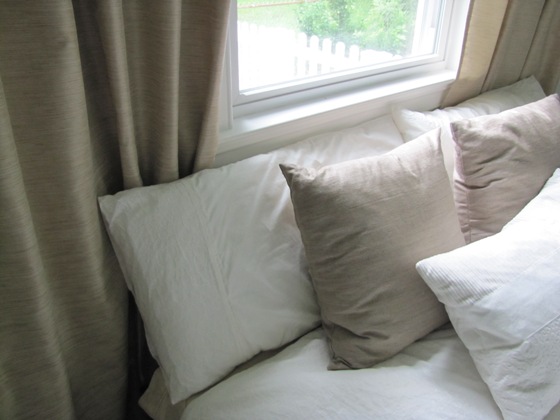 Then my heart plummeted to the floor with disappointment. The damn things wouldn't hang right on the rods.
I'd purchased several types and sizes of clip-on curtain rings, because I wanted a cheap and easy solution that I could remove later if I decided to convert the curtains to pinch-pleat drapes later on. But no matter what rings I used, the curtains just hung there awkwardly, refusing to hold my carefully-placed folds. Every time I thought I had them positioned right, I'd step away to admire my handiwork – only to have the ornery things fall out of place immediately.
What I do like, however, is how the curtains frame the platform bed.  Hooray for small victories!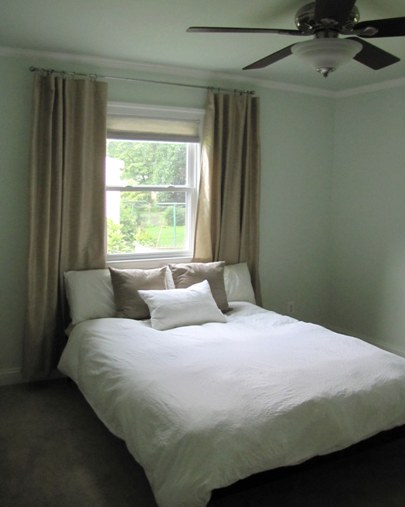 Have any of you fought with clip-on curtain rings? It's my first time using them and dammit, they are frustrating me. Maybe I should convert the drapes to pinch-pleat, but for now I just want to move on. Time to finally finish the nightstands, hang the bedside lamps, and then do the most fun part of all – accessorizing!