Today's guest post on Apartment Design Ideas for A Tiny Apartment is sponsored by Apartment Guys. 
Whenever I have guests from overseas visiting, the first thing they say when they walk into my place, is wow this is big! If you are from another country or if you like to travel around the world, you will probably know that, when compared to the rest of the world, American homes and apartments like the ones seen here are well known for being spacious. But how much space is too much?
While UK has the smallest average home size in Europe, the US leads the rank of the largest ones. From a carbon emissions point of view the smaller, the better; as a smaller home involves less embodied energy to build, has lower heating and cooling needs, needs fewer furnishings, as well as it takes less time to maintain and, of course, requires less work to fund. But how small is too small? And how do you incorporate efficiency and sophistication to the design?
If you live in a tiny home there are several things you can do to make your place functional and yet sophisticated. After all, less is more.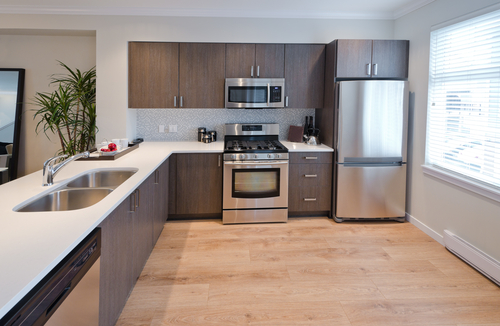 Choose the Right Furniture
Since space is an issue, look for multi-purpose furniture that will make your room look bigger. In the bedroom, instead of a traditional bed consider a bed with storage underneath. Your typical night stand can be easily replaced with a dresser for extra storage; and if you live in a studio your headboard can be the back of a finished bookshelf or wall unit. Also murphy beds or sofa beds are great options for studios or apartments with an extremely limited amount of space. In case your bedroom is long and narrow, replacing your bed's footboard with a wider dresser is a great way to add more storage to the space.  When designing the living and dining rooms think outside the box and consider floating the furniture instead of placing them against the wall. In extra small spaces, the dining table can also serve as a sofa table when placed behind the sofa. Don't' be afraid of trying something different or using furniture as room dividers.
Create Rooms with Rugs
Yes, you read it right. If you live in a studio or in a place with an open concept floor plan, you can easily divide the space by placing area rugs throughout the space. More than a design element or an investment, rugs are also great room dividers. I personally love incorporating area rugs or modular carpet tiles into small spaces. By keeping the walls and the furniture neutral, I bring some pops of colors to the room with rugs. If you are a very creative person, modular carpet tiles are the way to go as you can mix and match while creating a one-of-a-kind area rug.  Available in different sizes, colors, and patterns, modular carpet tiles allow you to design a room that is functional and inviting at the same time.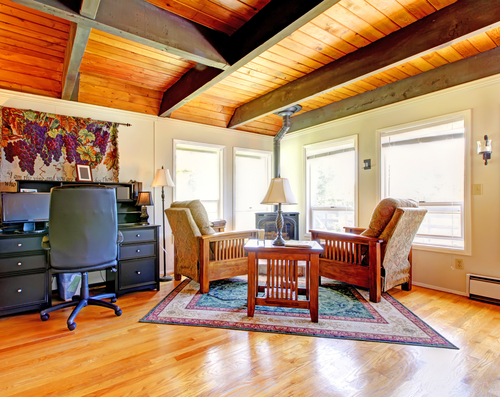 Design with Wallpaper
Wallpaper is a great solution to define spaces or enhance specific areas, and small space residents can benefit a lot from wall coverings as they can be used to add drama and sophistication to the headboard wall on a bedroom, to enhance a fireplace wall, or even to define a dining or living room.
Think Vertical
Although it might sounds obvious, a lot of people tend to forget how much room they can get when thinking vertical. By selecting a storage system that can be expanded up to the ceiling, you will maximize the amount of storage in your home. For a more contemporary look, consider systems that come with doors or drawers. If you have a lot of collectibles, look for a wall unit with several open areas so you can display them too. When it comes to design, there is no such a thing as one size fits all. Next time you are in the market for a room makeover, be bold and experiment something new.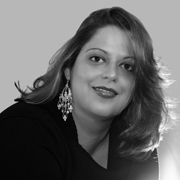 VK Sustainable Concepts' Principal Andrea Vollf, LEED AP ID+C, is a registered interior designer and sustainability professional with over fifteen years of experience in the interior design and marketing industries.. Connect with Andrea on Google+, Twitter, LinkedIn, and Pinterest.