Some of you are so sharp you could replace my scissors.
Last week, when I shared my bedroom nightstands and the tutorial for making decorative storage boxes, a few of you noticed another addition to the space:  wall sconces topped with coordinating fabric shades.  Geez, I can't sneak anything by you!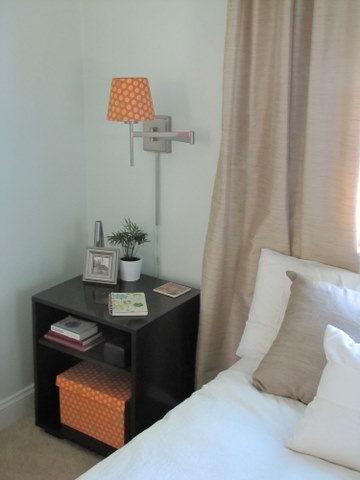 I've always thought that wall-mounted lamps were the best small-space solution for bedside lighting.  And a swing-arm is a must because that makes it much easier for one person to read while the other snores.  The only problem?  Because I'm a renter, the lamp had to be a plug-in wall sconce, rather than one that gets hardwired into the existing wiring.
But after months of searching for an affordable plug-in option, I found these brushed-chrome lamps at Home Depot for only $45 each, I knew they were the ones for our bedroom.  Why?  They had clean contemporary lines, were cheaper than most other non-fugly options, and included a little chrome tube to cover the top part of the cord hanging down from the lamp.
*Note:  The Home Depot website says these lamps are hardwired, but they are actually plug-in ones.  The cord comes down that little chrome tube below the lamp.
So the lamp was cool, but the shade was plain white.  I knew I wanted to cover it in the same orange starburst fabric that I used on the storage boxes.   Now there's a million tutorials out there for how to cover your lampshades with fabric, so I won't go into those details.   (Southern Hospitality has a kickass tutorial here, Centsational Girl has one,  and YHL has one as well.) But I do have a few tips of my own to share:
4 Tips for Recovering Lamp Shades
If you're using a lighter colored fabric, hold it against your existing shade to make sure the shade's color doesn't show through.
Before cutting your fabric, make a template out of paper.  How?  Wrap the lampshade in paper – an old grocery bag, wrapping paper, wax paper, anything.  Then cut that paper out based on how it wrapped around the shade, and make sure you have just the shape you need before tracing it onto, and cutting, the fabric.
Use ModPodge to adhere the fabric, rather than a glue gun.  I'm not a fan of the glue gun method because it makes it  tough to remove the fabric when you're ready for a different look.  Instead, after I cut the fabric to size, I brush ModPodge onto the shade, then smooth the fabric over it.  If you've got wrinkles, the MP gives you more than a few seconds in which to make the adjustment.  (And if you don't use ModPodge on the outside of the new fabric, the fabric will peel off easier months or years later.)
Before wrapping the fabric over the edge of the shade, I cut little slices in it to make it wrap more neatly.  See?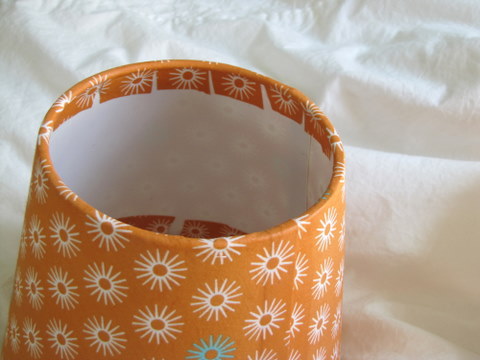 Now it's your turn to tell me what you like! Do you prefer a wall-mounted lamp or do you really like the grand look of matching lamps sitting on bedside tables?  And if you have any tips to add, don't be shy!