I've been a bit behind in wedding planning for a while now. . . hence the sparse updates on this blog.  Let's just say this once-in-a-lifetime event really sneaks up quickly!
I've had a lot of trouble making decisions on everything from rehearsal dinner menus to table number design to what jewelry my bridesmaids will wear.It's almost as though there are so many good ideas in my head, and even more on Pinterest, that it becomes overwhelming and hard to  JUST PICK ONE!

I'm getting ready to order fresh orchid blossoms for the wedding.  The company also offers fresh Orchid leis. . . and suddenly I'm wondering if I should order them for my bridesmaids.
Right now I don't have any jewelry for my bridesmaids, because they are all so different that I didn't want to get matching pieces that they may not wear again.  The plan was to ask them to wear simple jewelry that wasn't bright and colorful – either silver, gold, or pearl / white / cream.  But I think the orchid leis could be a fun touch.
Here are the two I am considering – a green and white lei:
 Or the all-white lei:
And here is a reminder of what the bridesmaids will be wearing: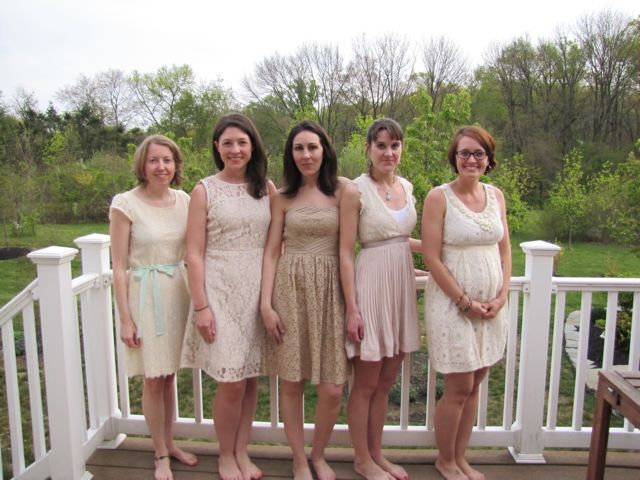 My concern is that leis are a bit bulky, and may not look great against the white or cream colored dresses.
What do you think?  Would simple necklaces be better, or do you like one or both of the leis?
PS:  Lei Photos are from www.HawaiiFlowerLei.com