Good morning, who's in the mood for a little giveaway?  I'm kicking off the long weekend with a feature on Command Clear adhesive organizational products.
Have you ever noticed that I don't do many sponsored posts, reviews, or giveaways? That's because I only agree to do them for products or promotions that I love – so when you find me working with a brand, it's one that I think rocks.
The Command brand is one of my favorites, especially because I rent.  Over the years I've used the Command Damage-Free Hanging tools  to avoid putting holes in my walls a million times; I even used them to hang a branch on my wall for Christmas stockings.  The hooks are super sturdy, so I use the same ones over and over and never throw them out. Some are at least 6 years old – talk about bang for your buck!
So when they offered me a set of the new Command Clear products, I agreed to try them out and review them, as long as I got a second set for a reader giveaway.
About the new  Command Clear products:
Command Clear products from 3M include clear plastic hooks, clips and organizers — complete with clear, transparent strips — that blend seamlessly into walls and other surfaces.   And as with all the other Command adhesive products, the strips have the same stretch-release action so that they won't damage your walls when they're removed.  The new Command Clear product line includes clear plastic hooks, photo clips, and organization caddies.  That's awesome, because in the past I've used white Command cord clips to hold cords against a wall – and I've had to paint the white clips to blend.  Not anymore!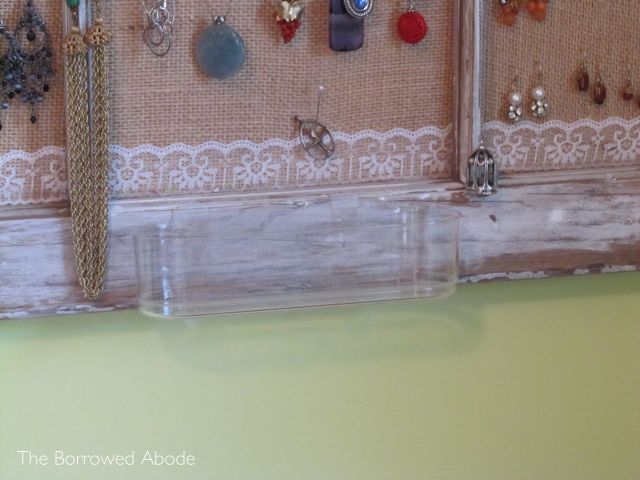 Here's my take on them:
I'm loving the clear caddies I received.  They've come in handy for two things in my office:
I used to set my cell phone in random rooms to charge it, but thanks to the Command Clear smartphone caddy, now it sits on the wall in my office without looking ridiculous.  (If only they could also make a clear charging cord . . .)  Ryan's just excited that the bathroom is no longer my "charging station."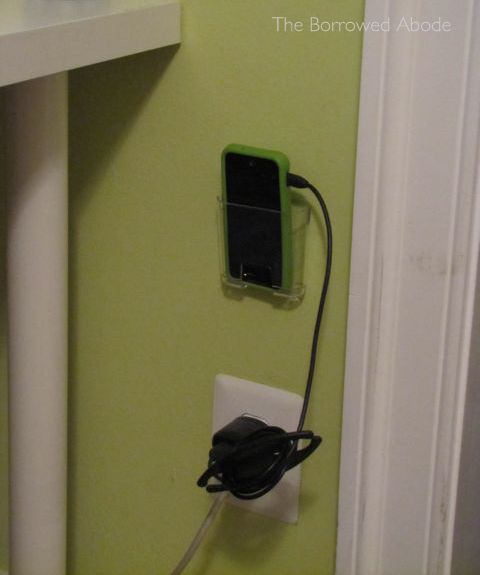 The larger Command Clear Medium Caddy is sized perfectly to hold a set of spice jars, but I put it to use in a different way.
I attached the shallow, wide trough to the bottom of my new jewelry organizer window frame, where it now corrals all my earrings that don't have hooks.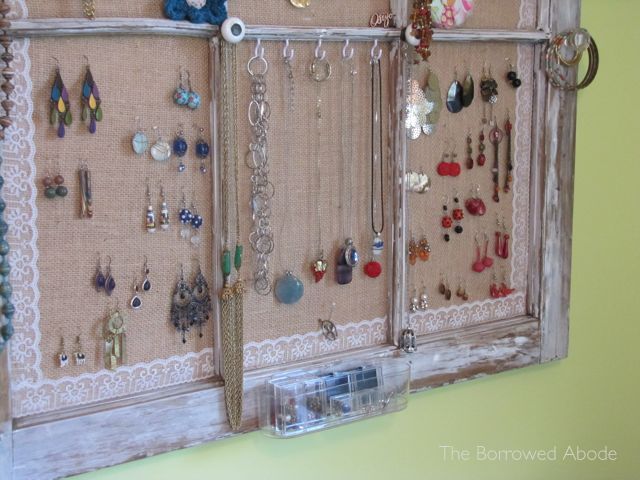 The clear caddy looks so much better than a white plastic one would have!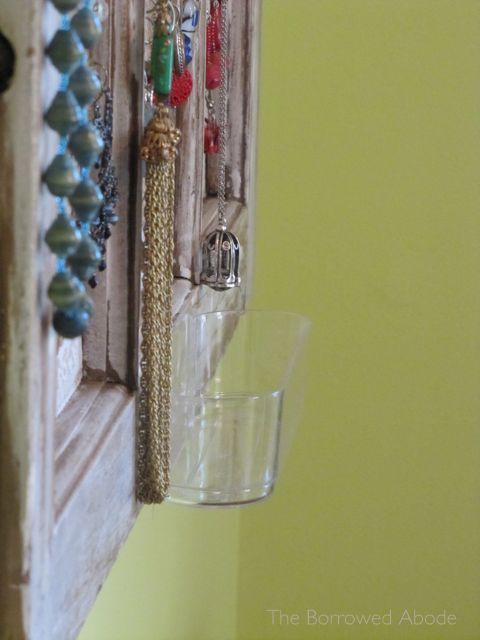 At the end of the day, all of the Command Adhesive products get an A+ from me.     My only real complaint is that I wish more stores carried the clear caddies, so I didn't have to order them on Amazon.  I'd like to add some to the insides of my kitchen cabinet doors to help keep smaller items organized.
And now for the giveaway:
Want a chance to win some samples of Command Clear goodies?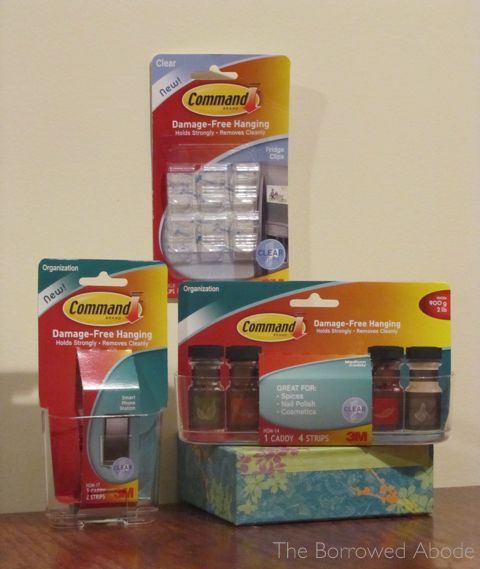 Giveaway Prize Pack includes:
1 package Command Clear Fridge Clips
1 Command Clear Smartphone Caddy
1 Command Clear Medium Caddy (holds up to 2 #)
BONUS PRIZE:  A new product I'm testing out for Janery!
You can find Command on Facebook and Twitter.
Please use the widget below to enter the giveaway – you have to leave a comment on this post letting us know what you'd use the product for.  Then there's there's 4 additional ways to enter!  But be sure to leave a comment, because without that entry, your others won't count. Thanks!
a Rafflecopter giveaway

Keepin' it real disclaimer:  I was not paid to write this post.  The products were given to me for free, but the review is my opinion.   I'll never review or give away something I'm not a fan of, because that would just be lame. End of story.