We've still got beautiful fall leaves on many of our trees here in the DC area, but the clocks have fallen back and we're officially in the midst of November.  That means that, no matter what, the cold winter weather (and Christmas!) is inevitably right around the corner.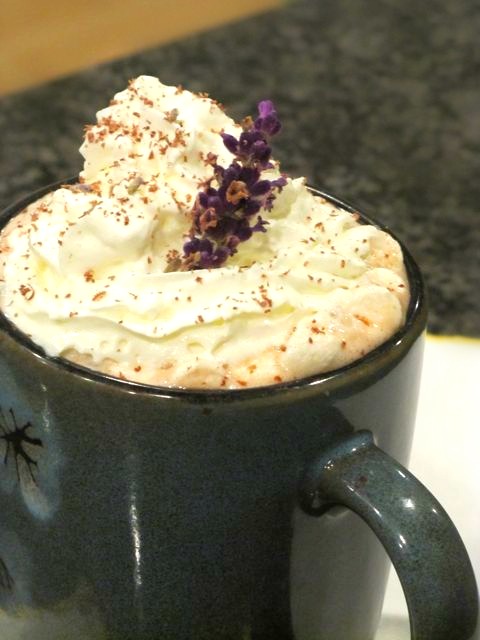 With that in mind, I'd like to share a little extra-special hot cocoa recipe with you:
Lavender Cocoa. 
It may sound peculiar to you, but trust me:  Lavender is one of my favorite herbs to sneak into a surprising number of foods.   When you mix chocolate (Especially dark chocolate) and Lavender, the results are amazing.
If you're a chocolate lover who's always settled for the cocoa that comes in Just Add Water packets, do yourself a favor and just snag a little cannister of "gourmet" cocoa mix next time you're at the store.  I recommend the mix from Lake Champlain Chocolates,  Equal Exchange (fair trade) or else Godiva or Ghirardelli.
Yes, this recipe takes a smidge more work than the Just Add Water method, but it's so worth it.
Here's what you'll need:
**Real hot cocoa mix (like the examples above)
**Milk
**Dried (or fresh) lavender buds
You can also use lavender oil, if you prefer, but be sure that it's suitable for food use!
 Here's how to make it:
1.  Pour a mug of milk into a saucepan.  Add 3-5 dried or fresh lavender buds.  (A pinch, essentially. I never measure.  If you use the oil instead, just add like 1/2 drop.)
2.  Slowly warm the milk to a simmer and add the appropriate amount of hot cocoa mix.  (See container for details.)
3.  Stir as you simmer the cocoa, making sure all of the powder gets mixed in and dissolved.
4.  Pour into a cup and garnish with mini marshmallows and/or whipped cream, if you so desire.
Voila!  If you try this at home, please let me know what you think!
What's your cold-weather drink of choice?