I'm back from an awesome weekend spent celebrating Ryan's 30th at the Jersey shore, but before I talk about that I have to tell you about our Valentine's Day!
We don't take this holiday too seriously.  But Ryan always does a little something around the date, whether it's ambushing me the day after, or doing something on the day of, like last week.
I came home from work to find him reclining on the couch, reading.  Then I noticed the first flower, sitting in the martini pitcher on the "bar."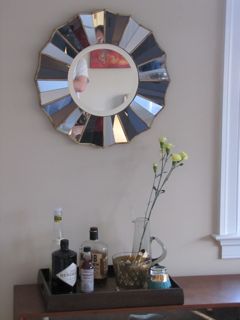 Moments later, I found another sprig of flowers in a dirty glass by the kitchen sink.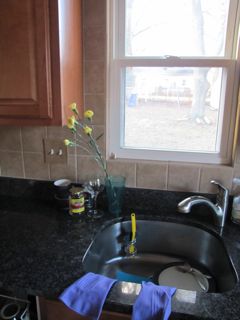 At this point, the scavenger hunt was officially on.  I headed into my office, to discover more flowers on my storage cabinets (tucked into the ugly doll that didn't get given to my baby niece this Christmas):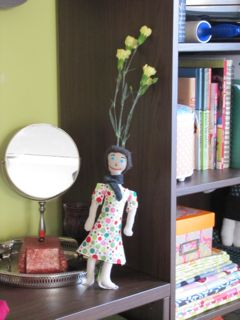 And in my empty water bottle on my desk (It's a vintage Moxie soda bottle that I use to refill my iron with water):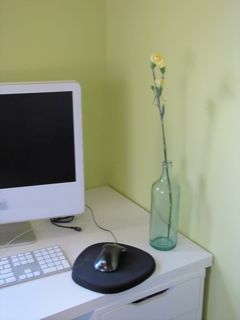 Then it was on to the bedroom, where another flower was attached to my bedside lamp. . . with a rubber band.  This, ladies, is how the man thinks.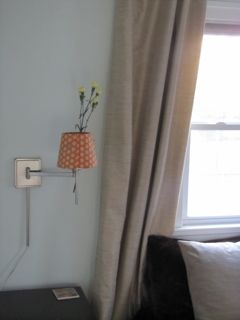 In the bathroom, a spray of flowers rested in the toothbrush glass.  Not in the two wall vases hanging above it – because he didn't want to be that predictable.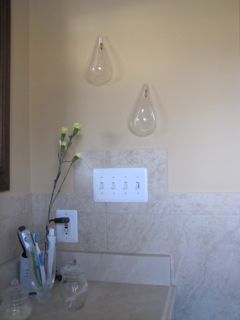 After I finished laughing at how absurd Ryan was, I discovered that I'd missed another surprise sitting right there on my desk – a huge box of Godiva truffles (yum!).  Along with a . . .  get well soon card.  Because, as I said, we don't take this holiday too seriously.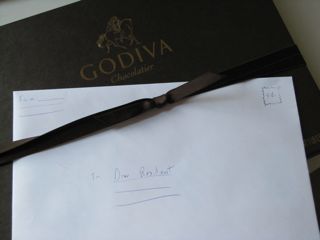 Later that night I discovered a final spray of flowers.  On the shelf, in the fridge.  When I asked Ryan why, he said "because I ran out of places to put them."  Ok, fair enough.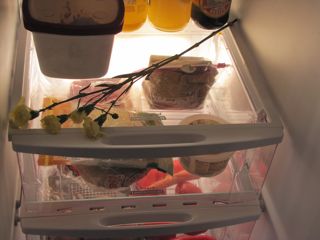 One week later, that flower is still there.  And thriving.
But that's not all we did for the holiday.  Ryan continued our annual V-day tradition, taking me to an amazing 5-course dinner at a small Italian restaurant we both love, La Strada.  (If you're ever in the Alexandria, VA area and in the mood for homemade pasta at a fancy-yet-not-pretentious spot, La Strada is the place to go.)  And on Friday evening, when the weather finally warmed up to 70+ degrees, I continued my half of the traditions, grilling up some dee-licious dry-aged free range steaks.