Now that the Janery studio makeover is complete, I'm ready to tackle the Basement TV Room with my creative energy. It's is a long, tiled room that takes up most of the basement real estate.
I've started and stopped work on it in the past, because our needs for the space kept changing as the Janery workspace was growing.  Now that Janery is (mostly) confined to a separate space, we can finally decorate the basement.
Here is what it looked like when it was last photographed: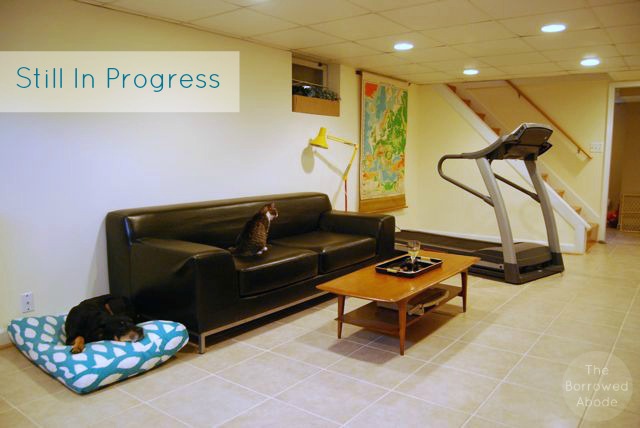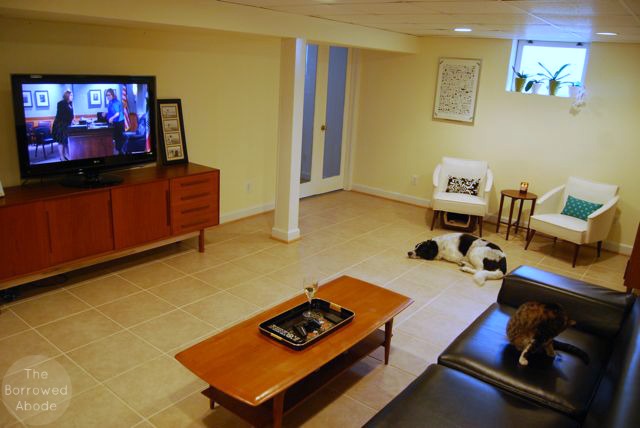 One of the first elements we need is a large rug.  And by large, I mean 10 x 12 feet.  We tried an 8×10 in the past, but it wasn't ideal in the large space between the sofa and the TV cabinet.
Ryan and I have considered a few options:
FLOR tiles – I love that they're made in the USA, recyclable, and totally customizable.  And repositionable, making them great for renters who move a lot. But they're not cheap.
One of the many awesome large rugs from West Elm or CB2.  The ones I love are not cheap. Also, many rugs from major retailers are ethically questionable.
One of the gorgeous, ethical rugs from The Rug Company. Again, not cheap.
DIY a rug out of a plain white Ikea rug.
A cheap, plain, dark rug from Home Depot.  (Been there, done that. Not my favorite option.)
We're reluctant to invest in a nice rug for the space, because my cat Aretha is a little . . . weird.  She occasionally pees on the rug or the dog bed in the basement.  (One of the many reasons why the Charlie Cushions coming to Janery in May will be waterproof.)  She's on Prozac now and it doesn't seem to be happening anymore, but we have thrown out two rugs in the past because of this.
FLOR tiles could still be an option, because if one got peed on we could soak it in the enzyme cleaner to really get it clean, all the way through.  A 10×12 rug would cost $350 for the cheapest option, so I'm going to see if I can come up with some cheaper options before I agree to lay out the cash for the rug.