It's a craaaazy week at the Borrowed Abode.  In between praying and chanting and sacrificing throw pillows in the hopes that the powers that be change their weather plans and don't actually deliver "severe thunderstorms" for the Viva Vienna festival, I'm finishing up my 50 throw pillows (think I went overboard a little?) and other tasks.
. . .  wow, that was a killer run-on sentence.
I discovered that one of my readers, Kristi, has a fun blog where she is sharing her fabulous sewing projects – and I knew I had to ask her to give you all a peek.   She's pretty new to the sewing thing, yet she's already churned out a ton of awesome projects!
If  any of you are thinking about sewing, or wishing you could sew, hopefully Kristi will inspire you and give you the courage to just give it a go!   I love her positive attitude and let's-just-dive-in approach to sewing.
Sew without further ado. . .

Hi! My name is Kristi and I'm the proud blogger over at A Nest in the Making! I've been blogging (technically) since October of last year, but I've been back again since mid April!  I'm very much new to this whole blogging world which is why I was over-the-top excited when Jane asked me to do a guest post!   I mean, seriously, you can ask my husband! I absolutely adore Jane's blog! She has such great ideas, she's real, and she gives advice to newbies!  Perfection!  Anyway, I am a wife, a mother, an accountant (say wah!?), a runner, and newly a sewer seamstress… yes seamstress is a much better word! (ick sewer!)
I've been sewing since April when I borrowed a machine from a friend at work. I think that sewing is the creative outlet I lost when I stopped being so involved in music. Don't get me wrong, I put on an insane shower concert, but growing up my outlet was always choir and orchestra and since I don't do either anymore . . . sewing is my new "thing!" And let me tell you . . . I LOVE it!  I love the instant-gratification of making something. I can make something for function, or for fun, but I always end up so proud of what I've made!
My first foray into sewing clothes was to make a black knit tank (below). I used a tutorial I found online (link in my post) and had such a great time making it! This was my first attempt at making something for myself. I was so scared to try, and once I made it I was so scared to wear it out. Since then this shirt has gone to church once and to the office twice. It was an absolute hit and gave me so much confidence to continue sewing and try more projects!
I've never really been a purse girl, but when I saw the tutorial for this Bias-Tape Bag I was thrilled! For mother's day, I made myself this purse. This was my first experience with bias tape and I forsee many more purses in my future! And I know it's not necessary, but seriously how fun is it to have a matching wallet?! Ugh! Love it! I couldn't find a tutorial for the exact wallet I wanted so I just made it up as I went! Luckily, I remembered how I made it and made a quick tutorial! I also made a matching pouch to hold my girlie accessories! Seriously, I was having too much fun!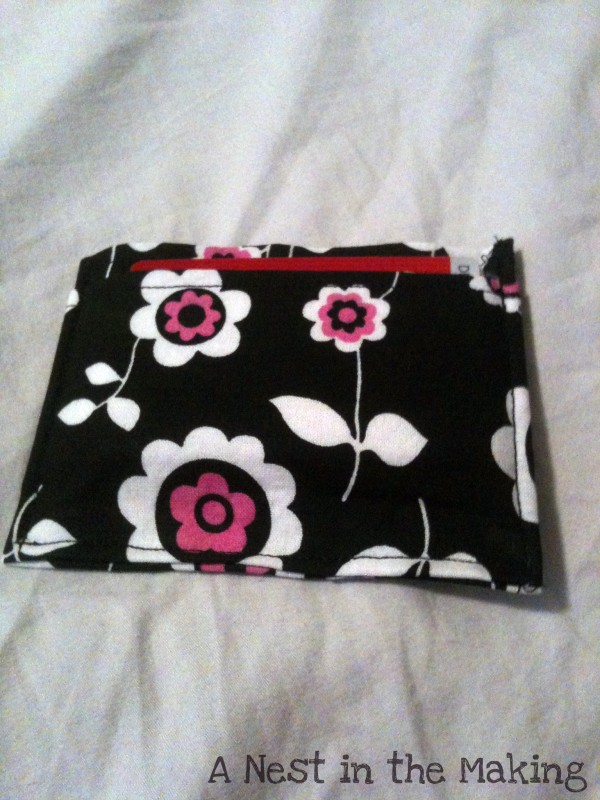 I put off making anything for my son for a while. I think I was worried about making something "good enough" for my little man! After making my adorable purse, I bit the bullet and went for it! I made a placemat for when we go out to eat.  We go out every Sunday after church, and I've worked in restaurants . . . I know how well those high chairs/tables are cleaned! With his new place mat, I don't have to worry about setting finger food down for him to feed himself!  It also holds a fork and a spoon for him to feed himself play with!
The last project I want to share with you is probably my favorite so far. It came from a bored night at home. I was flipping through my fabric stash and this fabric just screamed spring skirt to me! I wasn't really in the mood to follow directions   (I'm not the only one who has days like that am I?) so I just invented this skirt as I went. The elastic really works with this skirt. I can pull it low and make it appropriate for the office, or pull it up a little bit and wear it with a t-shirt around town!

Thank you so much, Jane, for featuring me!
– – –
No – Thank you, Kristi, for giving us a peek at your awesome creations!  Didn't she do an awesome job?  I'm especially loving her purse!
Finally, I asked Kristi if she had a bit of advice for those of you who may think sewing is too hard, or anyone new to sewing.  Here's what she had to say:
My advice would be to try it. You can sit back and look at the pretty things and think "I could never do that!" and if you don't ever try you're 100% right. Give it a shot! There's no way it can turn out worse than not trying at all!  And you just might surprise yourself.
Amen!  If you're as impressed by her projects as I am, be sure to stop over to Kristi's blog and show her a little love!
PS:  I love sharing the awesomeness of other bloggers –  so if you'd like to share a project or just plain be featured on The Borrowed Abode, drop me a line!   borrowedabode@gmail.com