Ugh.  I made an $80 mistake in this studio makeover.
After painting my studio/dressing room, my next step was to bring in some good fabric & sewing storage.  I'd looked into options for months and had wanted to build something, but the fact is that right now I just need to get storage, load it up, and get back to sewing.  Building a custom unit would surely have involved at least a week of solid after-work labor.  At least. Especially because we don't actually have a saw yet – we'd have to get Home Depot to cut everything.
So yesterday Ryan and I went to Target to pick up two of the 3×3 cubicle bookshelves that were on sale.  I planned to DIY some storage bins for them (to hold my socks and undies and whatever else doesn't really store well in the closet) and then stack the fabric on the upper shelves.  I assembled them (which was a snap), adding glue to each dowel before hammering it in.  I thought the wood glue would help the particleboard construction hold up better over time.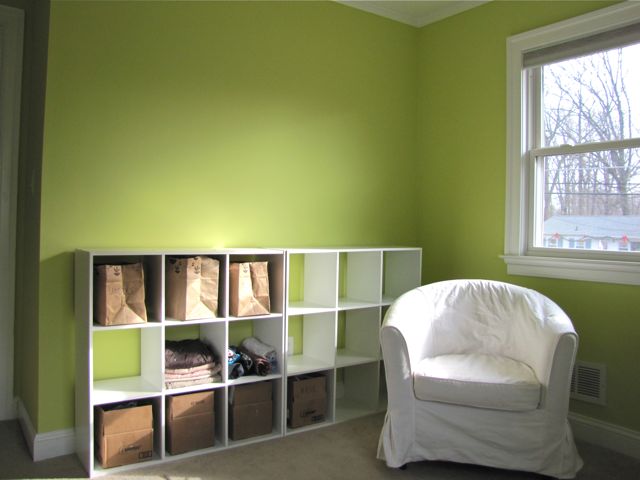 As I started to fill the shelves I realized that they weren't the right storage option for my space.  The stacks of folded fabric would store just fine on the shelves, but there was no door or clear plastic bin to keep them hair-free.  I looked online all over this morning and realized there were no clear plastic bins that would fit the cubicles well.  Wah-wah.
So what to do?  I think we're headed to Ikea this afternoon.  There's no point in keeping the shelves if they don't meet my needs.  The Billy Bookshelves, while more expensive than my $80 solution, come with the option to add glass doors.  As a bonus, I'll be able to get them in a medium wood veneer, which I think will make this room look a bit more classy.  Right now it's a sea of bright color and plain white laminate everything.
As for the cube shelves?  Well, I can't return them because I used glue during assembly.  So I guess they're going up on Craigslist so that I can recoup at least part of the cost.
What a bummer!