Welcome to the Borrowed Abode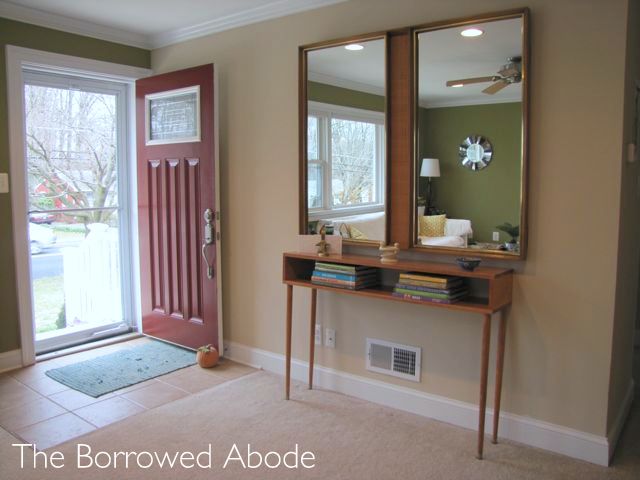 Living Room
When we first crossed the threshold of this rental home, the light streaming through the huge living room window had us at hello.
Our  furniture fits the space perfectly – from the custom made end tables to the Crate and Barrel Petrie sofa that was  a total steal.   Digging that painting in the corner?  Find out how Ryan got it for only $15 right here.  For the first few months the space was a  nice and bland beige – so we gave it an olive color splash for a sophisticated pick-me-up.
Recently we did a budget breakdown for the entire space, and were thrilled to find that this entire space cost only $745.   As for the entryway pictured above, it endured several transformations until  I finally built a mid-century modern table to round it out.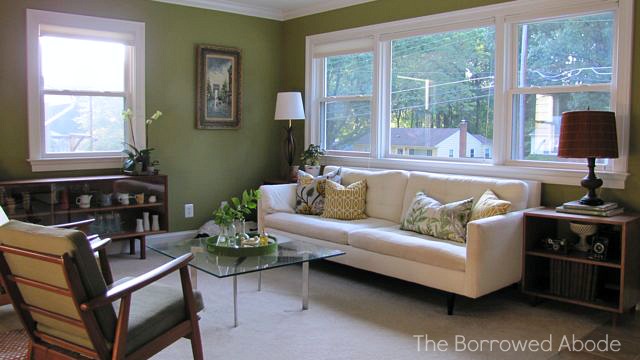 Kitchen / Dining Area

The living area opens straight into the dining and kitchen areas, contributing a loft-like feeling to the main floor.  The dining "room" has not been furnished yet.  I know, I know – we've lived here for almost two years now!  But we're facing the challenge of how to fit a dining table comfortably in the space, which is short and narrow.  We've finally found a table, but will wait until after our June wedding to purchase it.  Priorities, people!  :)
The kitchen, on the other hand, is perfect.  I never in a million years dreamed I'd rent a house with a beautiful gourmet kitchen like this.
My vintage bar stools fit perfectly at the island, adding a bright dose of much-needed color.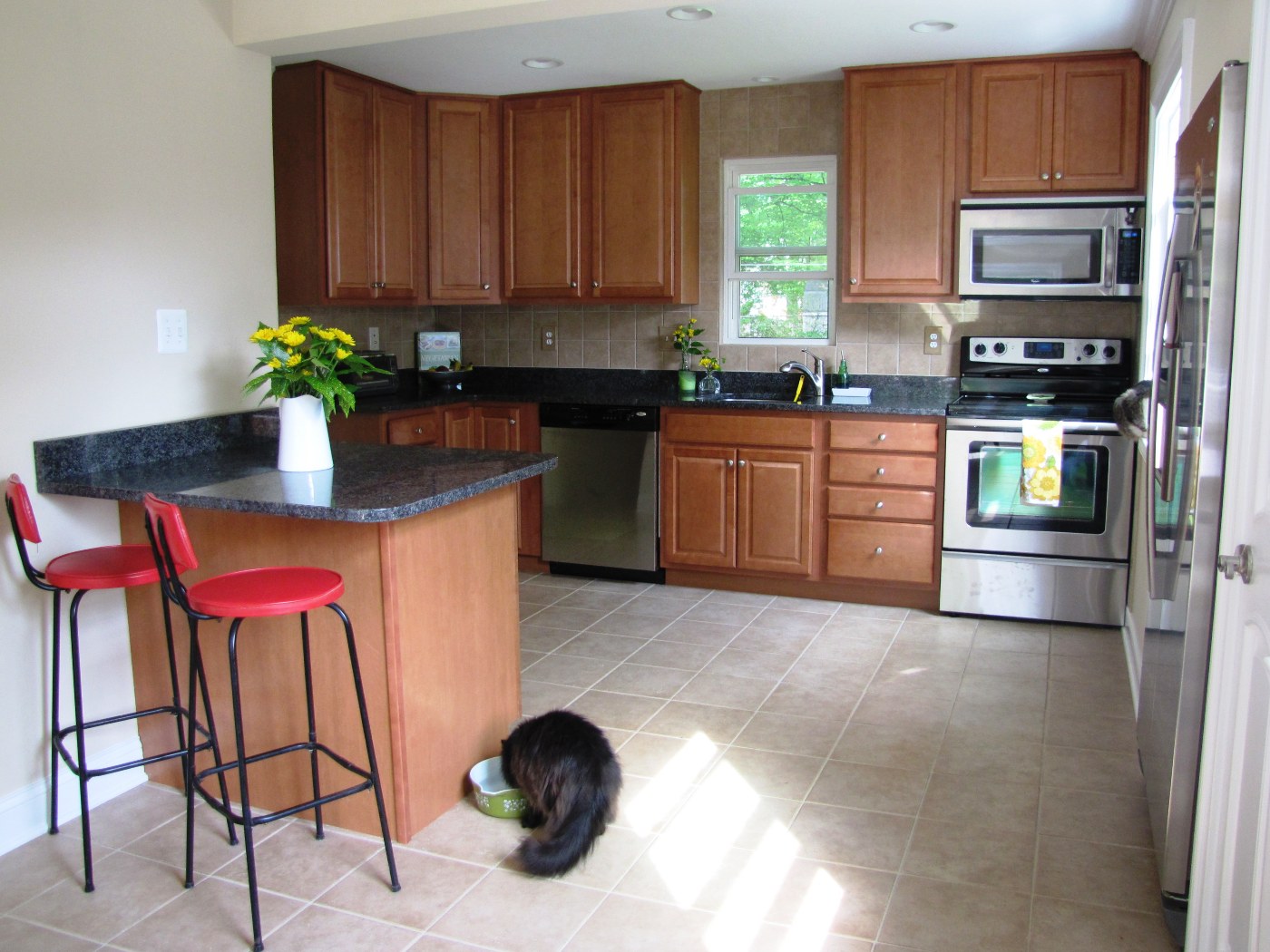 Hallway
From the other side of the living room, a hint of a hallway separates the bedroom and bath from the living area.
Master Bath
Beautifully renovated and tiled, our master bathroom feels like it was taken straight out of a model home.  We'd like to add a bit of our style to make it really feel lived in, but that's at the bottom of our to-do list right now.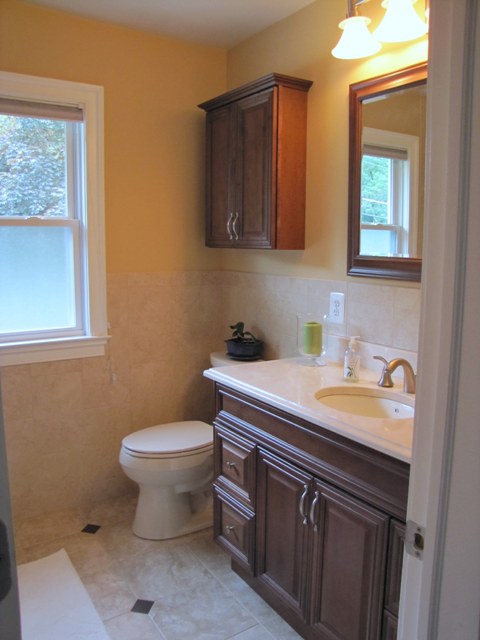 Master Bedroom



The master bedroom is quite possibly my favorite room in the house.  Light and airy, with a window directly over the bed, this room gets a beautiful breeze and makes it hard for me to get out of bed in the morning.  It's gotten a seriously hand-made treatment, from custom curtains to home-built nightstands with handmade (and upcycled) storage bins.   As for accessorizing,  I've made some special art and hung some personalized photography to add romance, and we'll continue to grow the collection.
My Office & Dressing Room

I'm totally spoiled, because I have my very own office  & dressing room.  I recently moved the sewing studio function to the basement, but this room remains my "closet"  and actual office.
As you enter my studio, my new sewing storage is on the left, along with my vintage window jewelry display. You'll never guess how I hung those hats on the wall – and it didn't cost me a thing!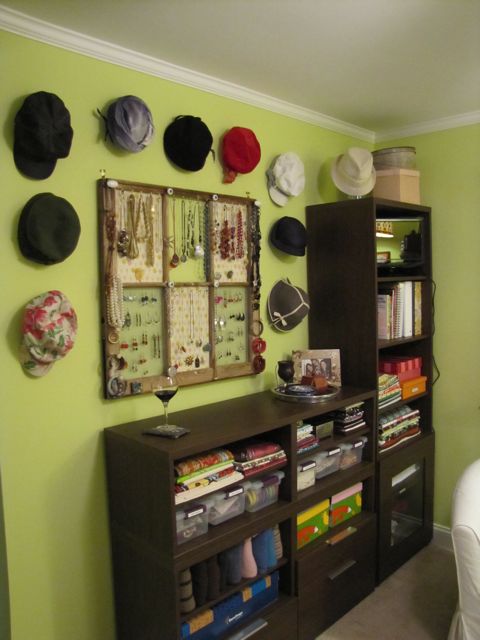 I have one large desk for sewing in one corner, where I spend a lot of time designing and testing patterns, and sewing products for my handmade shop, Janery.  The wooden shelves above it are from my last condo's guest room, and some vintage glass jars hold all my spools of thread.   The custom fabric-covered cork board, white board, and lamp are all made with coordinating fabrics.
The space also serves as my closet/dressing room, which helps keep our bedroom clutter-free.  Big time.  Here's the lead-up to the closet makeover, then step one and step two.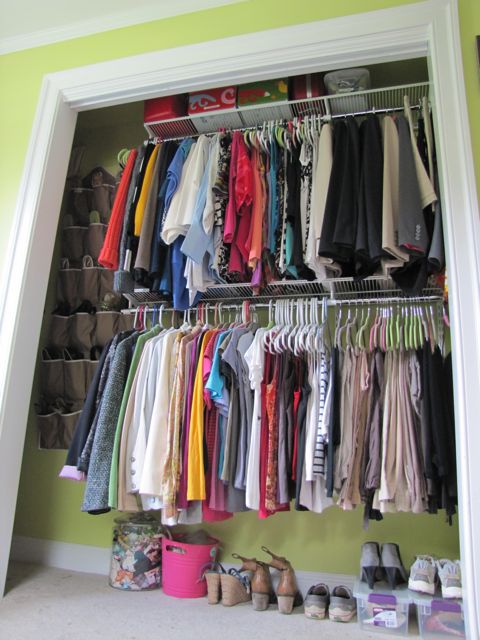 Boyfriend's Husband's Office / Dressing Room
The third "bedroom" serve as Ryan's dressing room/office, but at his request that is the one blog-free zone in the house.  Suffice to say it has his computer, his guy stuff, piles of clean and dirty clothes, and a window to the backyard.
Update (Fall 2011):  He did let me share it briefly on the blog after I completed a surprise transformation as an engagement gift!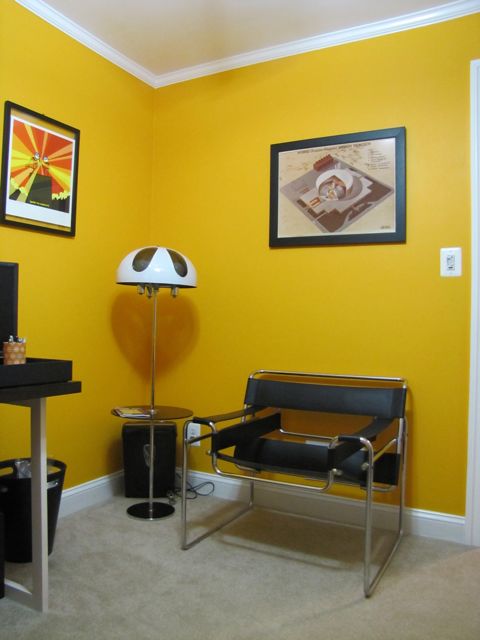 Basement (in progress)

The finished basement practically doubles the size of our otherwise small ranch home.  After years of apartment living, this house feels enormous to us.  The space has a ton of function – between our guest room and guest bath, TV room, pet feeding station, workshop & storage room, and laundry corner.
Now, the main portion of the basement shown below, is being totally transformed.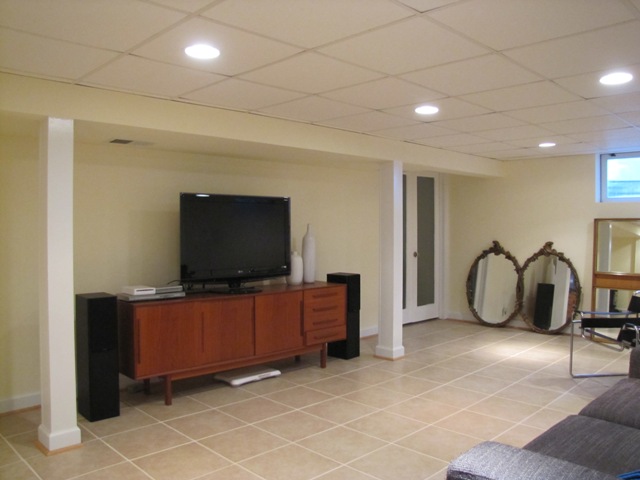 Guest Room (in progress)

Located off the TV room, our basement guest room gives visitors some space to themselves.   This room is currently undergoing a total transformation – you can find the latest here.
In one of my recent triumphs, I managed to re-size some antique bed frames, paint them antique white, and add a happy dose of chevron by upholstering the (very cosmetically damaged)  side rails.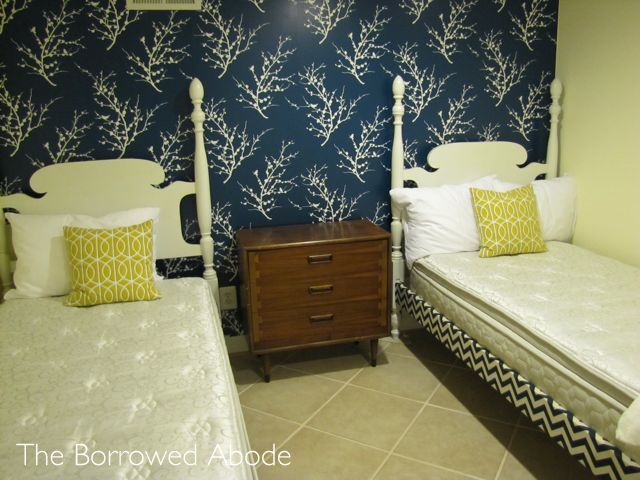 Pet Feeding & Work Station
In the odd little nook between the TV room and the guest bath, I created a pet feeding station, complete with a pet pharmacy.  Eager to create even more function for the space, I then built a work table that does double duty as  kitty litter camouflage.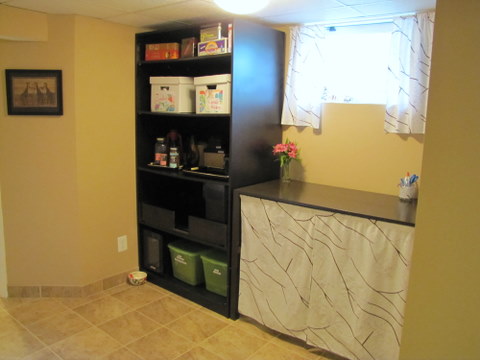 Guest Bath
Again, we're feeling totally spoiled – this time by the second full bath which our landlord installed in the basement.  Although we may host our guests in our basement, this gives them the privacy of their very own bath, complete with whirlpool tub.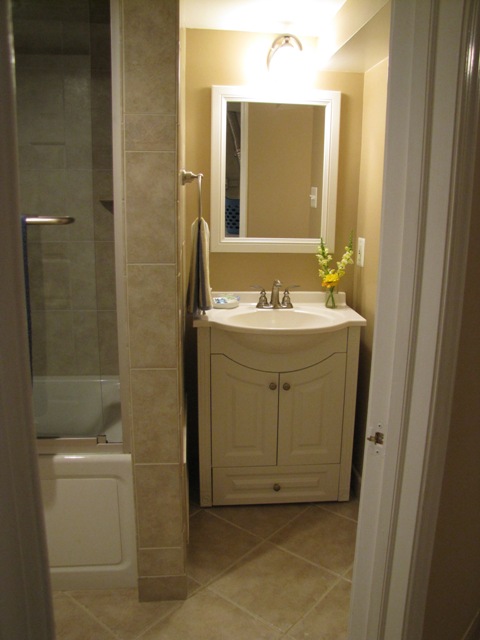 Storage & Work Room
We also have a great storage room / work space in our basement.  In addition to providing storage for our camping gear, paint supplies, tools, and extra decor, there's plenty of work space left over for my construction projects.  You can find a more detailed video tour and explanation here.

Back Yard / Porch
And finally, our favorite part about moving to the quasi-suburbs:  our back yard.   It's a little slice of heaven on earth.  We love sitting in our back porch "living room," watching the birds, grilling, or enjoying thunderstorms.
Also a bonus – we were able to set up a compost bin, build an herb garden,  and build two square foot veggie gardens!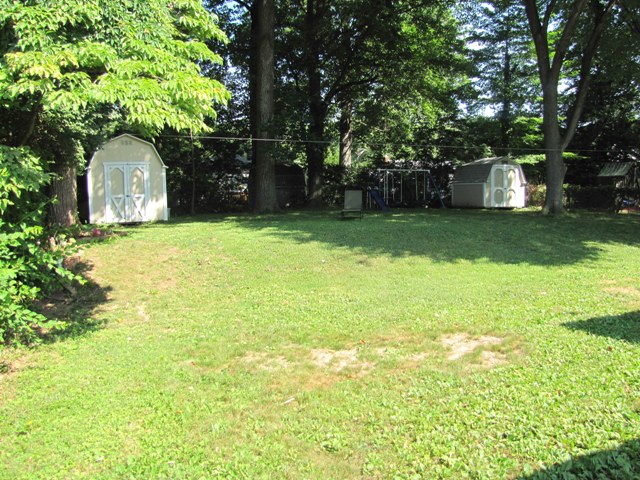 That's it for the tour of our 1500 square foot rental home.
While it may seem small to some, it feels like a mansion to us, and it's all the space we need.