Weekend realization:  the design process is so much easier when you have a color palette to base your plan off of.
One reason our basement makeover was lagging behind (aside from the sewing studio changes) was our lack of a color palette.  With just some mid-century wooden furniture and a dark gray sofa, I felt overwhelmed with choices.  Anything goes with dark gray!  Where to start decorating?
Thankfully, an "aha" moment came during some blog reading last week.  Designers commonly build up a color palette around an inspiration piece early on in the design process.  Why don't I?  Surely I know better.
Still, we had to have somewhere to start; and that somewhere came in the form of Ryan's vintage pull-down school map, a Christmas gift from me to him last year, courtesy of Just L – our favorite mid-century modern shop.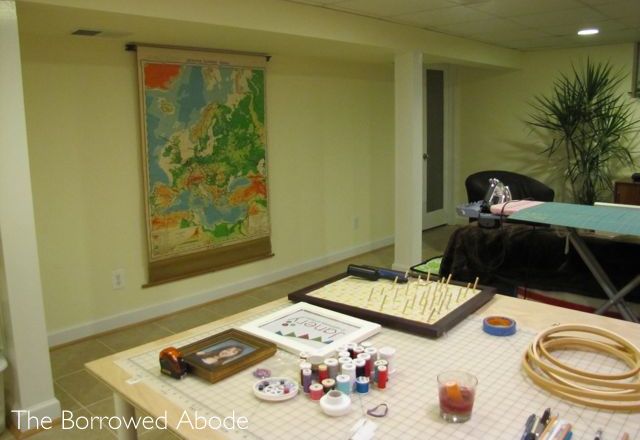 Did you spy it hanging on the far wall of the basement in yesterday's post?
I hung the map on Sunday night, and we realized that it offers a great selection of colors that all pair well with the dark gray couch.  Brightly colored accents are a must in a dark space like a basement, I think.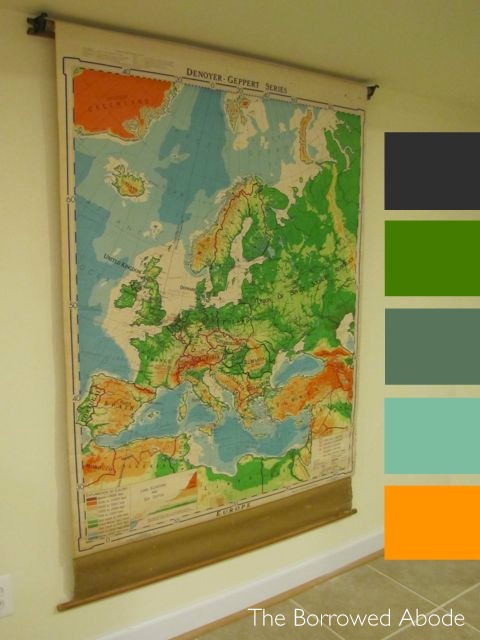 Above you'll see the color palette that I came up with.  When I asked Ryan about using the Tiffany Blue and the Orange as the main splashes of color, he said that he was OK with it, as long as we used more of the blue and less of the orange. I don't blame him; with a color that bright, a little bit goes a long way.
There's a lot of other greens and blues, and I think we'll use them sparingly as well.  I'm excited to have so many options to play with.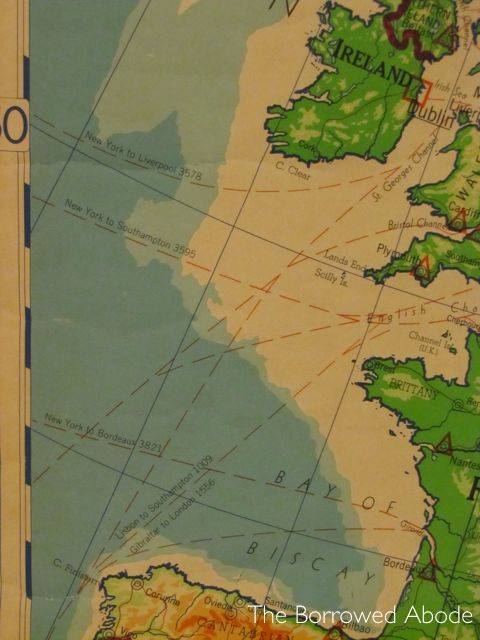 One of the neat details are the apparent cruise liner routes marked on the map.  See how it says "New York to Southampton 3595″ along a dotted line?  These lines cross all over the bodies of water shown on the map.  It's amazing how much things have changed since 1956, the year this map was printed.
So much to see, I could stare at it all day.  I'm really excited to have the map hung.  Now why did it take 14 months?  Oh right, we were trying to figure out a design plan for the basement.  How funny that this map was the very solution, right under our noses this whole time.
For awesome updates & exclusive discounts on Janery pet beds, please sign up for my newsletter!