I've always been proud of the way I've created the rooms in my home, using Craigslist and thrift store finds to keep things budget-friendly.  But over the years I've had friends and blog readers say to me that they never have that luck, or never know what to look for at thrift stores or on CL.
That's why I'm introducing a new series today – Craigslist Palace – where I shop CL and put together a mood board for a room under $1000 (and preferably closer to $500).
I hope the image and my explanations help you develop an eye for decorating with solid secondhand finds.

Craigslist Palace:  A Mid-Century Living Room ($665)
I am in love with today's room. I peeked at CL on a whim late Saturday night, and got so caught up in the design that I worked on the mood board until 2 am.  I'm in love with this room and would love to buy it all right. now.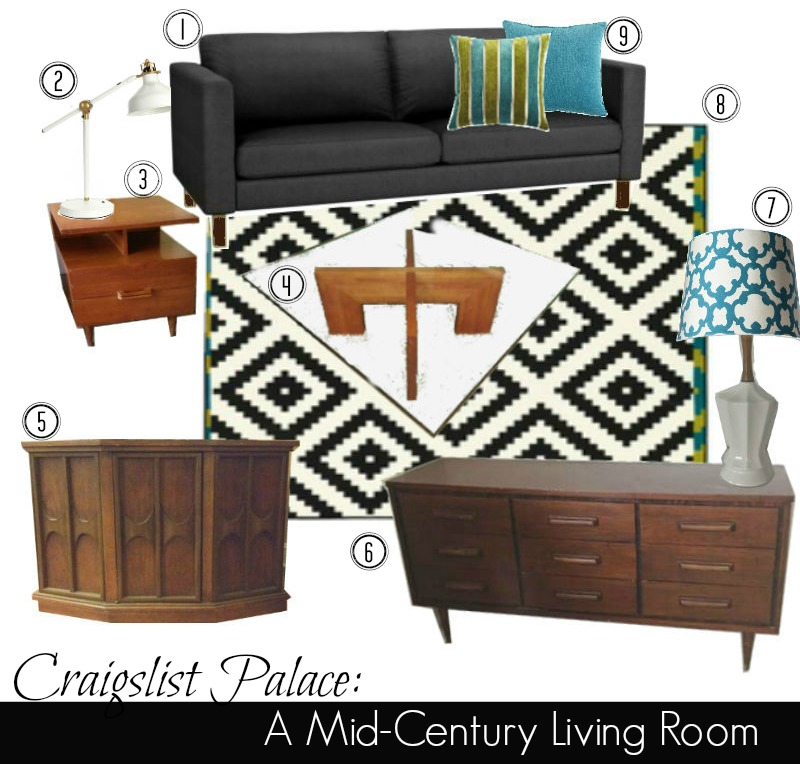 1.  Ikea Karlstad Sofa ($150):  If you're going for a mid-century or a straight up modern vibe, you can't beat the affordability of this Ikea sofa. Stalk CL until you find one.  It doesn't matter how the cover looks, but make sure the cushions are in good shape.  If it needs a new cover, snag a $49 white one at Ikea, then use RIT dye to make it a neutral color like gray, brown, or navy.  (I did this to a white Ikea sofa in my old apartment – first pink, then brown.)  I found options on Craigslist ranging from $50 – $350.
Alternately, a new one is $500 at Ikea, with your choice of cover.  It could be worth saving up for.
2. Ikea Ranarp Work Lamp ($40): This isn't the cheapest lamp, but I loved how it contrasted with the wood tones in the room. Good lighting is key in any home, and this one is stylish and adjustable.
3.  Mid-Century End Tables – Set of 2 ($50):  Two matching end tables for $50?  Unique and wooden?  What a find! I am considering trying to buy these.  A great pair of end tables is so important for a space, it's worth stalking thrift stores and CL until you find a funky set.  Don't run to Ikea and get their cheapset, most plastic-y ones.  They make a room feel cheap. A pair of matching end tables make a room feel more cohesive, even when it's all thrifted.
4. Glass-Top Wooden Coffee Table ($40):  This table is a good counterpart to the mid-century end tables, and the wood tones appear similar.  The glass top is easy to clean, and adds some different texture to the space.  They're asking $50, but I'd only pay $40.
5.Solid Wood Side Cabinet ($40): This piece may not be for everyone, but I'm in love. It's the dimensions of a small sideboard or hall table. It falls somewhere between mid-century and the 1970's, hence the fabulous detail.  I'm pretty sure it's Broyhill – a solid, quality brand that will last forever. It would make a great entryway table where you keep a bowl for your keys, a mail holder, etc.  Bonus: storage inside. 
6. Dresser-Turned-TV Stand ($20): This mid-century dresser is a complete steal, and so perfect as a TV stand in this room. I'm sure it's already sold, but this is to demonstrate the power of stalking CL.
Pay attention:  The TV stand can make or break a room.  There are so many bad entertainment centers out there. Ignore them and just find a sweet old dresser or sideboard.  Size matters.  It needs to be significantly wider than the TV that sits on it, so you can flank it with decorative tall lamps or vases or books or something to make it more a part of the room and not just a TV on a box.
7. Mid-Century Ceramic Lamp ($40), Target Lampshade ($20):  Despite my bad photoshop cutout, this mid-century lamp is to die for. I'd add a fun lampshade like this one from Target's Threshold collection, or maybe I'd take a plain white shade from the thrift store and cover it in fun fabric.
8. Ikea Lappljung Ruta Rug ($70): It's hard to find a good rug for cheap on CL, so I turned to Ikea for this big square rug.  I love the black and white, and the random teal/green border on the side.  With all the wood tones in the room, this bold geometric would bring a bit of modernism to the space.
9: Throw Pillows ($20 each): I snagged these Pier 1 pillows to play up the green/teal border on the rug. If you know how to sew, even better.  Make your own!
What's Missing?
There's a few things missing that could really kick it up a notch. 
1.  A funky, colorful chair:  Find a funky chair in a bright color or modern pattern to mix things up a bit, and break up all the wood tones in the space. I'm thinking bright yellow or teal or green velvet or vinyl.  Even an upholstered granny chair from the 60's or 70's could work.  The point is, add something bold and unexpected!
2.  Your photos & artwork.  This space needs personality.  Even if you have drab apartment white walls, you can add some brightly painted canvases and then some enlarged personal photos in thrift store frames.
3.  Curtains: If you're really tight for cash, go for some simple curtains from Ikea and then add a colorful border with paint or by gluing on some pretty ribbon.  Alternately, order some fun fabric and just use iron-on hem tape to make some simple panels.
So, what do you think?  Would you like this living room? And most importantly, do you want to see more Craigslist Palace posts?  I had so much fun doing this one – I hope you'll say yes.