If you love Etsy but don't know that some sellers are offering sweatshop and/or Made in China goods, then this post is for you.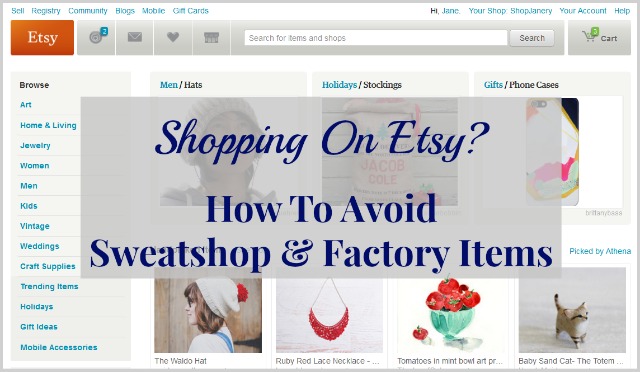 Etsy is a great marketplace for handmade and unique products.  I love shopping on the site; it's made it so easy to support individual artists and small businesses.  Unfortunately, factories and made-in-China resellers* have flooded Etsy, making it harder to find truly handmade products.
*Resellers are people who buy factory products wholesale and then re-sell them on Etsy, masquerading as a "handmade" business.
I've seen it firsthand in the purses and handbags category as well as in the jewelry and clothing markets. For example, this Infinity Ring is for sale in multiple Etsy shops – like this and this.  It can also be bought for $1.20 on the website Alibaba, which is basically a wholesalers marketplace for factory-produced goods and knockoffs.
There's a couple downsides to this:
1.  It is hurting the integrity of Etsy as a handmade shopping destination.  Some artists who have used it for years are migrating to other platforms out of frustration.
2. The low prices offered by resellers make it hard for true handmade sellers to compete.  When consumers see cheap goods, they then think the artists' more expensive creations aren't worth the price charged by the artist.
3. It may end up driving consumers away from Etsy, if they are disappointed when they receive a clearly not handmade product in the mail.
Here are the guidelines I follow in order to try to avoid supporting a reseller or an overseas sweatshop when shopping on Etsy:
1.  Check the company's "about" page and see what they say.  Often their "about me" section is stilted and short, or sounds insincere.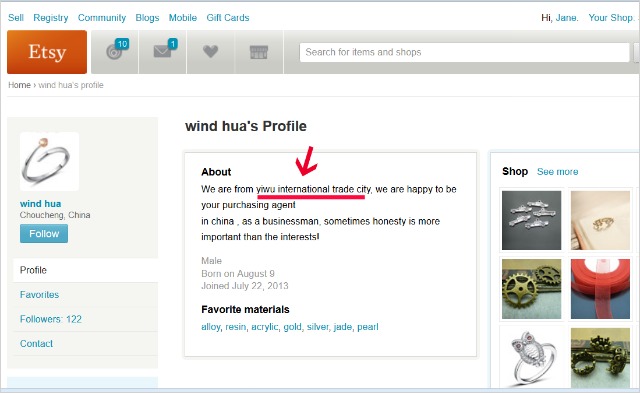 This example doesn't even try to sound handmade, in fact they mention their location in Yiwu, a huge factory city in China.   It reads "We are from yiwu international trade city, we are happy to be your purchasing agent in china"
2.  Check where the seller is located.  This info is in the left sidebar below their name in the image above.  As a rule, if a seller is located anywhere in Asia, I won't buy from them.  Yes, I know I could be excluding some true artists, but my main purpose in using Etsy is to purchase from local – i.e. American – artists.
3.  Check how many items the seller has listed.  I've seen some California-based sellers with thousands of "hand sewn" products. Sorry, but no artist can sew thousands of unique products at once.  Also, the Los Angeles area has a problem with illegal sweatshops too.
4.  Is the price too good to be true?  Remember that items that are handmade will cost more than items at Target.  If something seems to good to be true ($5 leggings?) – it's probably not handmade.  Unless the seller undervalues their merchandise.
I know I've made some serious generalizations above, but I just wanted to share the ways that I personally try to make sure the artists I buy from are genuine.
Just being aware that resellers are out there is a good start.  Trust you gut and use your judgement.
Whatever you do – please keep shopping on Etsy to support the great artists that are on there!!