Remember my redneck yard contest, the one I created to kick my own butt into action with cleaning up our outdoor spaces?
Well, it got me out to toil with the soil – but I never showed you the results.  The good news with all this procrastinating is that now we've got bursts of color in our front garden. The bad news is that I didn't get as many flowering plants in the ground as I'd hoped – and we're constantly struggling to keep the weeds at bay.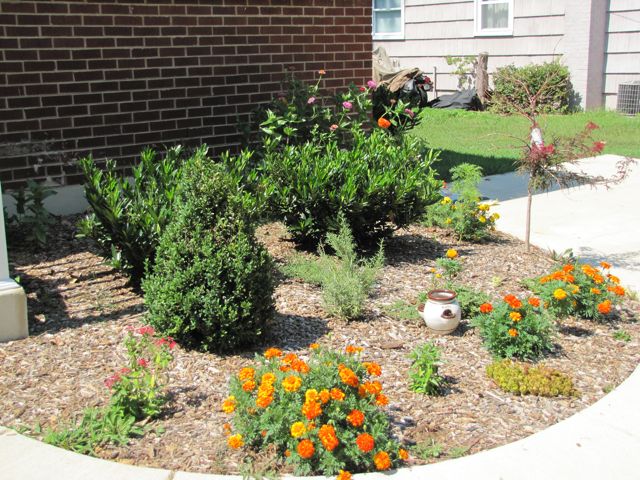 Ok, so better homes and gardens won't be knocking down my doors to do a yard feature anytime soon, but it's a big improvement from the spring.  I had more flowers to plant than those you see in the ground above, but I bought them, left them in the pots and in the sun, forgot to water them, and they died before I planted them.  Oops.   Hopefully I'll do better with care and feeding if I have human children.
Last year I planted a bunch of succulents that liked dry soil and tons of sun, because this area gets so much sun and I didn't think flowers would survive. They're still hanging on to life: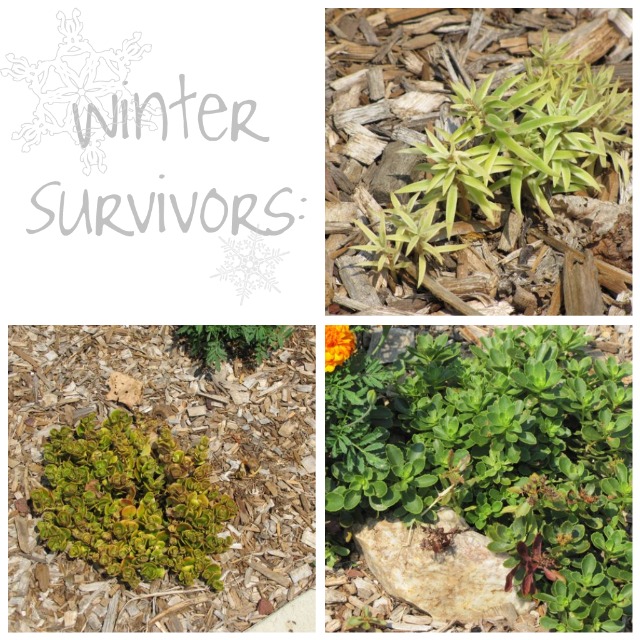 This year, however, I wanted COLOR!  I heard that Marigolds would thrive in almost any conditions . . . and I can now swear to you that THIS IS TRUE.  I cannot kill my Marigolds.  They were tiny little guys when I plopped them in the very poor clay soil, and now each bush is more than 1′ wide and flowering like a crazy woman.
I also planted a small Lavender bush, and two Rosemary bushes.  Rosemary also thrives despite neglect, and will slowly fill out to be a hefty shrub that smells yummy.  And hopefully the Lavender will do the same.
But the very best part of all is my Zinnias. Dude, they are rocking my socks off!!  I sprinkled the seeds in the back of the mulch bed in late June or early July.  (Seriously procrastinated).  It was the best $3 I ever spent.  I occasionally remembered to water them, and within a month they were going crazy with flowers.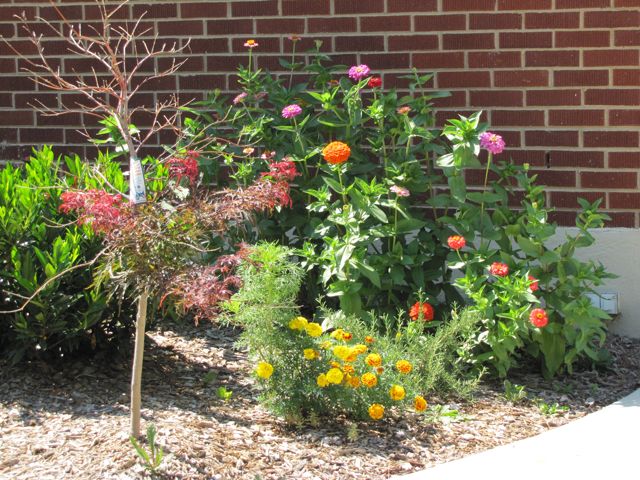 The zinnias have been so prolific, in fact, that I haven't had to buy flowers for my kitchen in over a month.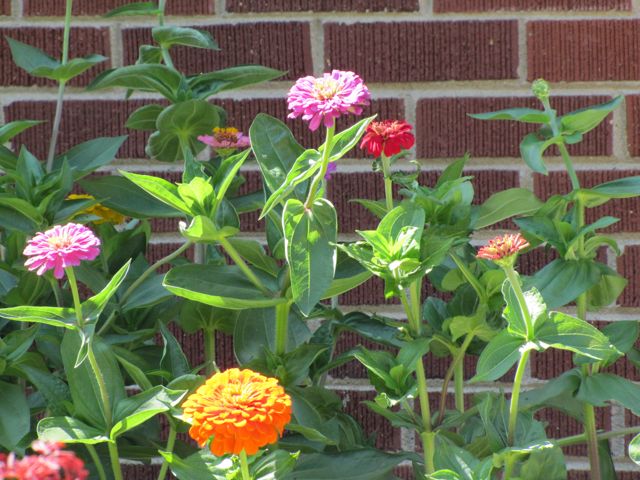 Every week I harvest all the flowers for vases.  Because the more flowers you cut from the plants, the more will grow.  It's awesome!  This is the first week's harvest – it's only gotten better from here.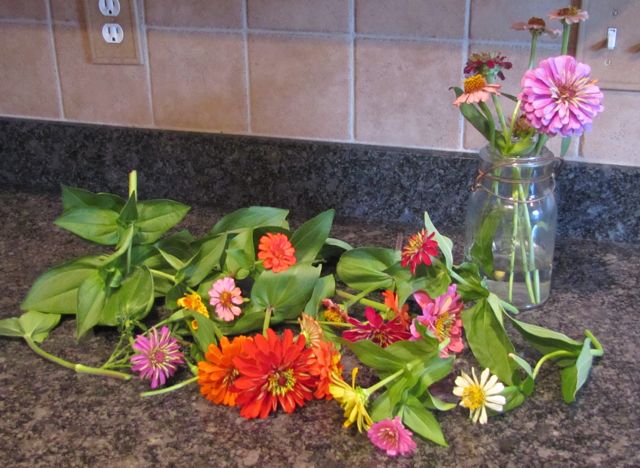 They bloom in all shapes and sizes, and I love the variety.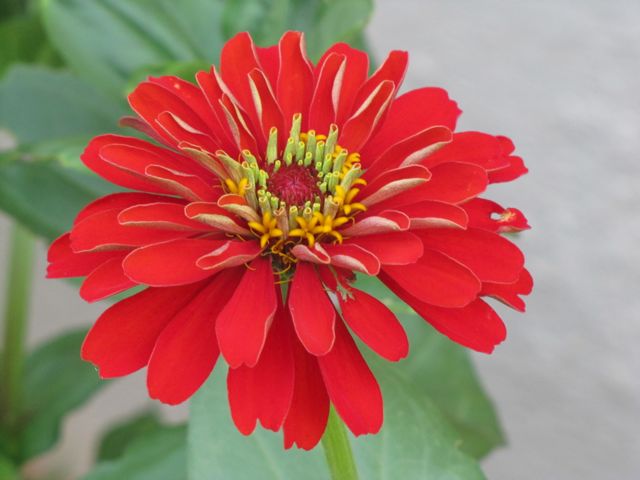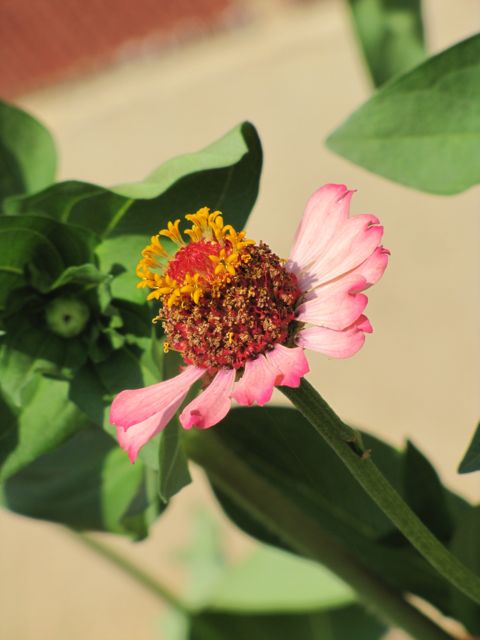 I am harvesting enough now to put them all over the house!
A small vignette on my coffee table –   Don't mind the scrawniness of the ones pictured – they are from the first cutting.  Each cutting gets bigger, meatier flowers as the plants mature.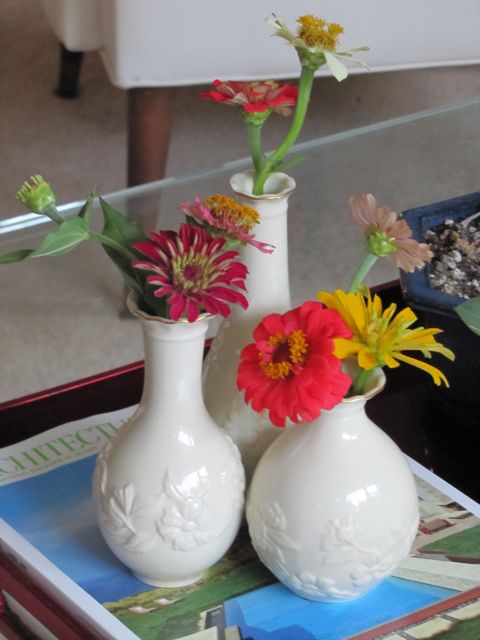 And a tiny bouquet by the kitchen sink makes doing the dishes a little more tolerable: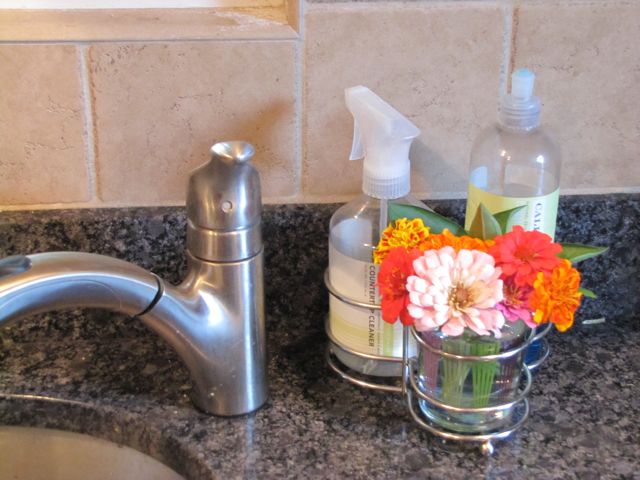 For the kitchen island I simply put a handful of the biggest blooms in a vintage glass jar:
We also have a big bouquet in the bathroom, but I didn't photograph it because a) you're probably sick of seeing pictures of my Zinnias and b) I'm still not talking to my bathroom counter.
All in all, the front garden may not be anything exciting, but at least it's colorful – and more importantly, it's providing me with tons of fresh flowers for the house.  All for the cost of a $3 seed packet.  It's a deal that can't be beat!
What's your favorite variety of cut flower?