Love the look of bamboo Roman shades, but hate that they're see through?  Here's how to add a privacy liner to bamboo blinds so you can get the look for less!
Back in 2010, I took budget bamboo blinds and made them both private and insulated, and I did it on the cheap. I never knew that it would become such a popular post! Since then, it's become one of my most visited posts and I decided that I would update it with more info I've picked up over the years.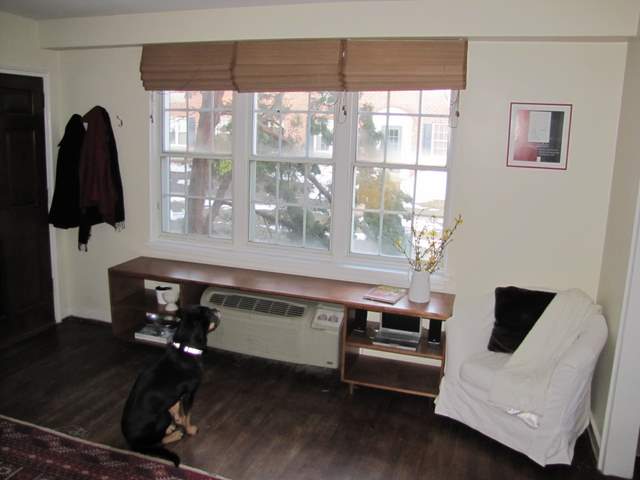 In my apartment living room I replaced my white plastic blinds with bamboo roman shades. I saved a ton of dough by opting for the unlined blinds in my living room and dining room-turned-office. . . but they allowed both strangers' eyes and cold drafts straight through the windows.  So, in one afternoon I DIY'ed them into insulated, privacy bamboo shades.   Here's the scoop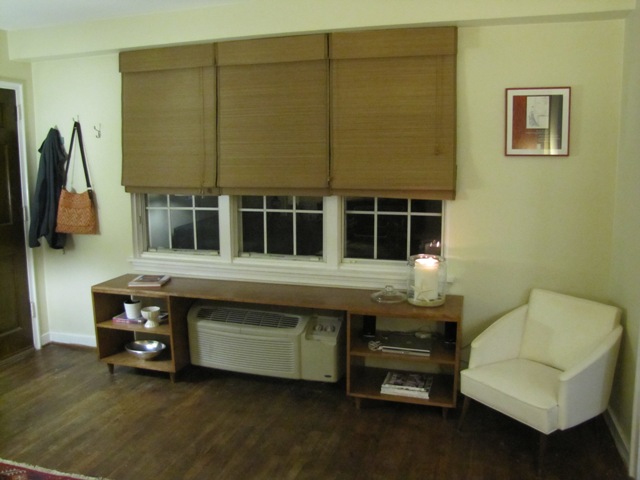 How to line and insulate bamboo Roman blinds:
1.  Purchase white insulating lining fabric from a sewing store.
2.  Spread out the shade, fully extended, on your work surface.
3.  You'll see that pull cords run down the back of it, going through little rings.  Untie the pull cords from the bottom, and remove from each ring. Leave them attached at the very top, where all the fancy hardware is.
4.  Figure how much of the back of the shade you need to line.  (For example, I didn't need to extend the lining to the very bottom, because the shade is doubled up at the bottom.
5.  Cut a piece of liner fabric to fit the shade.
6.  Grab a glue gun to adhere the fabric to the back of the shade with hot glue.
**Notes: I found that three thin vertical rows of glue worked best.  The blue arrows and numbers in the image below show how I applied the glue in three rows.   The red circles show where the rows of cord loops are.   Be sure not to apply glue too close to where the cord loops are.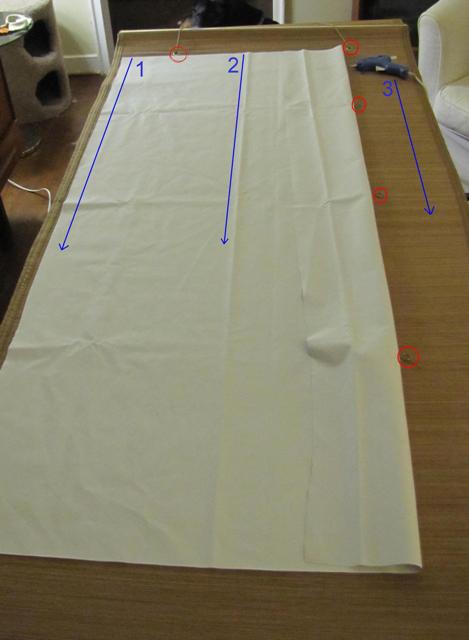 7.  Once the liner is glued to the shade, carefully use sharp scissors to cut a very small notch in the fabric where each metal loop is.  Pull the ring through the notch.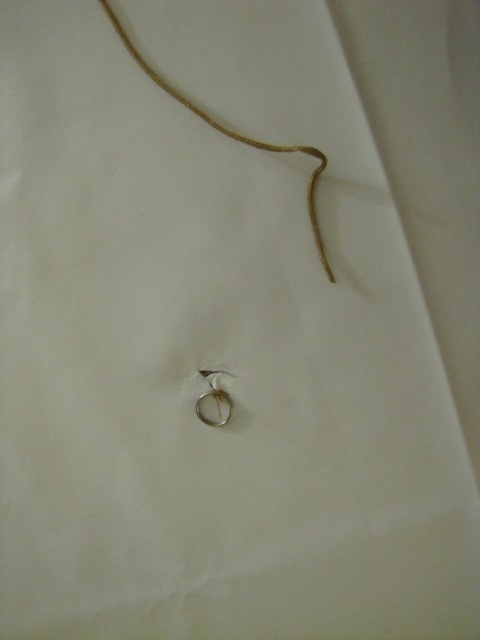 8.  Run the cords back through the metal rings, and tie at the bottom as they were before.
9. Hang your shade, and enjoy your newfound privacy.
Tips and tricks:
If you have a single shade that is wider than 54″ you will need to line it in sections.  For example, if your shade is 60″ wide, you'll want to line it with two 30″ sections just to keep things nice and even.
Use a coupon at the fabric store to find the fabric for less than $7 a yard.
If insulation, and not just privacy, is your goal – be sure to buy "insulating" liner fabric, not just privacy liner fabric.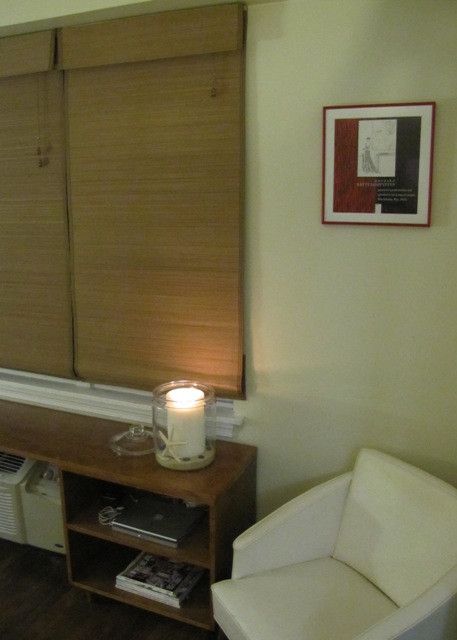 Frequently Asked Questions
"Did you do anything to the edges of the fabric to keep it from fraying?" 
I used an insulated drapery liner fabric, and it didn't try to fray.  Over time it still didn't fray.  Perhaps the insulated fabric has a coating or polyester component that prevents fraying.
"I'm … wondering if the glue will still adhere when we have really hot days – when the sun is beating down on it all day. I'm just worried it'll melt and get all gooey and gross!" 
My windows didn't get a lot of sun, but if you're worried about that, I would test  your window by putting some hot glue on a piece of cardboard and letting it sit in the window for a few days. You should be safe, though.  Reader Jim added, "I don't think the hot melt glue will decompose if the sun shines on it even on a really hot day. According to Wikipedia, the standard hot melt glue gun melts the glue at somewhere between 248 °F and 374 °F.
Can I buy pre-cut fabric for the blinds?  
There are pre-made, and pre-cut privacy liners specifically for adding to existing blinds, but they cost more than if you DIY.   Check out the Designview Fabric privacy liner or Radiance Privacy Liner.
Still not sure you should try it? Here's some feedback I've gotten:
"Thank you SO MUCH for this post! I recently moved into a beautiful place that came with bamboo blinds, and I wanted to keep them but had to do something about the privacy issue. They're very narrow, so replacing them wasn't really an option, either; at least not an option I could comfortably afford after an expensive move. I was ready to tear my hair out when I found this. It took me a few hours to add lining to the eight blinds along my front windows, but the results are exactly what I hoped for, and the total cost was less than $25. You are my hero!!"
"OMG, Jane, your instructions were flawless. What a money saver. And the finished product looks so good. I can't thank you enough for posting this step by step how to. Truly, thank you"