8 am:  We're awake with Maple who is feeling excited about the new day.   We get ourselves together, then walk to the farmer's market – our usual Saturday morning routine.  We get our usual veggies and eggs, and and then get spinach flatbread from the Middle Eastern food truck.  We also get ice cream cones for breakfast from the ice cream truck who is there for the first time.  Why not?  It's summer!
10 am: Home from the market, I plan to take it easy with some coffee before we head out for the day's adventure.  But after I pack the diaper bag and get ready to go, I realize it's time to feed Maple and then leave.
11 am:  We hit the road west to Leesburg, VA – a town at the foot of the Blue Ridge Mountains.  Ryan has an Adventure Flight at the small local airport.  He's always wanted to become a pilot, and so I gave him two recreational flying lessons for our anniversary.  He gets to fly the plane for an hour, with the help of an instructor/copilot, including some of the take offs and landings.
After Ryan takes off I watch a production unfold on the tiny runway.  A red carpet is rolled out in front of a bigger plane, and a family gets off and the crew starts unloading case after case of wine.  I'm wondering who they are to be able to have a private plane carry them and their wine, and Ryan fills me in later.
It was the family that started Black Entertainment Television.  They now also own hotels and a resort in our area.  In fact, I met friends at the wine bar at that resort the week prior.  Small world!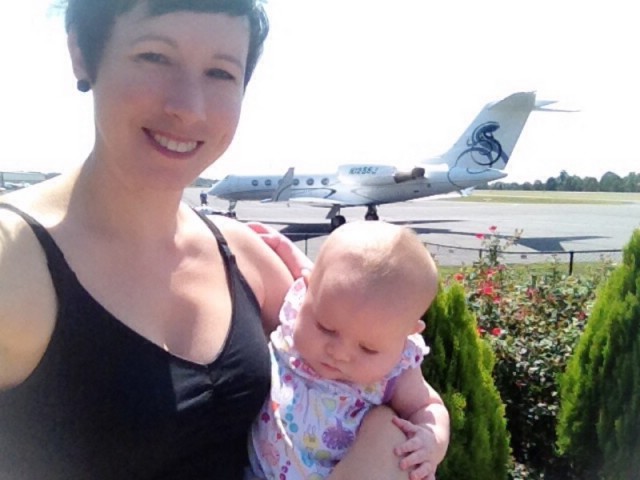 Maple and I play on a blanket in the airport while Ryan is flying.  It's nice that it's such a small airport – no security, no TSA, just some couches and lots of windows – so it's an easy place to hang out.  Maple loves to watch the planes come and go.  I think she likes all the noise.
1:30 pm:  We leave the airport to have lunch in downtown Leesburg.  There's a little coffee shop and cafe called Shoe's, and if you follow the narrow alley between buildings you find a "secret garden" of outdoor dining behind the coffee shop. It's got great ambiance, great food, and good seating.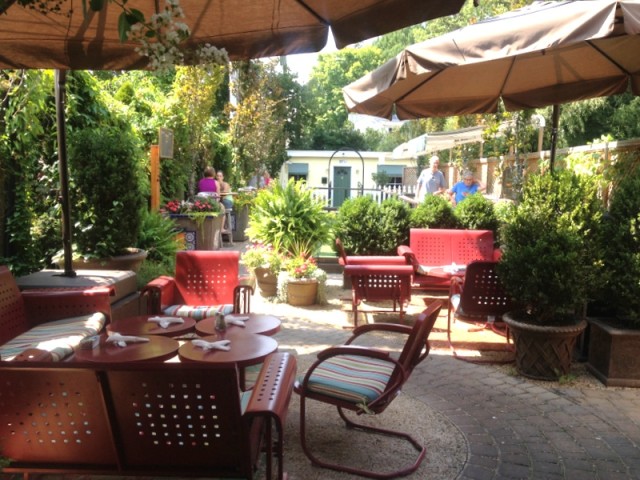 Maple is awake and proceeds to attack all the glasses as we try to eat our lunch.  She loves licking the condensation on the outside of a glass or bottle, and it's becoming dangerous in restaurants! Drink at your own risk…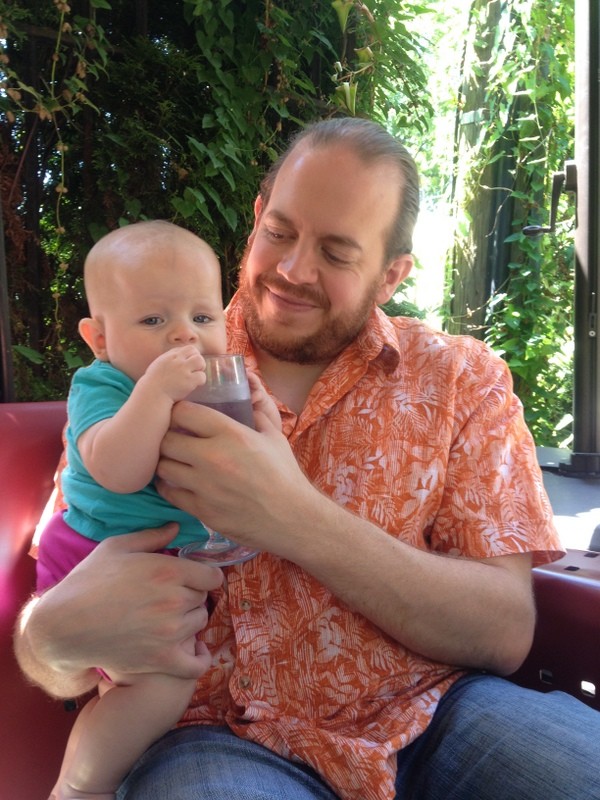 4 pm: We arrive home and put a very worn out Maple in her room to sleep.  I'm so sleepy that I climb into bed for a nap, too.
When I wake up, Ryan is with Maple, so I head downstairs to do some sewing.  Tonight I'm working on a reversible dog bandana.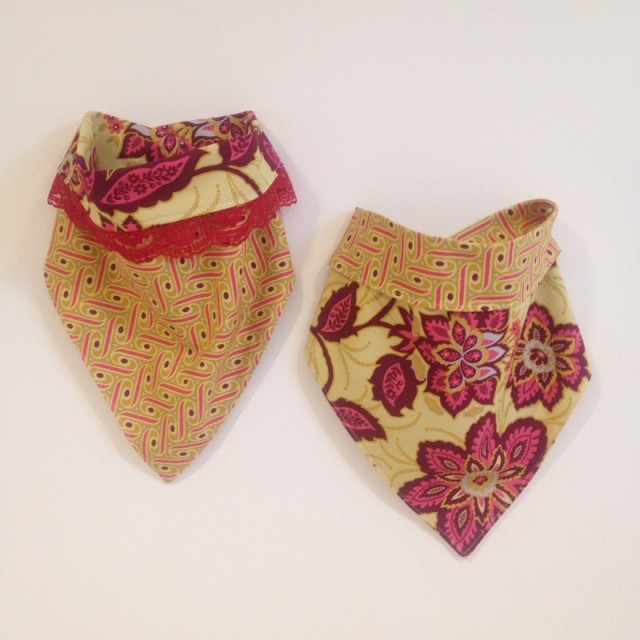 7 pm:  Maple is getting really fussy and Ryan can't soothe her any longer.  She's eaten food, been changed and played with, and won't take a bottle from him – which means she wants me, the provider of the boobs.  Sure enough, I nurse her and she's out like a light.  I tuck her into bed.
Then I hit the town for a crazy exciting Saturday night adventure!  Grocery shopping!
Ahh, the exciting life of a suburban mom!
The store and the town are practically deserted, which makes it easy.  I forget what I did with the rest of my night, so it must not have been that interesting.
SUNDAY
Sunday is a lazy day for me.  I forget to track my activities by timeline, but I spend a lot of time outside in the morning.  I do some laundry, water the plants in my garden, and check in on business emails and orders.
Around noon my best friend arrives for lunch, and we get Indian food from Amma Vegetarian Kitchen, a great "fast food" style Indian place in downtown Vienna.
Remember in my Monday post I said I wanted to install my office shelves, but didn't have the right screws? I finally run to Home Depot to get them on Sunday.
A conversation amongst my small business friends online reminds me of the quote from Legally Blonde – the one about the scented resume on pink paper.  ("I think it adds a little something extra!")  so I watch that movie while I install, and then attempt to organize, my new office shelves.
I honestly can not remember what I did with the rest of my day.  Suffice to say it was a much-needed lazy end to a busy week.