4:45 am: Maple wakes up to eat, and I scoop her into bed to nurse her, still mostly asleep.  Suddenly she vomits all over us.  I get both of us cleaned up and changed and then email my playgroup to let them know we won't be attending today – just in case she's sick and contagious. It's too bad, because Maple is just starting to really be interested in the other babies.
6:15 am:  Maple and I drive Ryan to work, then take the car to the shop.  We're a one-car family now, which takes a little planning but is a great way to save money.  And when we get the estimate for work on the Volvo today, it's enough to make me never want to buy a car again.
8 am:  Home from the shop with a loaner car!  Maple and I have breakfast outside while we play fetch with Amber.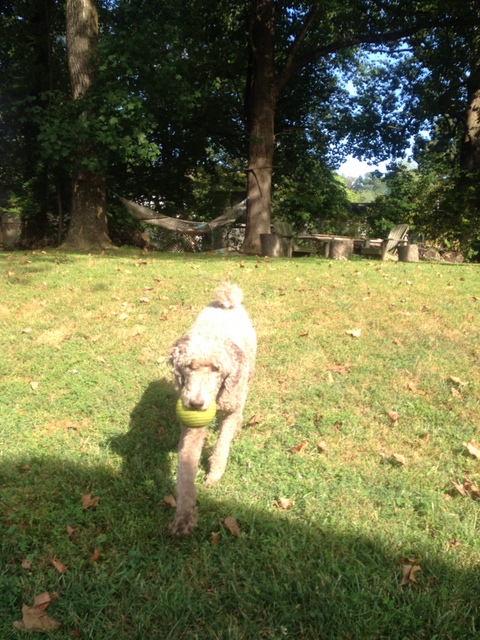 9 am:  Maple takes her nap, and I work on some issues with my website.
10:15 am:  Maple is awake, so I let her supervise as I fold diaper laundry.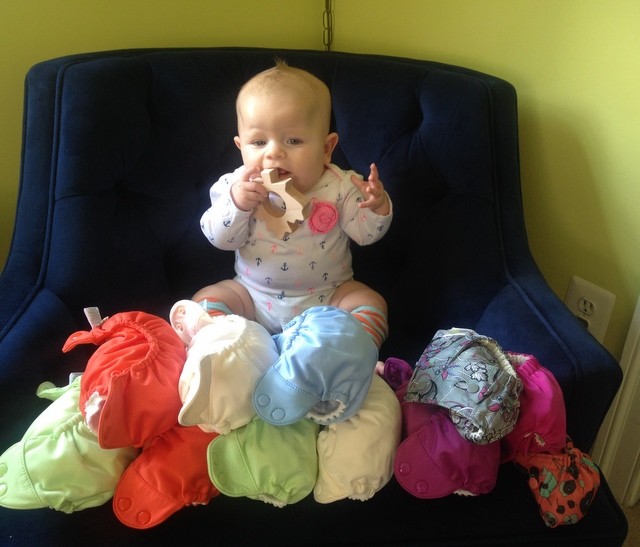 Most weeks (except this one, apparently) I can let her play independently on the floor while I get some more work done.  But this week she seems fussy if I try to let her play alone.  So, we have a little early lunch instead.
12 pm:  I get her into the crib for another nap, and I make another cup of coffee.  I'm feeling frustrated with how my week is going, so I give myself a time out with Architecture Digest.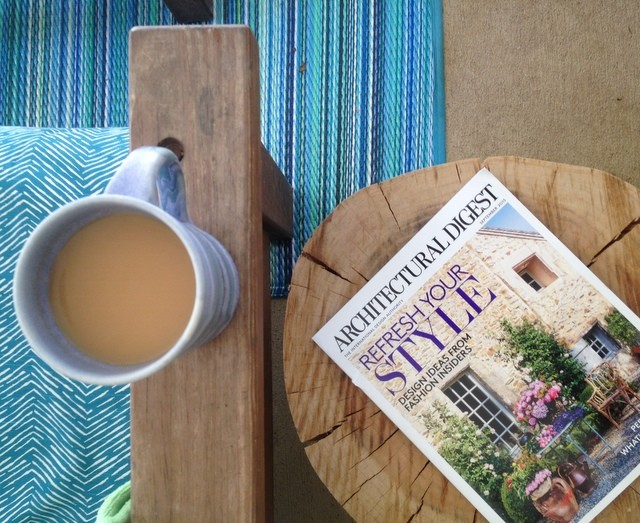 I feel guilty if I take time to relax when Maple is sleeping, because it's the only true work time I have.  It's easy to feel like you should always be working when your office is in your home.
12:45 pm:  Maple is up again, so I feed her and play with her a little and I'm planning to set her up on a playmat downstairs so I can sew, but I'm so sleepy I can't keep my eyes open . .and I know Maple needs to nap more . . .
I get into bed with Maple beside me and we snooze.
2:30 pm: We drive to pick up Ryan from work and then get the car from the shop.  This takes forever because of traffic.  By 3 pm rush hour has started in the DC suburbs.
6 pm: Finally home, I throw the linens in the laundry and wear Maple in my wrap as I prep dinner, since she's so fussy and won't nap. 
9 pm: After Maple is asleep I end up at my desk downstairs, trying to edit some product photos.
But at 11 pm I notice a pattern . . . many evenings my brain and body are tired, and when I try to work I don't focus, and end up "wasting" the night, essentially. I go to bed thinking about how I can use this info to better plan my days.