Even before her birth, Maple had amassed a huge library of books; some were gifts and some were saved from my childhood.   I planned to install bookshelves on one wall of the nursery but was reluctant to put too many large holes in the walls because we rent.
Before I came up with a solution, I cleared my clothes out of the nursery closet. Because the space was previously my office and dressing room, I had already installed the Elfa closet system (from the Container Store) to maximize the large closet space.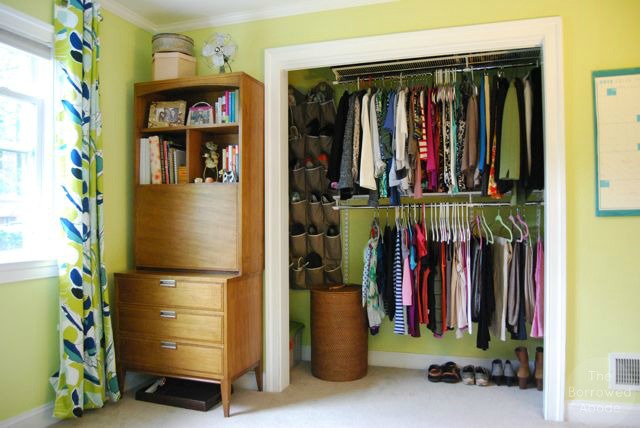 I wondered how I would possibly fill the closet with Maple's clothes. Baby clothes just don't take up that much hanging space. Then I was hit with the idea of using Maple's wide closet as a decorative bookshelf as well as clothes storage.
This was the perfect solution – I would gain bookshelves while avoiding drilling holes in the walls, and I wouldn't be stuck with a mostly-empty clothes closet.  However, the white wire Elfa shelves were neither pretty nor practical for displaying books and other items.
Inspired by this idea, I decided to replace the Elfa ventilated shelves with stained wooden boards from Home Depot.
Why didn't I use the Elfa solid shelves sold by the Container Store? Because they're expensive MDF/Laminate, with an artificial wood grain, and don't come in larger lengths than 30″.
After the shelves were installed, I made some simple curtains to flank the closet opening and provide a prettier frame for the space.
If you're looking to blend decorative shelving with utilitarian clothes storage, this is a great compromise.  Or if you're interested in installing a Container Store Elfa closet system with decorative and durable solid shelves, this hack will help you save some cash and get better shelves in the process!
If you're interested in how I did it (spoiler alert: it took a little more work than expected), in the next post I'll be sharing the supplies and the process I followed.
Money-Saving Tip: The annual 30% off Elfa Sale is currently happening until March 2 at the Container Store. This is the best deal you can get on Elfa shelves – it happens every year starting on December 24.